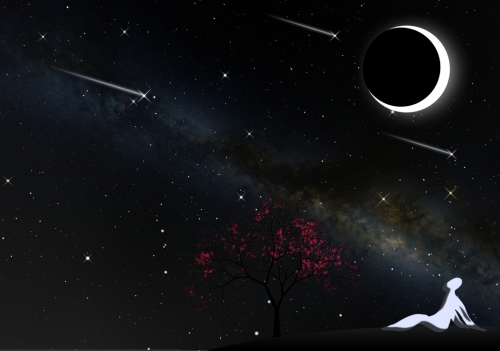 Summer Stargazing Nights
Where:

Frosty Drew Observatory and Science Center

When:

Fri, Jul 21, 2023 6:30 pm - 11:00 pm

Cost:

This Event has Passed
Welcome to the Frosty Drew Summer Stargazing Nights! Every Friday night (weather permitting) we open our Observatory, Science Center Sky Theatre, and telescopes to the skies and offer free stargazing and astronomy to anybody interested in observing with us.
Please read our statement regarding 2023 events and weather at Frosty Drew.
Tonight's forecast is calling for overcast conditions with rain, thunderstorms, and fog. Unfortunately, we will not be able to open our telescopes to the sky, as conditions will be rather dismal. Considering that the Moon will sport a stunning 15% waxing crescent, tonight would have been a fabulous night of dark sky conditions, Earthshine (which is when the nighttime side of the Moon is illuminated with sunlight reflecting off Earth), and Venus – which has waned into a beautiful 14% crescent.
In line with our recent statement regarding Frosty Drew events and the 2023 weather, we will be opening the Observatory, Science Center, and Sky Theatre at 6:30 pm this afternoon. In the Science Center we will have exhibits about the Moon, rockets, and all things space on display. Astronomers will be present in the Science Center offering up commentary and discussions about the exhibits and space. In the Sky Theatre we are hosting local dark sky advocate, William Steinman, who will present twice tonight about dark sky preservation and the loss of the night due to human activities. Bill's presentation is quite compelling and well worth attending! The Observatory will be open with the lights on for tours of our cutting edge 24 inch PlaneWave telescope, that is if there aren't any thunderstorms in the area. We will stay open until 10:30 pm, after which it will get too quiet to stick around.
Overall, tonight is not a night to make the long drive. It will be raining, and it will be overcast. Telescope viewing will not happen tonight, but there will be a lot to do and visiting will get you a more personal experience with our astronomers, which is a good chance to get into some awesome discussions about space and astrophysical science. So take a trip over to Frosty Drew tonight for some great discussion, space imagery, and eye opening talks about the state of the night sky, even if just to spite the 2023 weather bomb.
Tickets are required for visitors to attend this event. Tickets are free, though a suggested donation of $5 per person, at the event, is very appreciated.
If you are looking for that awesome astronomy thing to do or just want a night out to experience the cosmos under the darkest skies in Rhode Island, then this is your chance.
Be sure to subscribe to the Frost Drew Observatory mailing list, follow us on Twitter (@FrostyDrewOBSY) or on Facebook to receive status updates about our Summer Stargazing Nights program and more.
Preparing for Your Visit:
Check out our page on Visiting Frosty Drew Observatory to learn more about what to expect at the Observatory and better help you prepare for your visit.
How to Prepare for Summertime Conditions: The Frosty Drew Observatory is located inside Ninigret Park and borders the Ninigret National Wildlife Refuge. Insects and arachnids are a concern when visiting the Frosty Drew campus. We have observed mosquitoes, green head flies, deer flies, ticks, biting ants, and more. Please read the Mosquitoes and Insects section on our Visiting the Observatory page to familiarize yourself with adequate preparation measures.
Please note that we do not allow any white lights on our campus from dusk - dawn. This is to ensure an equally awesome view of the night sky for all and to allow for the use of light sensitive astronomical equipment. Learn more about why we have this requirement in The Red Light District.