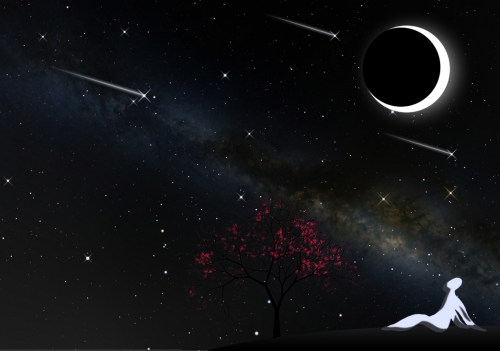 Summer Stargazing Nights - SOLD OUT
Where:

Frosty Drew Observatory and Science Center

When:

Fri, Jul 28, 2023 6:30 pm - 11:00 pm

Cost:

This Event has SOLD OUT
Welcome to the Frosty Drew Summer Stargazing Nights! Every Friday night (weather permitting) we open our Observatory, Science Center Sky Theatre, and telescopes to the skies and offer free stargazing and astronomy to anybody interested in observing with us.
Tonight's forecast is calling for mostly clear sky conditions with a bit of haze. Fog will move into the park overnight, but we think it will stay away during our stargazing geek out. With the 78% waxing gibbous Moon present, the Milky Way will not be visible due to the Moon brightening up the sky. Though 78% is a fabulous phase to observe the Moon in a telescope due to the number of impressive craters and lunar surface features that are perfectly placed for viewing. Additionally, Saturn will rise at 9:30 pm and may be accessible to our Courtyard telescopes around 10:30 pm.
We will open the Observatory, Courtyard, Sky Theatre, and Science Center at 6:30 pm this afternoon. In the Courtyard, solar telescopes will be set up on the Sun. With solar maximum just around the corner, we have seen a significant increase in sunspot activity, which will be easily visible in our solar telescopes. Venus will also be visible in our Courtyard telescopes before sunset. Venus has been waning very quickly over the past couple of weeks, and is now in a stunning 8% waning crescent phase. Once the Sun sets, we will open the Courtyard telescopes and the large 24 inch observatory telescope to the sky. The Moon is on the list as well as dozens of binary stars, nebulae, and star clusters. In the Science Center we will have exhibits on display, an interactive area for kids, and the old Observatory telescope. In the Sky Theatre, NASA Solar System Ambassador, Frank Puglia, will be presenting about the James Webb Space Telescope, upcoming solar eclipses, and other high profile NASA missions. We will close up at 11:00 pm.
Overall, tonight looks like our first good night of summer 2023, and we can expect mostly clear sky conditions tonight. The Moon will be a bit bright, which will outshine the dark sky, so no Milky Way viewing tonight, but the Moon is experiencing some of the best phases for lunar observation. If making the long drive, it is probably worth a visit since it has been so cloudy. Temperatures will be near 80°, and the humidity will be very high. The intense rain of late has really changed the mosquito situation at Frosty Drew, and the mosquitoes have become quite significant. Be sure to wear long pants, closed-toe shoes, and at least a short-sleeve shirt. Otherwise, you will be on the menu. In any case, tonight is a night to celebrate a spot of astronomy at Frosty Drew Observatory and Science Center.
THIS EVENT HAS SOLD OUT
If you do not have a ticket, you cannot attend tonight's event. Please do not just show up and argue with our astronomers. That is just not cool! There will be several other events this summer.
If you are looking for that awesome astronomy thing to do or just want a night out to experience the cosmos under the darkest skies in Rhode Island, then this is your chance.
Take a moment to catch up on some awesome astro happenings this week in:
A Celebraton of Space - July 28, 2023
Be sure to subscribe to the Frost Drew Observatory mailing list, follow us on Twitter (@FrostyDrewOBSY) or on Facebook to receive status updates about our Summer Stargazing Nights program and more.
Preparing for Your Visit:
Check out our page on Visiting Frosty Drew Observatory to learn more about what to expect at the Observatory and better help you prepare for your visit.
How to Prepare for Summertime Conditions: The Frosty Drew Observatory is located inside Ninigret Park and borders the Ninigret National Wildlife Refuge. Insects and arachnids are a concern when visiting the Frosty Drew campus. We have observed mosquitoes, green head flies, deer flies, ticks, biting ants, and more. Please read the Mosquitoes and Insects section on our Visiting the Observatory page to familiarize yourself with adequate preparation measures.
Please note that we do not allow any white lights on our campus from dusk - dawn. This is to ensure an equally awesome view of the night sky for all and to allow for the use of light sensitive astronomical equipment. Learn more about why we have this requirement in The Red Light District.