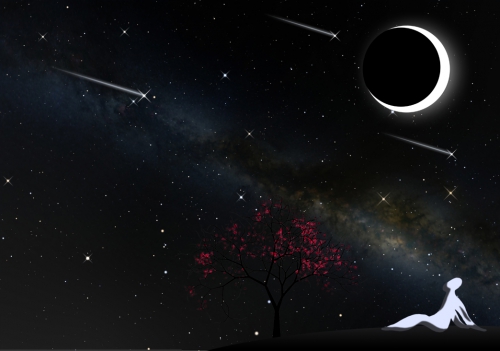 Summer Stargazing Nights
Where:

Frosty Drew Observatory and Science Center

When:

Fri, Aug 4, 2023 7:30 pm - 10:30 pm

Cost:

This Event has Passed
Welcome to the Frosty Drew Summer Stargazing Nights! Every Friday night (weather permitting) we open our Observatory, Science Center Sky Theatre, and telescopes to the skies and offer free stargazing and astronomy to anybody interested in observing with us.
Please read our statement regarding 2023 events and weather at Frosty Drew.
Tonight's forecast is calling for mostly cloudy sky conditions with thunderstorms moving through the region. We are unsure how affected we may be by t-storms, but the sky will certainly be quite overcast, probably too much for telescope observation. Now that the Moon is waning towards the new Moon, tonight's 88% waning gibbous does not rise until 10:03 pm, which would have potentially given us a brief glimpse of the Milky Way. Regardless, we will open tonight with a modified schedule.
At 7:30 pm, we will open the Science Center, Sky Theatre, and Observatory. In the Science Center, exhibits will be on display about all things space, including an interactive area for kids. The Sky Theatre will host local dark sky advocate, Bill Steinman, both at 8:00 pm and 9:15 pm. In the Observatory, tours of our 24 inch PlaneWave telescope will be available with the lights on. If the sky pans out better than expected, we will open the observatory telescope towards the sky. We'll close up at 10:30 pm tonight.
Note that tonight's event at Frosty Drew will be accompanied by the annual Charlestown Seafood Festival in Ninigret Park. This will bring a change in regular traffic patterns, as well as parking attendant checkpoints along Park Lane. Kindly inform parking attendants that you are visiting the Frosty Drew Observatory, and they will let you pass. You do not have to pay to park at Frosty Drew! The event also brings a significant increase in artificial light to the park, which would have outshined the Milky Way had the sky been clear. So the clouds this week are not all that terrible.
Overall, tonight is not the night to make the long drive. Clouds, t-storms, and light pollution will be present in the park. T-storms will make it unlikely that we can open the Observatory dome and telescopes. Though we will be open with our astronomers available to talk about all things space and telescopes. Additionally, Bill Steinman is a fabulous speaker, and his topic of preserving the night sky is one that everyone should hear. So stop in tonight for an introduction to astronomy and become acquainted with space at Frosty Drew.
Tickets are required for visitors to attend this event. Tickets are free, though a suggested donation of $5 per person, at the event, is very appreciated.
If you are looking for that awesome astronomy thing to do or just want a night out to experience the cosmos under the darkest skies in Rhode Island, then this is your chance.
Take a moment to catch up on the coming Perseid Meteor Shower
Be sure to subscribe to the Frost Drew Observatory mailing list, follow us on Twitter (@FrostyDrewOBSY) or on Facebook to receive status updates about our Summer Stargazing Nights program and more.
Preparing for Your Visit:
Check out our page on Visiting Frosty Drew Observatory to learn more about what to expect at the Observatory and better help you prepare for your visit.
How to Prepare for Summertime Conditions: The Frosty Drew Observatory is located inside Ninigret Park and borders the Ninigret National Wildlife Refuge. Insects and arachnids are a concern when visiting the Frosty Drew campus. We have observed mosquitoes, green head flies, deer flies, ticks, biting ants, and more. Please read the Mosquitoes and Insects section on our Visiting the Observatory page to familiarize yourself with adequate preparation measures.
Please note that we do not allow any white lights on our campus from dusk - dawn. This is to ensure an equally awesome view of the night sky for all and to allow for the use of light sensitive astronomical equipment. Learn more about why we have this requirement in The Red Light District.