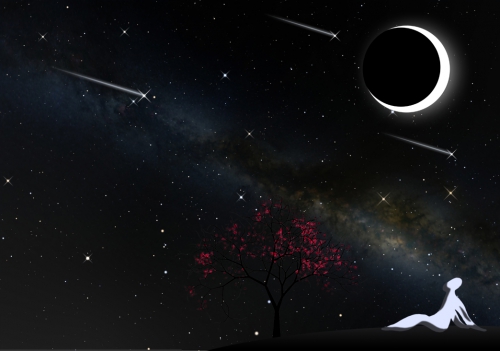 Summer Stargazing Nights - SOLD OUT
Where:

Frosty Drew Observatory and Science Center

When:

Fri, Aug 18, 2023 6:30 pm - 11:00 pm

Cost:
Welcome to the Frosty Drew Summer Stargazing Nights! Every Friday night (weather permitting) we open our Observatory, Science Center Sky Theatre, and telescopes to the skies and offer free stargazing and astronomy to anybody interested in observing with us.
Please read our statement regarding 2023 events and weather at Frosty Drew.
The forecast for tonight is looking quite nice. We can expect mostly clear sky conditions once the afternoon clouds clear out. Additionally, this morning's storms will bring cooler and drier air into the region, making it a bit more comfortable out under the stars. Add in that the super thin 5% waxing crescent Moon will hang beautifully over the southeast sky, setting just before 9:00 pm, which will offer super dark sky conditions with thousands of stars. What a night to be out!
We'll open the Observatory, Courtyard, Science Center, and Sky Theatre at 6:30 pm this afternoon. In the Courtyard our solar telescopes will be set up to observe the Sun. Activity on the Sun has increased since last Friday, with numerous sunspot groups forming. Our telescopes will showcase these sunspot groups and the plasma associated with them. The Sky Theatre will be open showing celestial images captured at Frosty Drew Observatory, followed by a talk by Steve Stokes about his time working with the Project Comet Chaser rocket that launched from Ninigret Park in 1999. Local dark sky advocate, Bill Steinman, will also be presenting in the Sky Theatre tonight about the importance of preserving the night sky, and how you can contribute to the solution. The Observatory will open the large 24 inch telescope to visitors for tours this afternoon, and once the Sun sets, we'll point it towards the sky. First up will be the binary stars Albireo and Rasalgethi. Once twilight wanes, we'll direct the telescope towards the galactic plane, showcasing nebulae and star clusters. Our Courtyard telescopes will be set up and showcasing any object they can get into view. Starting around 9:30 pm, our 10 inch Courtyard telescope will point at Saturn, allowing for stunning views of Saturn's rings and moons. We'll stay open until 11:00 pm.
Overall, tonight is looking quite nice. We'll have clearer sky conditions with a beautiful view of the Moon. Being that the Moon is a very thin crescent, we'll have super dark sky conditions, allowing for views of the Milky Way and thousands of stars. It may remain quite wet on the campus tonight, and seeing conditions in the telescopes may not be all that great, which could present some challenges, but we'll take it as it goes. So get on the list and stop in for a night of stunning views, and set your inner geek loose at Frosty Drew tonight.
THIS EVENT HAS SOLD OUT
If you do not have a ticket, you cannot attend tonight's event. You can put your name on the wait list if a ticket becomes available, but you cannot attend without a ticket, even if you are on the wait list. Please do not show up without a ticket and argue with our astronomers. That is just not cool! There will be several other events this summer.
If you are looking for that awesome astronomy thing to do or just want a night out to experience the cosmos under the darkest skies in Rhode Island, then this is your chance.
Be sure to subscribe to the Frost Drew Observatory mailing list, follow us on Twitter (@FrostyDrewOBSY) or on Facebook to receive status updates about our Summer Stargazing Nights program and more.
Preparing for Your Visit:
Check out our page on Visiting Frosty Drew Observatory to learn more about what to expect at the Observatory and better help you prepare for your visit.
Read about our Observatory Dome Access Passes, which are available on a first come first serve basis.
How to Prepare for Summertime Conditions: The Frosty Drew Observatory is located inside Ninigret Park and borders the Ninigret National Wildlife Refuge. Insects and arachnids are a concern when visiting the Frosty Drew campus. We have observed mosquitoes, green head flies, deer flies, ticks, biting ants, and more. Please read the Mosquitoes and Insects section on our Visiting the Observatory page to familiarize yourself with adequate preparation measures.
Please note that we do not allow any white lights on our campus from dusk - dawn. This is to ensure an equally awesome view of the night sky for all and to allow for the use of light sensitive astronomical equipment. Learn more about why we have this requirement in The Red Light District.