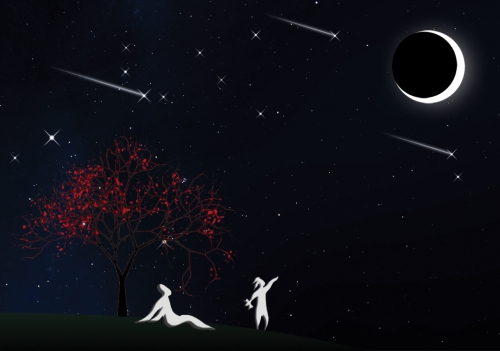 Stargazing Nights
Where:

Frosty Drew Observatory and Science Center

When:

Fri, Sep 22, 2023 7:30 pm - 10:30 pm

Cost:

$5 Suggested Donation per person 5 years and older
Welcome to the Frosty Drew Observatory Stargazing Nights! Every Friday night (weather permitting) we open our Observatory, Science Center, Sky Theatre, and telescopes to the skies and offer free stargazing and astronomy to anybody interested in observing with us.
Tonight's forecasts are calling for mostly cloudy to overcast sky conditions as the tropical storm moves into our region overnight. We aren't expecting any rain tonight, and there is a very slight chance that cloud cover will be thin enough to observe Saturn, the first quarter Moon, and Jupiter, so we will make an attempt. What will likely happen is that we will fail over to our cloudy night program. Regardless, we will be open tonight.
Starting at 7:30 pm we will open the Observatory, Sky Theatre, and Science Center. In the Observatory we will attempt for views of Saturn, the Moon, and anything else that may be visible. If it's too cloudy, we will turn on the lights and offer tours of the big telescope and the dome. In the Science Center we will have exhibits on display about astronomy with team members present to talk about what we are showing. In the Sky Theatre we will show our regular feature of celestial objects photographed at Frosty Drew Observatory, and our featurette, The Sun. We will close up at 10:30 pm.
Overall, tonight is not the night to make the long drive. Clouds will be increasing as the night progresses, as well as the wind. It is unlikely that our telescopes will be able to see through the clouds, but there is a bit of variability in the forecast regarding how heavy the cloud cover will be during our session. Best case scenario tonight still has us under clouds, but thin enough to see the planets through. If you are in the RI area, and have a free night, it may be worth a visit, but if coming from a distance, stay home and prepare for the storm.
Due to the high possibility of inclement weather we are not requiring tickets to attend this event.
If you are looking for that awesome astronomy thing to do or just want a night out to experience the cosmos under the darkest skies in Rhode Island, then this is your chance.
Take a moment to catch up on some astro-geekery in:
A Celebration of Space - September 22, 2023
Be sure to subscribe to the Frost Drew Observatory mailing list, follow us on Twitter (@FrostyDrewOBSY) or on Facebook to receive status updates about our Stargazing Nights program and more.

Preparing for Your Visit:
Check out our page on Visiting Frosty Drew Observatory to learn more about what to expect at the Observatory and better help you prepare for your visit.
Read about our Observatory Dome Access Passes, which are available on a first come first serve basis.
How to Prepare for Autumn Conditions: The Frosty Drew Observatory is located inside Ninigret Park and borders the Ninigret National Wildlife Refuge. Insects and arachnids are a concern when visiting the Frosty Drew campus. We have observed mosquitoes, green head flies, deer flies, ticks, biting ants, and more. Please read the Mosquitoes and Insects section on our Visiting the Observatory page to familiarize yourself with adequate preparation measures.
Please note that we do not allow any white lights on our campus or in Ninigret Park from dusk - dawn, with the exception of low beam headlights while in motion. This is to ensure an equally awesome view of the night sky for all and to allow for the use of light sensitive astronomical equipment. Learn more about why we have this requirement in The Red Light District.