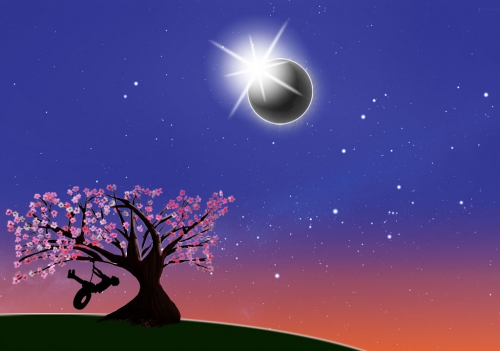 Total Solar Ecplise 2024 - CLOSED
Where:

We Are Not Hosting an Event

When:

Mon, Apr 8, 2024 - CLOSED

Cost:
On Monday, April 8, 2024, a stunning total solar eclipse will occur over the United States of America, stretching from Texas into New England. At Frosty Drew we will experience an 89.5% partial solar eclipse, leaving a super thin crescent view of the Sun obscured by the Moon.
Starting at 2:14 pm, the eclipse will begin over Frosty Drew as the Moon enters the disk of the Sun. Maximum eclipse will occur at 3:58 pm, when the Moon obscures 89.5% of the Sun. The eclipse will end at 4:38 pm, when the Moon departs the disk of the Sun.
This is a huge event for residents of New England and one certainly not to be missed!
Unfortunately, the Frosty Drew Observatory and Science Center will be CLOSED on this day, and WILL NOT be hosting an event. This is due to the close proximity of the path of totality to Southern New England, which is the path where the total solar eclipse will be visible. Because of this, the Frosty Drew Astronomy Team will all be at different locations in the US to experience the total eclipse, and Frosty Drew will not have any team members available to host an event. Additionally, even though Ninigret Park will be a fantastic location to view the eclipse, the Frosty Drew campus will not be accessible to any visitors of the park. This is because viewing the Sun can be quite dangerous, and we cannot vouch for equipment that people, who are not associated with Frosty Drew, may bring to our campus. There are a lot of myths and notions regarding safely observing the Sun, many of which could result in permanent eye damage to an unsuspecting observer.
During the months prior to the eclipse, Frosty Drew will be hosting many activities to raise awareness about safely observing the eclipse, and other locations that will be hosting special events.
We apologize for this inconvenience, and hope that you have a fabulous experience with the Total Solar Eclipse of 2024.