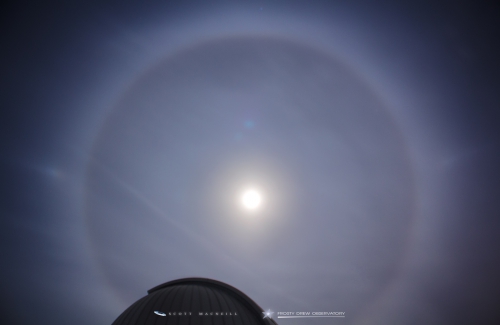 Stargazing Nights
Where:

Frosty Drew Observatory

When:

Friday March 10, 2017 at 6:00 p.m

Cost:

$1 Suggested Donation per Person
Tonight is Stargazing Night at Frosty Drew Observatory and forecasts are looking rather favorable. We can expect mostly cloudy skies to start, quickly becoming clear after 7:00 p.m. The questionable item in our forecast tonight is the wind. We can expect sustained winds around 15mph with gusts reaching into the upper 30 mph range. This will likely restrict our viewing to one side of the sky. We will also have extreme winter conditions on site tonight with ice, blowing snow, and wind chills dropping into the teens. Add in that the 96% waxing gibbous Moon will rise at 4:00 this afternoon and stay with us most of the night, and tonight will be a night for only the die hard astro freaks.
We plan to open the Observatory and Sky Theatre at 6:00 p.m. In the Observatory telescopes will open on standby while we wait for clouds to clear and to assess wind conditions. When the skies clear enough we will direct our telescope towards the Moon and binary stars with Jupiter on the list later in the night. In the Sky Theatre temps will be toasty warm and we'll be showing our showcase of celestial objects photographed at Frosty Drew Observatory. We will stay open until 11:30 p.m. unless the wind shuts us down early.
Overall, tonight will be a tough night as far as on site conditions go, though the skies will be clear and bright. We normally wouldn't recommend taking the long drive with the Moon being so bright, but if the Moon is your digs, you will have a blazing view tonight. Following @FrostyDrewOBSY on Twitter or Facebook will get you live updates from the Observatory on what is happening as well as a "Closing up" post when we decide to crash. Be sure to dress for severe winter conditions if visiting. A good hat, wind resistant parka, boots, and gloves will all be required. Embrace the passive aggressive weather we've been having and stop in for a look at the Moon over a snowy late winter landscape at Frosty Drew tonight.
------------------
Weekly Happenings
Scott MacNeill
Take a moment tonight to step out and take a look at the bright 96% waxing gibbous Moon after 7:00 p.m. You will notice that there is a star sitting about 2° to the west of the Moon. That is the bright star Regulus, the brightest star in the constellation Leo and the 21st brightest star in Earth's nighttime sky. Being that Regulus resides along the Ecliptic, which is the path the Sun takes across the sky, the Moon will often pass close to or over Regulus, depending on your viewing location. Tonight, the Moon and Regulus will start off quite close after sunset and move further apart as the night progresses. Be sure to take a moment out of your schedule to catch a view of the conjunction.
This coming Sunday morning, March 12 at 2:00 a.m. remember to shift your clock one hour ahead for the switch to Daylight Savings Time (DST). Here's a good mnemonic to remember what direction to shift your clock: "As Spring approaches, spring ahead one hour to DST. In Fall, fall back one hour to EST". Enjoy your lost hour of sleep this weekend.
-Scott