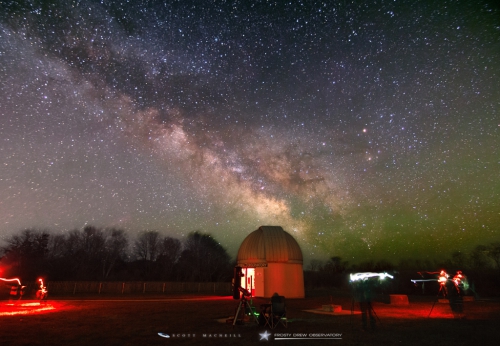 Stargazing Nights
Where:

Frosty Drew Observatory

When:

Friday March 24, 2017 at 7:30 p.m

Cost:

$1 Suggested Donation per Person
Tonight is Stargazing Night at Frosty Drew Observatory and forecasts are calling for rather unfortunate conditions. We can expect cloudy skies all night, which will persist for the next 5 days. This is sadly reminiscent of the 2016 trend of clouds for the nearly the entire New Moon side of the 27 day lunar cycle. Add in the chance of wind gusts reaching into the 30 mph range, and we will keep the observatory telescopes closed tonight. Though we will be in the Sky Theatre for a couple hours offering a quick bump for those in need of an astro-fix.
We'll open the Observatory and Sky Theatre at 7:30 tonight. In the Observatory, telescopes will be on standby, just in case we score, and tours of our equipment and operations will be available. In the Sky Theatre we will host a commentary and open discussion on general astronomy alongside our showcase of celestial objects photographed at Frosty Drew Observatory. We will stay open until 10:00 p.m.
Overall, tonight has a fabulous lunar phase and we are on the break of Milky Way viewing season, though clouds and wind will make for near impossible viewing of the cosmos. This is certainly the night to sit out. We will be open for a brief geek out in the Sky Theatre for those in the area looking for a little geek. Otherwise, let's hope for clearer skies soon.
------------------
Weekly Happenings
Scott MacNeill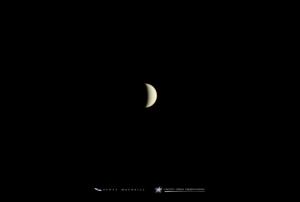 Tomorrow, March 25th, Venus will reach the point in its orbit where it arrives between Earth and the Sun. We call this Inferior Conjunction and results in Venus achieving its New phase. For those who commute during sunrise, keep an eye out over the next month for Venus, which will start to appear just before sunrise in the eastern sky.
On Wednesday, March 29th, shortly after sunset, the Moon will meet up with Mercury and Mars just above the western horizon in a wide, but fabulous conjunction. Being that Mercury arrives at maximum eastern elongation on Saturday, April 1st, the inner-most planet is in a fabulous position for twilight viewing. Maximum elongation is the point in the orbit of an inner planet (in relation to Earth) where the planet is at tangent with Earth, resulting in the planet appearing the highest above our horizon for its viewing period. With Mercury at maximum eastern elongation, it will be at its highest altitude above the western horizon. Seeing the conjunction will require a low, clear view of the western horizon. Set out to such a spot (e.g. Point Judith, Beavertail, Brenton Point, Sakonnet Point) before the Sun sets on Wednesday afternoon. Once twilight sets in, Mercury will become visible about 8° to the right of the super thin 5% waxing crescent Moon with Mars sitting about 16° above the Moon. If you catch a photo of the conjunction, be sure to post it on the Frosty Drew Observatory Facebook (https://www.facebook.com/FrostyDrewObservatory) and we'll share it on our time line.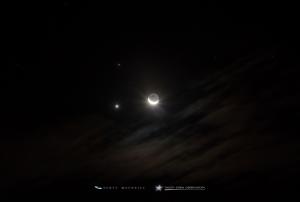 Over the next few weeks, Comet 41P/Tuttle-Giacobini-Kresak (41P) will be visible in binoculars from dark locations before moon rise and after moon set, depending on your viewing dates. Comet 41P is a short-period comet with an orbital period of about 5.4 years and a nucleus measuring around 0.87 miles in diameter. A comet known to dramatically flare, 41P is in an excellent position for viewing right now. Moving across the sky in a northwest motion, 41P is currently hanging around the constellation Ursa Major and will move into the constellation Draco early next week. To view the comet you will need binoculars or a telescope, a dark viewing site free of light pollution, and no Moon. We will periodically post star charts on our Facebook to help you catch a view of the comet. Happy comet hunting!
-Scott