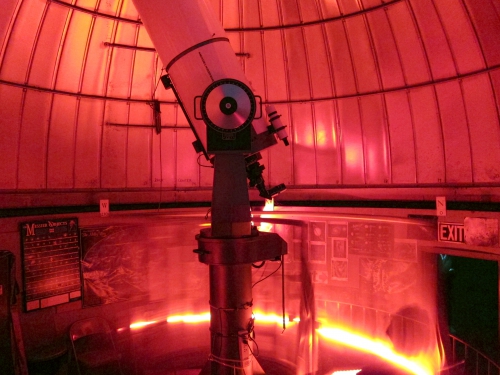 Stargazing Nights
Where:

Frosty Drew Observatory

When:

Friday April 7, 2017 at 8:00 p.m

Cost:

$1 Suggested Donation per Person
Tonight is Stargazing Night at Frosty Drew Observatory and forecasts, though difficult, are looking better than they have for weeks. We can expect cloudy skies to start with partly cloudy to mostly cloudy skies prevailing shortly after sunset. Being that the 88% waxing gibbous Moon will be with us this evening and most of the night, we can sneak peeks at the lunar surface in between passing clouds. Add in that Jupiter is at opposition today, placing it at best viewing for the year; and we have good reason to be hopeful. Skies could clear enough to catch a view of Jupiter's Galilean Moons and the Great Red Spot.
We will open the Observatory and Sky Theatre at 8:00 tonight. In the Observatory, telescopes will start on standby as we evaluate cloud cjavascript:void(0);over. Once skies begin clearing we will try for a view. The Sky Theatre will feature celestial objects photographed at Frosty Drew Observatory for those looking for a quick warm-up or a break from the cloud battle. Following us on Facebook or Twitter (@FrostyDrewOBSY) will get you updates from the Observatory on what is happening with the weather and our view. Be sure to check in before making the drive. We will stay open and hoping until 11:30 p.m.
Overall, tonight's forecast coupled with the bright 88% gibbous Moon will make tonight a tough call. If you're making the long drive, you will likely want to sit this one out. Although, the prospects of catching fabulous views of Jupiter tonight certainly mark all of us astro-geeks as suckers. Regardless, if you're seeking a potential killer view of Jupiter, or just a night to get your geek on. Stop in, we'll be out there hoping for a fabulous night.
-------------------
Weekly Happenings
Scott MacNeill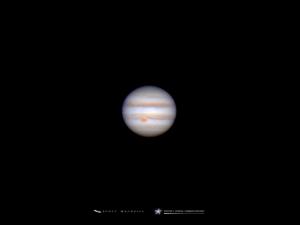 Today, Jupiter is at opposition. This marks the point in Earth's yearly orbit when we align with Jupiter and the Sun, with Jupiter being on the opposite side of the Earth than the Sun. Tonight, Jupiter will rise with the setting Sun and set tomorrow morning with the rising Sun, remaining visible all night long. Tomorrow night, Jupiter will be at its closest point to Earth for our year at about 414,107,000 miles distant. Starting tonight, Jupiter will be visible every night at sunset until the end of the viewing season. We will showcase Jupiter every clear Friday at Frosty Drew Observatory for the next several months.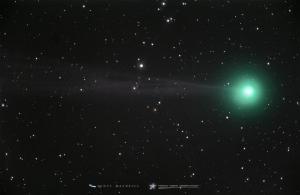 These past couple of weeks we have had a nice increase in the number of easily visible comets in the night sky. Sadly, much of the dismal weather for the past two weeks have hammered our chances of catching views. Though opportunities are still available. The easiest comet to spot at this time is Comet 41P//Tuttle-Giacobini-Kresak (41p), which has been rocking our northern skies nearly all night long and is now in the constellation Draco on the edge of Ursa Minor. On March 9th, famed comet hunter, Terry Lovejoy, who discovers the sexiest comets, made another discover when he spotted Comet C/2017 E4 Lovejoy. Terry's comet has been living up to its namesake in the early morning sky before sunrise with the rapid growth of a fabulous tail that changes so quickly that slight differences can be seen in between photographs. E4 Lovejoy is in the morning sky, currently in the constellation Pegasus, at the top right corner of the Pegasus Square asterism. If that's not enough, add in Comet C/2015 ER61 PanSTARRS, which didn't bring much optimism for easy visibility. Though on April 4th, ER61 produced an unexpected outburst, bringing the comet well into the visible range of binoculars! Comet ER61 is currently visible in the morning sky before sunrise in the constellation Aquarius. All of these comets can be seen currently in binoculars or small telescopes. Unfortunately, the bright Moon will move into the early pre-dawn sky this coming week, making for harder observations of these comets, though not impossible. If skies stay clear we will post finder charts on our Facebook and Twitter to reduce the frustrations of finding these objects in the dark. Clouds begone!
Update: Last week we erroneously reported that Jupiter and the Moon will be in conjunction tonight (April 7th) when in fact the conjunction will happen on Monday, April 10th. Step out Monday night and catch Jupiter sitting about 2° to the west of the bright full Pink Moon. Don't miss it!
-Scott