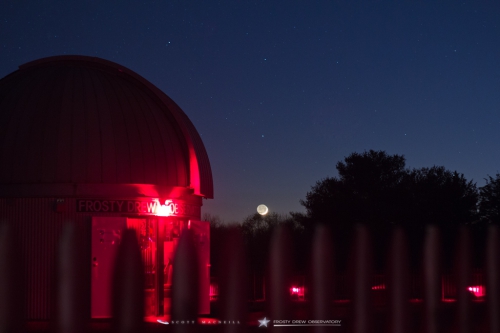 Stargazing Nights - CLOSED
Where:

Frosty Drew Observatory

When:

Friday April 21, 2017 - CLOSED

Cost:

$1 Suggested Donation per Person
Tonight is Stargazing Night at Frosty Drew Observatory and weather is certainly crashing our plans for amazement! The forecast is calling for clouds, fog, and drizzle for most of the night with clouds prevailing during the early morning hours, which is when the Lyrid Meteor Shower will really kick in. Tonight's dismal conditions will certainly keep our telescopes closed. We will return to our regular Stargazing Nights schedule on Friday, April 28th.
-------------------
Weekly Happenings
Scott MacNeill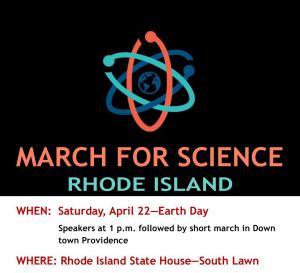 If you can find some clear skies overnight tonight, be sure to step out at catch the Lyrid Meteor Shower, which is peaking tomorrow morning. Tonight's Lyrid shower will bring an additional 18 meteors per hour to the morning skies between 3:00 – 5:00 a.m. EDT. The 20% waning crescent Moon will rise just before 4:00 a.m. and will be thin enough to not obscure your view of meteor awesomeness. Bring a reclining lawn chair or a blanket and lay out under the stars so you can conformably view the zenith (top of the sky). The best spot to view the meteor show will be outside of urban light polluted areas with a wide open view of the sky. Kick back and enjoy!
Tomorrow, Saturday, April 22nd is Earth Day and what better way to celebrate than a day outside at the Rhode Island State House in Providence, advocating for science awareness. The Science March will run from 1:00 p.m. - 4:00 p.m. Frosty Drew Observatory will have a table setup at the March as well as solar telescopes, which will be weather dependent. Stop in and get your geek cred. on with hundreds of scientists, science enthusiasts, and the geekier side of RI. Stop over at the Frosty Drew table and chat with us about astronomy and maybe catch a view of a solar prominence or filament. Read about the Science March.
Check out this fantastic gallery of amazing Earth images by NASA's many Earth observation missions. Earth is totally my favorite planet! Happy Earth Day!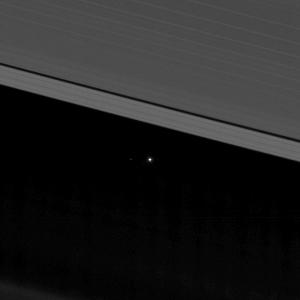 This is a photograph of Earth and the Moon as viewed from the orbit of Saturn. The NASA Cassini spacecraft captured this view on April 12, 2017 between two of Saturn's icy rings. From this distance (870 million miles) you cannot tell that humanity is here. The NASA Cassini mission is coming to an end this September 15th when the spacecraft enters Saturn's atmosphere.
-Scott