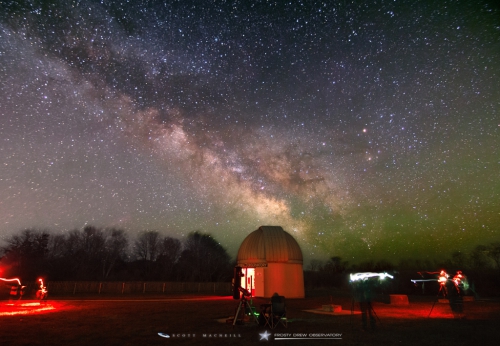 Stargazing Nights
Where:

Frosty Drew Observatory

When:

Friday April 28, 2017 at 8:00 p.m

Cost:

$1 Suggested Donation per Person
Tonight is Stargazing Night at Frosty Drew Observatory and the forecast is rather uncertain at this point. In general, we can expect the endless clouds and rain to tempt us with a quick clearing this afternoon. That clearing could last into our stargazing hours, depending on what forecast you are reading. Best case models are showing mostly clear skies lasting until near midnight, with worst case models showing clouds and fog all night long. The median forecast at this point is partly cloudy skies to start becoming cloudier as the night progresses with a chance of fog. This is all unfortunate as the New Moon occurred on Wednesday night and would have made for fabulous views of the Milky Way overnight tonight.
We will open the Observatory and Sky Theatre at 8:00 p.m. In the Observatory, telescopes will start on standby as we evaluate conditions on site. If skies are clear enough we'll take a look at Jupiter and the four Galilean Moons. The 7% waxing crescent Moon, which will be with us until 10:15 p.m. and will be a make for a stunning view. If skies are best case scenario, we will check out a couple globular star clusters, binary stars, and galaxies. In the Sky Theatre we will show our feature of celestial objects photographed at Frosty Drew and may move inside if clouds start to bully us. We will stay open until clouds chase us out or 11:30 p.m. swings around.
Overall, tonight's weather is making for a risky night to be out. We can likey expect clouds all night, though we could have a fairly nice clearing early in the night. Jupiter is in a fine spot for viewing and the 7% waxing gibbous Moon may be visible in between passing clouds. Though the Moon is in a prime phase for Milky Way viewing, the overnight forecast will likely not allow for views of the Milky Way. If optimism is in control and you need to catch a view or photo, you will will want to be out after 2:00 a.m. If you're in the area, take a chance and stop in, you just may catch a stunning view of Jupiter.
-------------------
Weekly Happenings
Scott MacNeill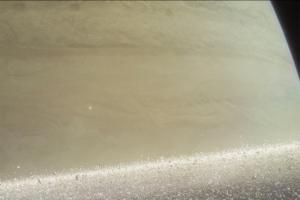 This past Wednesday, April 28, 2017, the NASA Cassini spacecraft, which as been orbiting Saturn since 2004, kicked off the final stage of its mission, The Grand Finale. Launched from Cape Canaveral in October 1997, the Cassini spacecraft traveled 2.2 billion miles across the Solar System en route to Saturn. Arriving in July 2004, Cassini opened our eyes to the amazing things happening at Saturn including the its fabulous rings, dynamic magnetosphere, and diverse moons. The views and discoveries that Cassini produced, quickly made the spacecraft one of the most known NASA Solar System exploration missions. Well jump ahead 13 years and the Cassini mission, which has been extended twice, is finally coming to an end. The final mission, which is called The Grand Finale, involves the Cassini spacecraft passing in between Saturn's atmosphere and the rings on a weekly interval over 22 weeks. This narrow gap measures about 1,500 miles wide and places Cassini at its closest approach to Saturn. The first of the ring dives happened at 5:00 a.m. this past Wednesday morning, with the next scheduled ring dive set for May 2nd, this coming Tuesday. During Wednesday's ring dive, Cassini passed about 1,900 miles from Saturn's cloud tops and about 200 miles from the innermost ring. During ring dives, Cassini uses its high-gain antenna as a shield to protect it from any possible ring material strikes. Doing so disables Cassini's communications with Earth until the dish can be re-aligned with Earth. Each ring dive will bring Cassini closer to Saturn with the last dive plunging Cassini into Saturn's atmosphere, effectively ending the fabulous journey on September 15, 2017. Images of the first ring dive have began coming in and we are seeing amazing close-up views of Saturn's atmosphere. Check out the new images as the come in.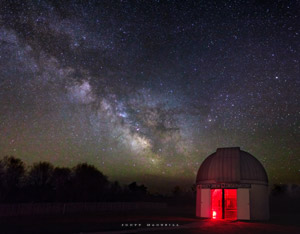 On the rare occasion that we have a view of the cosmos through the extensive New England cloud cover, you have no doubt noticed a super bright star-like object that has been visible during the evening in the Southeast sky. This is the planet Jupiter, which passed opposition (when Jupiter is on the opposite side of the Earth than the Sun) on April 7th, and is now visible after sunset in the evening sky. Sneaking a peek with binoculars will get you a view of Jupiter's four Galilean Moons. A telescope will bring Jupiter's equatorial bands into view with the Great Red Spot becoming visible at higher magnification. Jupiter will rock the sky for the reminder of spring and summer. So step out and catch a view whenever clouds allow.
Milky Way viewing season is on at dark sky locations nearby! During the second half of spring, all of summer, and the first half of autumn the nighttime side of Earth faces the bright central region of the Milky Way galaxy. This makes for abundant opportunities to catch an insiders view of the galaxy. To see the Milky Way right now, you need to be out after 2:00 a.m. either before or after the Moon sets at a location mostly free of light pollution, especially in the south side of the sky. Since the Moon is in a waxing crescent phase right now, we will get another week of fantastic sighting ops before the Moon crashes our fun. As we move into summer the Milky Way will continue to rise earlier with each passing night, eventually becoming visible after sunset. We publish lunar rise and set times generally applicable to New England. Now get out and see the Milky Way!
-Scott