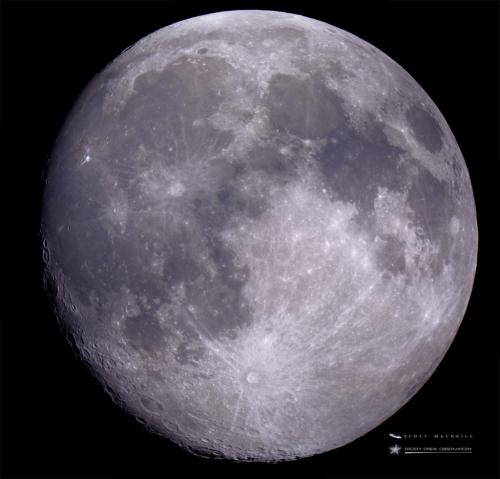 Stargazing Nights
Where:

Frosty Drew Observatory

When:

Friday May 12, 2017 at 8:30 p.m

Cost:

$1 Suggested Donation per Person
Tonight is Stargazing Night at Frosty Drew Observatory and forecasts are calling for mostly cloudy skies becoming cloudy overnight. Though variable, we may have a few clearings shortly after sunset. Being that the 97% waning gibbous Moon will rise around 9:30 p.m., skies may be clear enough to catch a quick view of the cratered lunar surface in between passing clouds. If variability favors us, as it usually does, Jupiter and the Galilean Moons may make an appearance as well. Certainly not the best night to be out, though we will take what we can at this point.
We will open the Observatory and Sky Theatre at 8:30 tonight. In the Observatory telescopes will start on standby as we evaluate weather and sky conditions on site. Our target list includes the bright gibbous Moon and Jupiter as well as any other celestial objects that may shine through the clouds. In the Sky Theatre we will feature our showcase of celestial objects photographed at Frosty Drew with a commentary and open discussion on general astronomy. We will stay open until 11:30 p.m. or until clouds chase us out.
Overall, tonight's cloudy forecast and bright gibbous Moon will make for a less favorable night to be out. Though thinning in the cloud cover earlier in the night could allow for a few passing views of the Moon and Jupiter, maybe enough to give us a much needed astro-bump. Following Frosty Drew Observatory on Twitter (@FrostyDrewOBSY) or will get yFacebookou updates from the Observatory on what is happening on site. Regardless of sky conditions, if you're in the area, stop in for a quick geek-out with our astronomers and chat about what it was like when the skies were clear.
------------------
Weekly Happenings
Scott MacNeill
Last week, on Wednesday, May 3rd, we captured our first photo of the bright Milky Way galactic center over Frosty Drew Observatory. Seeing and photographing the Milky Way at Frosty Drew requires cloud free skies with the Moon below the horizon during the hours that the Milky Way center is above the horizon. We generally consider late April – mid May the best time of the year to see and photograph the Milky Way at Frosty Drew due to the time it rises and the location of the sky it is most visible in. During this window the Milky Way will rise in the morning hours becoming quite visible over the Southern sky, which is our darkest skies. During the morning hours, much of the local community's lighting is turned off and temperature variances in the air are minimal. This sets us up for beautiful views. Check out our photograph: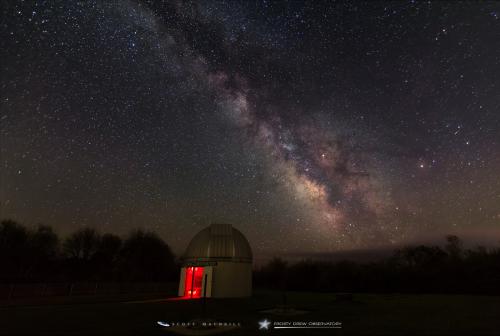 Want to see Mercury? Well now is your chance. On Wednesday, May 17th, Mercury will reach the point in its orbit called Maximum Western Elongation, which places Mercury at its best viewing in our morning sky before sunrise. Set out to a location with a super low view of the eastern horizon and be there for 4:30 a.m. First, you will certainly notice Venus shining like an airplane about 12° over the horizon, though Mercury will be just over the horizon and will slowly rise to about 3° before sunrise outshines your view. You can easily catch this sight any clear morning over the next two weeks. Snap a pic? Post it on our and we'll Facebookshare it on our time line.
-Scott