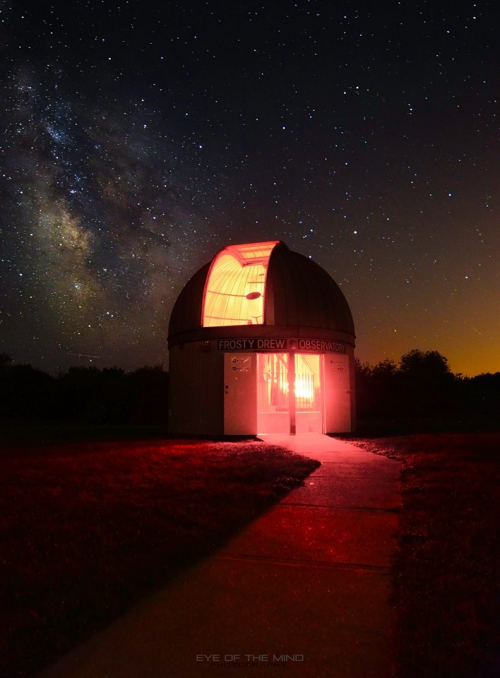 Summer Stargazing Nights
Where:

Frosty Drew Observatory

When:

Friday June 23, 2017 at 6:00 p.m

Cost:

$1 Suggested Donation per Person
Tonight is Stargazing Night at Frosty Drew Observatory and weather is looking rather unfavorable, though somewhat variable at this time. Forecasts are calling for t-storm, fog, and some wind. We could catch periodic clearings depending on the frequency of passing t-storms, though it will certainly not be the fabulous night we were hoping for. All of this is quite unfortunate since the New Moon is occurring tonight and would have offered us fantastic views of the Milky Way.
We will open the Observatory and Sky Theatre at 6:00 p.m. In the Observatory, telescopes will start off on standby as we evaluate sky conditions on site. If clear enough we will setup our hydrogen alpha telescope and check out the solar chromosphere. Once the Sun sets, if skies allow, we will check out Jupiter and Saturn in between passing clouds. In the Sky Theatre we will feature our showcase of celestial objects photographed at Frosty Drew while offering a commentary and open discussion on general astronomy. If weather is not working out, we will move into the Sky Theatre and close up around 9:00 p.m. Otherwise, we'll stay open until 11:30 p.m.
Overall, tonight would have been an amazing night to be out under the Milky Way. Though the usual weather bomb of the last 18 months (clouds every New Moon) persists. There's a small chance of catching a quick view of the planets in between passing clouds, though fog will likely make for near impossible views of the Milky Way. Check in on our Twitter (https://twitter.com/FrostyDrewOBSY) or Facebook (https://www.facebook.com/FrostyDrewObservatory) for updates on what is happening at the Observatory. Clouds begone!
-------------------
Weekly Happenings
Scott MacNeill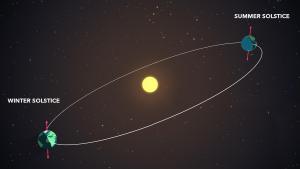 At 12:24 a.m. this past Wednesday, June 21st, Earth reached the point in it's orbit where the Northern Hemisphere is at maximum tilt (23.4°) towards the Sun. This is the Summer Solstice and marks the first day of summer in the Northern Hemisphere. The weeks around the Summer Solstice are when we have the shortest nights of the year. Which is awesome for beach days, BBQ's, and late summer hangouts, but hammers the astro-geek community with only about 4-5 hours of total darkness each night. On the Summer Solstice the Sun crosses the sky 23.4° north of the celestial equator, placing the Sun at its highest point in our sky for the year. On the Tropic of Cancer, the Sun will pass directly overhead at noon, with the Arctic Circle experiencing the Midnight Sun and the Antarctic Circle diving into Polar Night (nights lasting longer than 24 hours). Step out and welcome the summer season and all the awesome joy it brings for the heat loving crazies.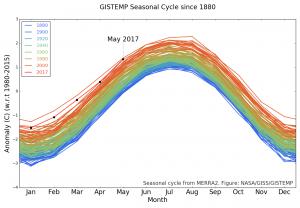 May 2017 was the second warmest May in modern record keeping history (since 1880). With global mean temperatures reaching 0.88°C higher than the mean May temps from 1951-1980. The current record holder was May 2016, which was 0.05°C warmer than this past May. May 2014 comes in a close third at 0.01°C cooler than this past May.
Save the Date:
The Great American Solar Eclipse
https://frostydrew.org/Solar_Eclipse
August 21, 2017 10:00 a.m. - 4:00 p.m.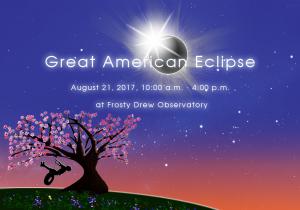 On Monday, August 21st, the United States will experience a total solar eclipse. Though not visible as a total eclipse in New England, at Frosty Drew Observatory we will experience a fabulous 66% partial solar eclipse that will start at 1:30 p.m. and continue until 4:00 p.m. Frosty Drew Observatory will host a spectacular day of solar observation in celebration of the eclipse. We will have filtered telescopes setup offering safe views of the solar photosphere and chromosphere as well as solar projections and visual aides to allow for safe viewing of the eclipse. So mark your calendar and celebrate a beautiful summer afternoon in Ninigret Park under a solar eclipse.
-Scott