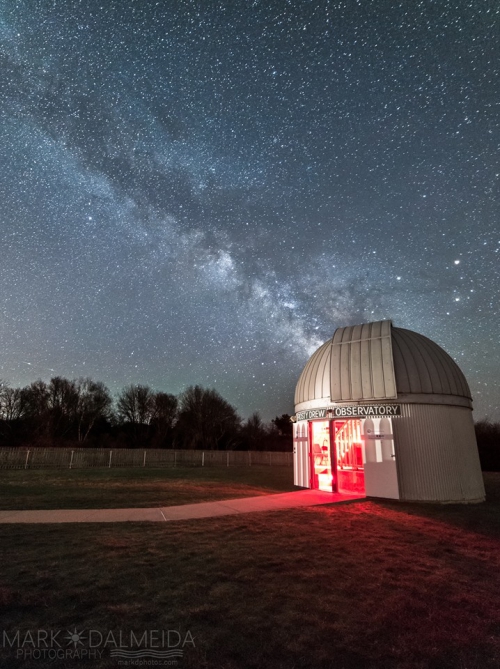 Summer Stargazing Nights
Where:

Frosty Drew Observatory

When:

Friday June 30, 2017 at 8:00 p.m

Cost:

$1 Suggested Donation per Person
Tonight is Stargazing Night at Frosty Drew Observatory and again, forecasts have degraded just in time to crash our night of awesome. We can expect mostly cloudy skies to start with a chance of isolated severe t-storms until 10:00 p.m. Fog will set in overnight, leaving us with little cloud relief. The first quarter Moon will be with us tonight from sunset until shortly after midnight and may offer up hazy views in between passing clouds and through thinner cloud cover. Additionally, Jupiter may be visible if clouds are not too severe. Unfortunately, weather will not allow for observation the Sun later this afternoon.
We will open the Observatory and Sky Theatre at 8:00 tonight. In the Observatory telescopes will start off on standby as we evaluate weather conditions on site. If clear enough we will direct our telescopes towards the Moon and Jupiter. In the Sky Theatre we will show our feature of celestial objects photographed at Frosty Drew Observatory with a commentary and open discussion on general astronomy. We will stay open until 11:30 p.m. if the skies are working out. Otherwise, we will pack up at 10:00 p.m. Check in on our Twitter (@FrostyDrewOBSY) or Facebook for updates from the Observatory.
Overall, tonight is another weather calamity. We may have rough views of the Moon and possibly Jupiter through thin clouds or in between passing clouds, with a slight chance of catching Saturn under the same conditions. Though views of the Milky Way and the fabulous nebulae and star clusters found there will not be visible. If you're in the area and want to catch up with what is happening in astronomy, stop in and hope with us. Otherwise, this is a night to sit out.
Have a happy Fourth of July from all of the astro-geeks at Frosty Drew Observatory!
--------------------
Weekly Happenings
Scott MacNeill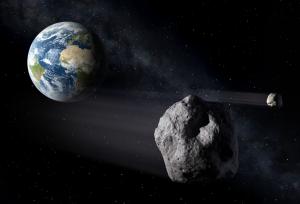 Today is International Asteroid Day, a day devoted to raising awareness of the threat Near Earth Asteroids (NEA) potentially make towards the inhabitants of Earth as well as the technologies being developed to increase detection rates and mitigate impact threats. Near Earth Asteroids are comets and asteroids that have orbits around the Sun that have been slightly altered by the gravitational influence of a nearly planet. The slight change in the object's orbit allows it to pass into the immediate region of Earth and the Moon. In 1998, NASA established a goal of identifying 90% of all NEAs that are larger than one kilometer in diameter, a goal that was updated in 2005 to include 90% of NEAs larger than 140 meters (459.3 feet) in diameter. One such asteroid is 101955 Bennu, which measured 490 meters and passes close to Earth every 6 years. Starting in September 2175, Bennu begins a series of passes that have a higher than average impact probability. The pass of Bennu with the highest impact probability will occur on September 24, 2196 with a 0.0094% chance of impact. NASA recently launched the OSIRIS-Rex mission which will collect a sample of Bennu and return that sample to Earth. Learn about the OSIRIS-REx mission. Then catch up on this exciting field of study at NASAs Asteroid and Comet Watch.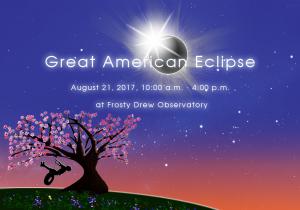 Where will you be for the Great American Solar Eclipse on August 21, 2017? If you're staying in the greater Southern New England area, make plans to stop in at Frosty Drew Observatory for a day of solar viewing as we celebrate a 66% partial solar eclipse. The Great American Solar Eclipse at Frosty Drew Observatory
-Scott