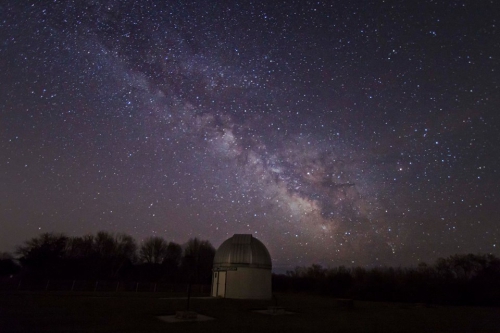 Summer Stargazing Nights
Where:

Frosty Drew Observatory

When:

Friday July 7, 2017 at 6:00 p.m

Cost:

$1 Suggested Donation per Person
Tonight is Stargazing Night at Frosty Drew Observatory and after a fabulous week of clear skies, the weather bomb is back. Though exceedingly variable, tonight's forecast will be better than what we are experiencing today. At this time, we can expect rain to move out around 4:00 p.m. with clouds lingering until some time this evening. Skies should eventually clear to partly cloudy conditions in time for sunset, though we have a threat of patchy fog after 9:00 p.m. Being that the Full Moon occurs overnight tomorrow, we will have a super bright waxing gibbous Moon that could offer us a fallback if clouds are being tough.
We will open the Observatory and Sky Theatre at 6:00 p.m. In the Observatory we will monitor sky conditions and if clear enough, setup our solar telescope with views of the solar chromosphere, showcasing the awesome prominence and filaments visible in that region. Once the Sun sets, if skies are clear enough, we will direct our telescopes towards Jupiter, Saturn, the Moon, and more. In the Sky Theatre we will show celestial objects photographed at Frosty Drew Observatory. If the skies stay cloudy, we will be in the Sky Theatre hosting a discussion on general astronomy and will close up around 10:00 p.m. Otherwise, will will pack up at 11:30 p.m.
Overall, tonight's forecast is somewhat depressing after such a fabulous week of beautiful weather. There is a good chance we will score with views of Saturn, Jupiter, and the Moon. Though this depends on how clear the skies get and if fog can stay at a minimum. Following us on Twitter (@FrostyDrewOBSY) or Facebook will get you updates on what is happening at the Observatory. Don't let today's inclement weather keep you away. If it clears up, we will rock the cosmos at Frosty Drew tonight!
-------------------
Weekly Happenings
Scott MacNeill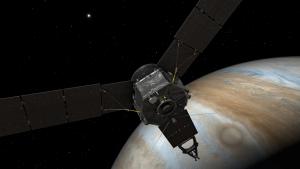 On Wednesday, July 4, 2017, the NASA Juno spacecraft celebrated its one year anniversary at Jupiter. Juno is tasked with measuring Jupiter's immense gravitational field and magnetic field. To do so, Juno orbits Jupiter from the north pole to the south pole, called a polar orbit. Additionally, to get in and out of Jupiter's massive magnetic field, the orbit is highly elliptical, placing Juno's closest point to Jupiter (Perijove) at around 2,100 miles above the cloud tops. On Monday, July 10th at 9:55 p.m. ET, perijove 7 will occur, placing Juno at 2,200 miles altitude. About eleven minutes after perijove 7, Juno will orbit directly over Jupiter's Great Red Spot at an altitude of 5,600 miles. Juno has a device called JunoCam with a purpose of capturing fabulous photos of Jupiter during orbits, which are used for public outreach and education. Monday's close pass over the Great Red Spot will be the closest view we will have of the giant storm and JunoCam will be firing away. Catch up on the fabulous views captured by JunoCam and check in periodically after July 10th for fabulous captures of the Great Red Spot!
Check out this view of Saturn we captured early Thursday morning: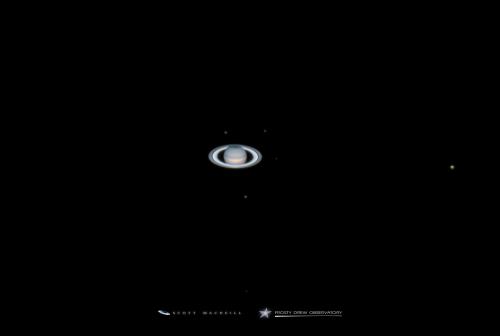 After weeks of poor shooting conditions, we had a fabulous night of clear skies and stable atmosphere overnight Wednesday. In this photo Saturn is silhouetted by six moons. Listed in order of brightness, starting with the brightest, the following moons are visible: Titan, Rhea, Dione, Tethys, Enceladus, and Iapetus (dimly at the far bottom). Saturn is the rock star of our summer program at Frosty Drew, so be sure to stop in for a view!
Save the Date:
Sidewalk Astronomy on Pawtuxet Village Bridge
Saturday, July 8th starting at sunset, weather permitting.
Frosty Drew astronomer Scott MacNeill will join up with science communicator Jason Major and Rhode Island College Adjunct Professor, Mary Grady in Pawtuxet Village and setup telescopes on the bridge showcasing the Moon, Saturn, and Jupiter. There is an ice cream shoppe on the bridge as well as dessert shops, restaurants, and coffee along the strip. Stop in for a summer night in Pawtuxet Village and catch a view of the solar system.
-Scott