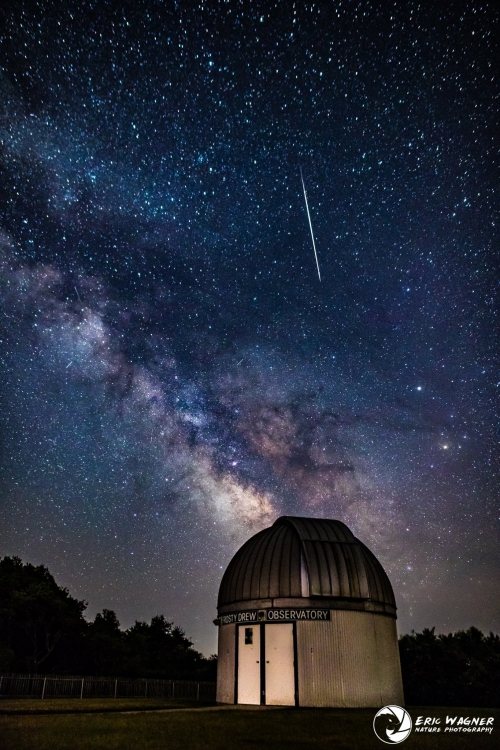 Summer Stargazing Nights
Where:

Frosty Drew Observatory

When:

Friday July 21, 2017 at 6:00 p.m

Cost:

$1 Suggested Donation per Person
Tonight is Stargazing Night at Frosty Drew Observatory and the forecast is changing quite frequently, with latest models calling for clear skies to start, becoming mostly clear to partly cloudy after sunset. This will allow for fabulous observations of the solar chromosphere this afternoon in our hydrogen alpha telescope. The 1% waning crescent Moon will rise with the Sun, leaving fabulously dark skies all night long. The variability in the forecast could wreak havoc on our Milky Way party, though views of Jupiter and Saturn should be good to go. If skies turn out on the clearer side, which is highly likely, we could have a great night of Milky Way viewing ahead of us.
We will open the Observatory and Sky Theatre at 6:00 p.m. In the Observatory we will start off with views of the Sun in hydrogen alpha, allowing us to see prominence, filaments, and all the fantastic happenings in the chromosphere. Once the Sun sets we will direct our telescopes towards the night sky. Jupiter will be first up on our list, sporting beautiful views of the four Galilean Moons. Next up will be Saturn with stunning views of the rings. If clouds favor us we will direct our telescopes towards many of the star clusters and nebulae along the galactic plane. In the Sky Theatre we will show our regular feature of celestial objects photographed at Frosty Drew Observatory. Close up will happen around 11:30 p.m., possibly later if the weather is playing nice.
Overall, tonight could quite likely be an amazing night. Though some forecasting models are calling for potentially partly cloudy skies, which can crash our night sky frolic. We will post updates to our Twitter (@FrostyDrewOBSY) and Facebook as the night progresses with a "Closing up" post when we decide to pack up. Now put the cosmos on your Friday night list of things to do and celebrate a first view of Saturn's rings or Jupiter's moons at Frosty Drew Observatory tonight.
-Scott