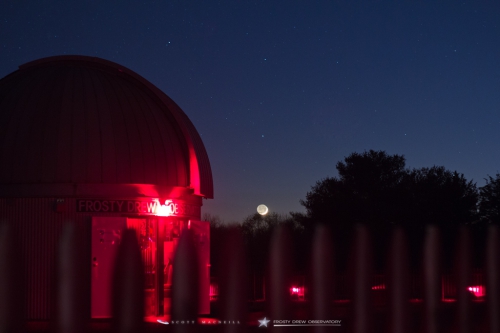 Stargazing Nights
Where:

Frosty Drew Observatory

When:

Friday September 22, 2017 at 7:30 p.m

Cost:

$1 Suggested Donation per Person
Today is the Autumnal Equinox and tonight is Stargazing Night at Frosty Drew Observatory. Unfortunately, the forecast is not looking too promising, with clouds, wind, and showers all lined up for us tonight. As Tropical Storm Jose lingers off the New England coastline, we continue to experience wind and periodic bouts of showers. Though Jose should clear out of our area tomorrow, tonight will remain stormy. Sadly, the 10% waxing crescent Moon will set at 8:16 p.m. and would have offered us fabulous views of the super thin crescent, followed by beautifully dark skies.
We will open the Observatory and Sky Theatre at 7:30 p.m. In the Observatory, telescopes will remain on standby as we evaluate conditions. There is a potential for views of brighter stars and Saturn if clouds stay on the thin side. Thawn Harris of the Narragansett Tribe will join us tonight with Native American stories of the stars. Thawn will setup either in the Observatory courtyard or in the Sky Theatre, depending on weather. We will also host an open discussion on general astronomy in the Observatory and in the Sky Theatre while showcasing celestial objects photographed at Frosty Drew Observatory. If skies are clear enough to observe, we will close up at 11:30 p.m. Otherwise, we will pack up around 10:00 p.m.
Overall, tonight could have been an amazing night of dark skies, a fabulous crescent Moon, and mesmerizing stories of the stars. Though, the remnants of Jose will keep us pretty cloud covered. There are possibilities that clouds will be thin enough to observe brighter objects, including Saturn. So stop in at Frosty Drew Observatory tonight, catch up on what is happening in astronomy, and celebrate the first day of fall with Native American stories of the stars.
Here's to a fabulous autumn from all the astro-geeks at Frosty Drew Observatory!
-------------------
Weekly Happenings
Scott MacNeill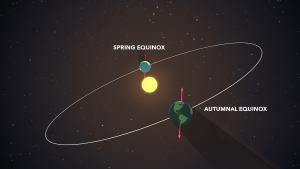 At 4:02 p.m. this afternoon (Friday, September 22, 2017), the Sun will cross Earth's equator marking the Autumnal Equinox. At this time, Earth with be neither tilted towards nor away from the Sun. Those who live along Earth's equator will see the Sun rise due East, pass directly over head (zenith) at noon, and set due West. This will allow for nearly equal duration of day and night times worldwide. Since we are neither tilted towards nor away from the Sun, sunrise and sunset times will be the same for corresponding locations in the Northern and Southern hemispheres. The Autumnal Equinox also signals a shift in day and night duration to the part of the year with longer nights in the Northern Hemisphere. All that aside, today is the first day of autumn in the Northern Hemisphere and with it comes beautiful autumn colors, pumpkin pie, Oktoberfest, spooky décor, maniacal leaf-peeping, lunar halos, and the inevitable dive into super short days with cooler temps – a stargazers utopia. So step out this afternoon and welcome the start of the autumn season and all the amazing (and maybe not so great) trappings that come with it.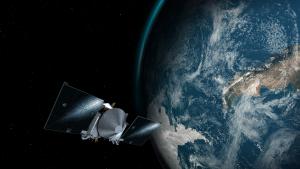 At 12:52 p.m. EDT this afternoon (Friday, September 22, 2017) the NASA Origins, Spectral Interpretation, Resource Identification, and Security – Regolith Explorer (OSIRIS-REx) spacecraft, which is en route to Near Earth Asteroid (NEA) Bennu, will perform a gravity assist maneuver with Earth. This maneuver will allow the spacecraft to use Earth's gravity to give it a boost in energy to propel the spacecraft further into space.
OSIRIS-REx launched from Cape Canaveral on September 8, 2016 with the purpose of rendezvousing with Bennu in August 2018. During the rendezvous, OSIRIX-REx will spend a year surveying the asteroid. Once the survey is complete a sample site will be selected, from which OSIRIS-REx will collect a 2.1 oz sample from the asteroid surface. In March 2021, OSIRIS-REx will begin its journey home and arrive back at Earth in September 2023. Four hours before reaching Earth's atmosphere, the spacecraft will jettison the sample collected from Bennu's surface, placing it on a re-entry trajectory for Earth. OSIRIS-REx will then place itself into a stable orbit around the Sun.
To celebrate today's gravity assist maneuver, NASA is promoting a "Wave to OSIRIS-REx" social media campaign. Individuals planet-wide are encouraged to take photos of themselves waving to OSIRIS-REx today. Share the photo on social media using the hashtag #HelloOSIRISREx. Take a moment this afternoon to wave at OSIRIS-REx as it passes by (you unfortunately won't see it) and send some good thoughts as the spacecraft leaves our habitable orbit and travels further into the Solar System.
-Scott