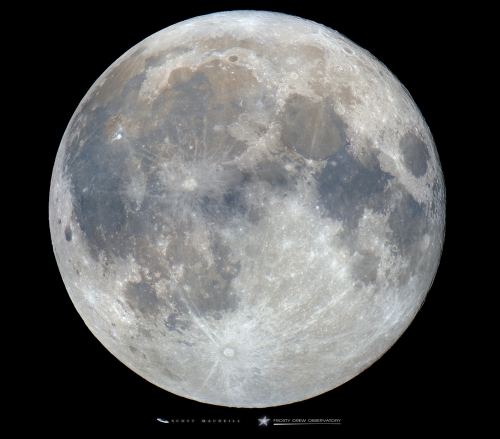 Stargazing Nights
Where:

Frosty Drew Observatory

When:

Friday October 6, 2017 at 7:00 p.m

Cost:

$1 Suggested Donation per Person
Tonight is Stargazing Night at Frosty Drew Observatory and forecasts are looking rather variable. We can likely expect partly cloudy skies at sunset, becoming mostly cloudy as the night progresses. There is a threat of fog, though timings could place it outside of our viewing session. Last night's Harvest Moon will put us under a stunningly bright 99% waning gibbous Moon, which will blaze through thin cloud cover. Saturn will be in the Southwest sky after sunset and will offer up fantastic views of the rings if clouds are thin enough.
We plan to open the Observatory at 7:00 tonight. In the Observatory, we'll monitor sky conditions for viewing opportunities. If clear enough, telescopes will start off on Saturn, showcasing the top-side of Saturn's rings. About a half hour after the 7:27 p.m. moon rise, we will direct our telescopes towards the post-Harvest Moon. If skies play nice, binary star systems, Neptune, and Uranus are all on our list of objects to geek out with. We'll stay open until 11:30 p.m. or until clouds crash our party, whichever comes first.
Overall, tonight is not a night for dark sky observers! The 99% gibbous Moon will be like a Full Moon and will obscure all dim objects, including any hints of the Milky Way. Clouds will also make for a potentially tough night of observing, depending on how quickly cloud cover happens. Though if the Moon, autumn evenings, or just some fabulous astro chats are your thing, then tonight could work out nicely for you. During the night we will periodically post updates to our Twitter (@FrostyDrewOBSY) and Facebook. If you're unsure about what to expect, check in on our social media before setting out.
-------------------
Weekly Happenings
Scott MacNeill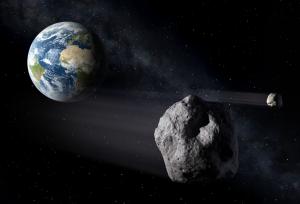 On Thursday, October 12, 2017 at 1:42 a.m. EDT, Near Earth Asteroid 2012 TC4 will pass by Earth at a mere 31,000 miles distant. At that distance, TC4 will be only 13% the distance of the Moon from Earth. The asteroid itself is about 43 feet in diameter, spins once on its axis every 12 minutes, and orbits the Sun every 1.67 years. The best night to see the asteroid will be on Wednesday, October 11th, as it passes through the constellations Aquarius and Capricorn. Though you will need a rather large telescope to see TC4 as the visible magnitude will be around +13, which is about 25,000 times dimmer than the North Star. Sorry doomsayers, though a fantastically close pass, TC4 does not pose an impact threat to Earth at this time. If it did, any impact by TC4 would be similar to the Chelyabinsk event that occurred over Russia on February 15, 2013.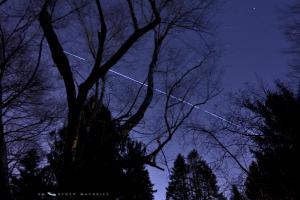 Over the next ten days, the International Space Station (ISS) will visibly pass over most of United States in the evening hours after sunset. This offers some of the best viewing opportunities that work with everybody's schedule. Certainly the brightest and most visible satellite to pass over, the ISS is humanities only continuously inhabited space residence. To catch sight of the ISS, you need to plan your view. Visit our homepage to get pass times that are applicable for Southern New England. If you want pass times relevant to your location, visit NASAs Spot the Station. Now make plans to take an evening stroll, check out some spooky Halloween decor, and catch a view of the ISS each clear night until October 17th.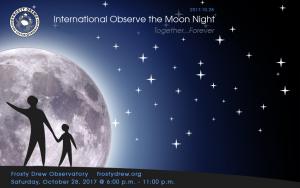 Save the Date: International Observe the Moon Night at Frosty Drew Observatory
On Saturday, October 28th from 6:00 p.m. - 11:00 p.m. Frosty Drew Observatory will join thousands of science organizations around the world in celebration for the Moon. Weather permitting, we will have all things lunar on display, including telescopic views of the Moon, a live projection of the Moon, and lunar presentations on our screens and displays. Being the weekend right before Halloween, Frosty Drew Observatory will be dressed up in spooky Halloween decor to honor the holiday. So stop in for a spooky night of lunar celebrations and join the world in celebrating how awesome the Moon is for us.
-Scott