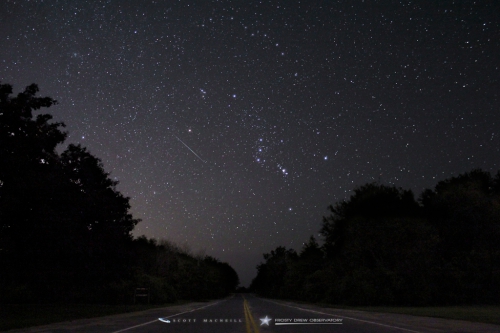 Stargazing Nights
Where:

Frosty Drew Observatory

When:

Friday November 17, 2017 at 6:00 p.m

Cost:

$1 Suggested Donation per Person
Tonight is Stargazing Night at Frosty Drew Observatory and forecasts are looking quite excellent. We can expect clear skies tonight complimenting the New Moon. This will make for a night of fantastically dark skies with thousands of stars overhead. The downside to all this awesomeness is that we will have some wind. Though diminishing as the night progresses, we could see gusts reaching into the 24mph range. This may restrict our viewing to only half of the sky. Regardless, it is a fantastic night to be out!
The Observatory will open at 6:00 p.m. with views of nebulae, star clusters, binary stars, and galaxies. On our list of wonderment are the Andromeda Galaxy, Perseus Double Cluster, The Ring Nebula, Albireo, The Orion Nebula, and loads more. We will keep the Observatory open until 11:30 p.m. if winds can keep calm.
Overall, tonight has the potential to be amazing! Clear skies on the New Moon is best case scenario for us. Wind gusts could pose a problem though we will do our best to work with it. Temps will be in the 30's tonight and wind chills could get pretty vicious, so dressing for winter conditions is a must. Wind-resistant parka, hat, and good shoes / boots will make the difference between a fantastic night of stargazing and a miserable night out in the cold. We will periodically post updates to our Twitter (@FrostyDrewOBSY) and Facebook about what is happening at the Observatory, and will post a "Closing up" message when we decide to pack it in. So put on your jacket and hat, and set out for a night with the cosmos at Frosty Drew Observatory.
-Scott