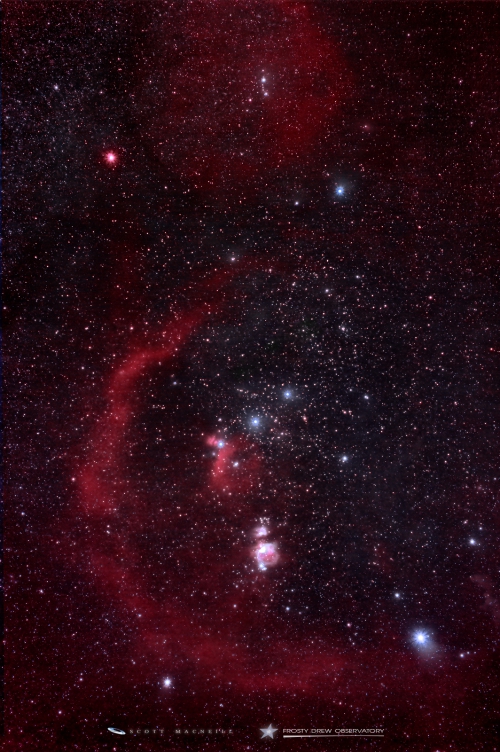 Stargazing Nights
Where:

Frosty Drew Observatory

When:

Friday January 12, 2018 at 7:00 p.m - 9:00 p.m.

Cost:

$1 Suggested Donation per Person
Tonight is Stargazing Night at Frosty Drew Observatory and the forecast is a disaster for stargazing. With heavy rain, potential for a t-storm, and winds all lined up for tonight, telescope viewing will surely be a no-go. This is unfortunate since we have a 10% waning crescent Moon that will not rise until 4:15 tomorrow morning and would have left super dark skies for us all night. Though we have had a great week of clear skies, sadly the weather creeps in for our Friday night show.
We will open the Sky Theatre tonight at 7:00 p.m. - 9:00 p.m. with a showcase of celestial objects photographed at Frosty Drew Observatory alongside a commentary and open discussion on general astronomy. On the unlikely chance that skies clear, we will open the telescope and get our geek on. Otherwise, we will return to our regular Stargazing Nights event on Friday, January 19, 2018.
Overall, tonight is obviously not the night to make the long drive. Heavy rain and clouds will keep the Observatory telescopes closed, with no realistic chance of a clearing in sight. Though nights like tonight are excellent opportunities to come and chat with our astronomers about what is happening in astro, as well as great opportunities to check out our gear with the lights on. Otherwise, stay in, stay dry, and we'll see you next week.
--------------------
Weekly Happenings
Scott MacNeill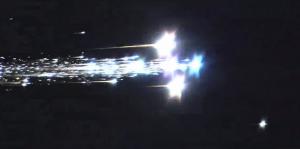 Step outside this week during the evening hours and catch Tiangong 1 – China's defunct space station passing overhead. China announced in March, 2016 that telemetry services with Tiangong 1 has ceased, and though not officially declared, the station appears to have been orbiting uncontrolled since June 2016. The last altitude adjustment procedure for Tiangong 1 was executed in December 2015, placing the station at an altitude near 250 miles. Since then Tiangong 1's orbit has degraded to an altitude of near 170 miles (the ISS orbits at an average attitude of 250 miles). This means that Tiangong 1 will experience re-entry into Earth's atmosphere this year. Predictions at this time place the re-entry time frame in mid-late March 2018, with a higher precision refinement happening in the days prior. Re-entry location is difficult to predict, though it will likely happen in between 43° N and 43° S latitude, due to the station not orbiting outside of those latitudes. We will continue to track Tiangong 1's re-entry and post updates as the date approaches. In the meantime, you can see Tiangong 1 passing overhead this week as follows:
Jan 14: 5:59 p.m. starting in WSW, rising to 48° heading towards the SE
Jan 15: 5:59 p.m. starting in WSW, rising to 78° heading towards the E
Jan 16: 5:59 p.m. starting in W, rising to 75° heading towards the ENE
Jan 17: 5:59 p.m. starting in W, rising to 61° heading towards the NE
Jan 18: 5:59 p.m. starting in W, rising to 57° heading towards the SE
Jan 19: 5:59 p.m. starting in WNW, rising to 62° heading towards the ENE
These times are applicable to Southern New England and will be acceptable for most of the Northeast. For times specific to your location visit: http://heavens-above.com. Note that re-entry will likely happen over water, though if it happens over you, danger is not a concern, rather a fabulous view of the station burning up as it encounters the atmosphere.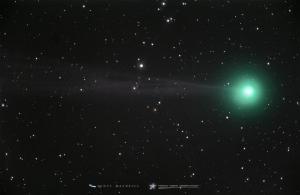 For the past few winter seasons we have had a pretty good comet to keep up with. Though not largely naked eye visible or fabulous to the level of Comet Hale-Bopp (C/1995 O1), or Comet Hyakutake (C/1996 B2), they were still excellent telescope and binocular comets. So far, 2018 has been pretty quiet on the comet front, though Comet C/2016 R2 PanSTARRS, an Ort Cloud comet, may step up as the comet of January 2018. Recent images of the comet show a fabulous blue glow with a very dynamic tail that changes over a couple hours. The comet is still rather dim, though a backyard telescope should give you a view. Currently hanging around the constellation Taurus, R2 is setup nicely for moonless views this coming weekend / week once the skies clear. Here's a finder chart covering the next several weeks compliments of Sky and Telescope. Check out this fantastic image of R2 PanSTARRS on today's Astronomy Picture of the Day (APOD). Happy comet hunting!
-Scott