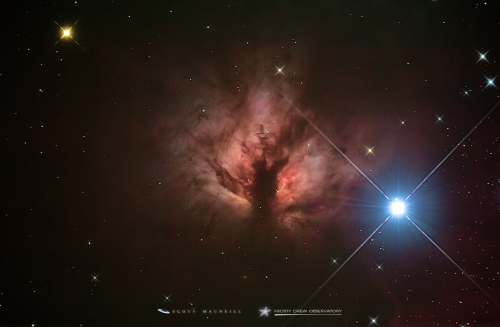 Stargazing Nights
Where:

Frosty Drew Observatory

When:

Friday January 19, 2018 at 6:00 p.m

Cost:

$1 Suggested Donation per Person
Tonight is Stargazing Night at Frosty Drew Observatory and we are potentially setup for an awesome night under the stars! We have the stunning 6% waxing crescent Moon that will hang beautifully over the western horizon after sunset, leaving super dark skies for us to revel under. Forecasts are calling for mostly clear to clear skies with a possible bout of clouds moving through real fast around 7:00 p.m. Temps will get above freezing tonight as well, making for a nice break from the frigid temps of late. Dark, cloud free skies make us so happy!
We will open the Observatory and Sky Theatre at 6:00 p.m. Telescopes will start out with amazing views of the super thin crescent Moon, followed by a fabulous list of nebulae, star clusters, binary stars, and more; including the Orion Nebula star forming region, Messier 46 open star cluster, The Eskimo Nebula, and more. The Sky Theatre will be warm and showing celestial objects photographed at Frosty Drew Observatory for those looking for a break from the cold of winter. We will stay open until 11:30 p.m. or until visitors stop coming.
Overall, tonight looks great compared to the cloud bombs of January's Fridays. We could have a little wind and the potential for hazy conditions with the warmer temps moving in, making for rough seeing conditions in the telescope. Though practically no Moon leaving super dark skies all night with little to no clouds, is certainly not a night to pass up. So dress warm and come celebrate clear skies with amazing views at Frosty Drew Observatory tonight.
--------------------
Weekly Happenings
Scott MacNeill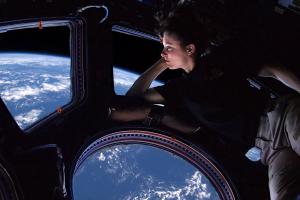 Starting Tuesday, January 23rd, and continuing until February 14th, the International Space Station (ISS) returns to the evening sky over much of North America. With passes happening every night of the period, sometimes twice per night, there is no good excuse for missing out on a view. The reason we see the ISS in periods during the evening or morning hours is due to the ISS orbiting the Earth inclined 51° to the equator. This places the ISS over different locations every 90 minutes when the Station passes. Though the ISS will pass over your location several times each day / night, you will only see the ISS if your location is in twilight or night and the ISS is in direct sunlight. This is because the light we see when we observe the ISS passing is sunlight reflecting off the Station. Light emit by the ISS is too dim to spot at its average orbiting altitude of 250 miles. Grab nightly pass times applicable to Southern New England and largely the Northeast under "Satellite Events for Tonight". For specific pass times over your location, visit NASAs Spot the Station.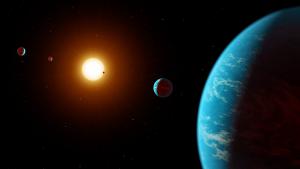 Have you ever wanted to be part of a fantastic astronomy discovery, but don't have the skills, PhD, connections, etc? Well thanks to modern technology, you can do your part in discovering amazing things just by sitting at your computer for a few hours every week. Which, let's face it, all of us geeks are probably already sitting at most of the time anyway. Recently a star system comprised of at least five exoplanets (K2-128) was discovered by citizen scientists, regular people contributing a little time at their computer. The discovery was made on the popular Zooniverse platform, via a project called Expoplanet Explorers. The project uses data collected by NASA's Kepler telescope, which is presented as easily view-able graphs alongside instructions on how to identify transiting planets. New 2017 Kepler (K2) data sets have been added to the project, data sets that have not yet been studied. Visit Exoplanet Explorers and get started on making your own exoplanet discovery, while kicking back with your laptop, and maybe a fluffy kitty. Go citizen science!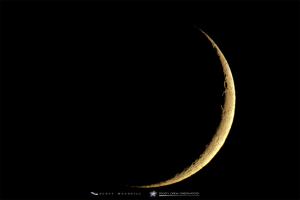 Starting tonight and continuing through the weekend, numerous opportunities await to catch beautiful views of the thin waxing crescent Moon in the west and southwestern sky. With winter sunsets happening early and the ecliptic (path the Sun takes across the sky) being so high at night this time of the year, the Moon is easily visible during the thin crescent phases. Additionally, crescent phases are when we get mesmerizing views of Earthshine, which occurs when sunlight reflects off the Earth and illuminates the nighttime side of the Moon, causing it to glow softly alongside the crescent. The crescent Moon is also quite dim compared to the gibbous phases of the Moon, making for a subtle lunar glow in the evening sky. So step out each night this weekend, about 1-2 hours after sunset, and look to the west southwest to catch a memorable view of Earth's only permanent natural satellite.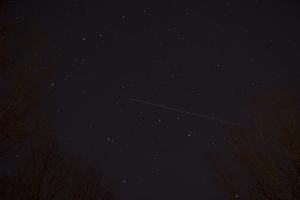 Have you been following along with the evening views this past week of Tiangong 1, China's now defunct space station? Regardless, the views continue through the weekend. Step out each night and catch Tiangong 1 passing by, and keep in mind that China has discontinued telemetry service with Tiangong 1, so that station is coming back to Earth sometime this year. Here are viewing times applicable to the Northeast:
Jan 19: 5:59 p.m. starting in WNW, rising to 62° heading towards the ENE
Jan 20: 5:59 p.m. starting in WNW, rising to 76° heading towards the E
Jan 21: 5:58 p.m. starting in WNW, rising to 77° heading towards the ESE
For times applicable to your location, visit Heavens Above.
-Scott