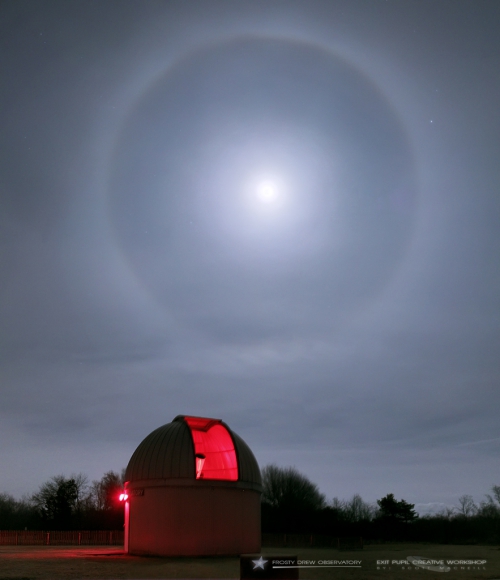 Stargazing Nights
Where:

Frosty Drew Observatory

When:

Friday February 2, 2018 at 6:00 p.m

Cost:

$1 Suggested Donation per Person

Tonight is Stargazing Night at Frosty Drew Observatory and we are in for another clear Friday night! Forecasts are calling for mostly clear – clear skies for the night. Though skies are clear, sustained winds of 15mph with gusts up to 30mph are expected, which may restrict our viewing to one side of the sky. Tonight's event comes on the heels of the fabulous Super Blue Lunar Eclipse this past Wednesday and has us charged for a great night under the stars.
We will open the Observatory and Sky Theatre at 6:00 p.m. tonight. In the Observatory, telescopes will start off with views of the Orion Nebula and possibly Uranus, if the wind is manageable. The 94% waning gibbous Moon rises just before 8:00 p.m. and will overtake our dark skies. Though during that two hour window, will rock nebulae, star clusters, and all the amazing things that dark skies bring to Frosty Drew Observatory. Once the Moon takes over, we'll direct our telescopes towards binary stars and eventually the Moon once it rises off the horizon. In the Sky Theatre temps will be warm and on screen will be our showcase of celestial objects photographed by Frosty Drew astronomers. We will stay open until 11:30 p.m. or until the wind chases us off. Check in on our Twitter (@FrostyDrewOBSY) or Facebook for updates on what is happening at the Observatory tonight.
Overall, tonight could turn out great! We have clear, dark skies for the first two hours of our night. Wind could become a minor issue, though we will work with what we have. Once the Moon rises, dark skies will be conquered, though if the Moon is your crazy, then tonight's Moon will be fabulously bright. With cooler temps setting in overnight coupled with the wind, we could see wind chills drop into the single digits. Dressing properly will make the difference between a cold winter night and a fabulous night under the stars. Check out our primer on how to dress for winter conditions. Then set out for another awesome night of stargazing at Frosty Drew Observatory.
-Scott