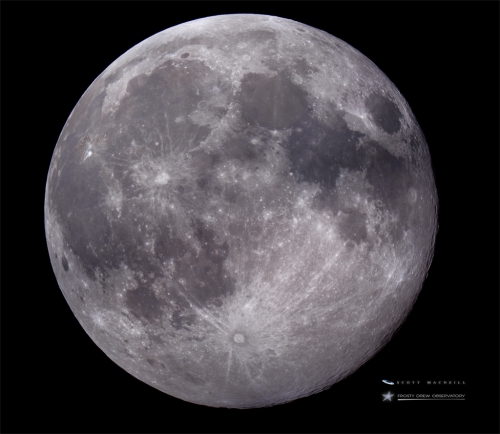 Stargazing Nights
Where:

Frosty Drew Observatory

When:

Friday March 30, 2018 at 7:30 p.m

Cost:

$1 Suggested Donation per Person
Tonight is Stargazing Night at Frosty Drew Observatory and forecasts are calling for clouds, fog, wind, and light rain. Though a clearing will happen before sunrise, it will likely not happen during the nighttime hours. This will sadly keep our telescopes closed tonight. We will be in the Sky Theatre from 7:30 p.m.. - 9:30 p.m. showcasing celestial objects visible this time of year using astro-photos previously captured at Frosty Drew Observatory.
Overall, tonight is a good night to chill out in our Sky Theatre, check out some fantastic photographs of the cosmos and chat with our astronomers about all that's happening in astro. The full Blue Moon happens tomorrow morning at 8:37 a.m. and would have hammered us tonight with massive amounts of moonlight. So even if skies were clear, it would have been a night only for the lunar crazies! Let's hope for clearer skies next Friday, with no Moon in sight until 1:30 a.m.
-------------------
Weekly Happenings
Scott MacNeill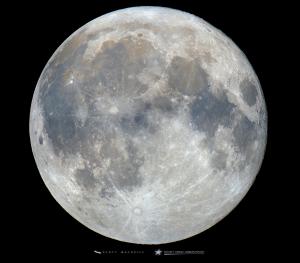 Tomorrow morning (March 31) at 8:37 a.m. ET the Full lunar phase will occur. This will be the second Full Moon of March, which makes this a modern Blue Moon. Using the definition that states a month with two Full Moons will name the second the Blue Moon. We see this occurrence happen every 2-3 years. Interestingly enough, 2018 so far has brought two such Blue Moons. This is due to the timing of the lunar phase cycle (synodic period). One complete phase cycle will take 29.5 days to complete. January's second Full Moon (Blue Moon) occurred at 8:27 a.m. ET on the 31st. Since February only has 28 days (non-leap year) the next Full Moon occurred at 7:51 p.m. ET on March 1st. Leaving February without a Full Moon. This timing has allowed for two full lunar phases to occur in March. If you have clear skies tomorrow night, set out and catch a view of the Blue Moon and notice that the Moon is certainly not any bluer in color than any other Full Moon.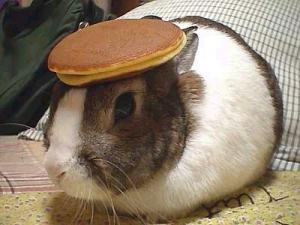 Speaking of the Full Moon and March. The date of Easter Sunday is determined by astronomical processes. In this case, the first Sunday after the first Full Moon after the Vernal Equinox will be Easter Sunday. Being that tomorrow morning's Full Moon is the first Full Moon after the Vernal Equinox, which occurred at 12:15 p.m. ET on March 20th; Sunday April 1st is Easter Sunday, as well as April Fools Day. So make an occasion of all these coinciding events in whatever way works best for you. Happy Blue Moon / Easter / April Fools from all us astro geeks at Frosty Drew Observatory.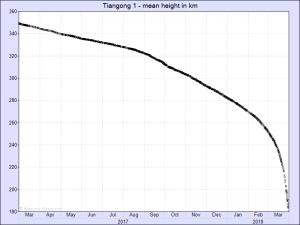 With all eyes to the sky, China's first test-bed-space station continues its descent back to Earth. The Tiangong 1 space station experienced failure of telemetry systems in early 2017 and has been slowly losing altitude since. This past month, that descent has increased significantly as the station starts to encounter the upper mesosphere. The European Space Agency (ESA) has been tracking Tiangong 1's re-entry and have a very narrow prediction window that opens on the evening on March 31st and continues until the afternoon of April 1st. Though the window continues to evolve, it appears that re-entry is happening this weekend. New England is in the re-entry zone of higher probability (though not super high). There will be up to 8 eight passes of Tiangong 1 over our region that could all be points of re-entry. Most passes will occur in daylight and will not be visible unless re-entry occurs, with the exception of the first pass on Sunday morning. Here are times that Tiangong-1 will be over the Northeast during the window of re-entry (times are based on Southern New England):
01 Apr - 05:07 a.m. Starting in SW, rising to 25°, heading towards E (visible pass)
01 Apr - 06:39 a.m. Starting in W, rising to 53°, heading towards ENE
01 Apr - 08:11 a.m. Starting in WNW, rising to 66°, heading towards E
01 Apr - 09:43 a.m. Starting in WSW, rising to 16°, heading towards SSE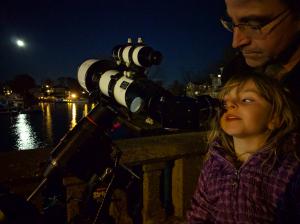 Each pass will take about 3 minutes to complete. If we experience re-entry, it will likely happen during one of these passes. You can also see a live ground track of Tiangong 1. Set your alarms, and look to the sky. Catching sight of Tiangong 1 re-entering Earth's atmosphere will be a sight to see!
If tomorrow's clear skies stick around into the evening and nighttime hours, catch Lights in the Dark's Jason Major and Frosty Drew Observatory's Scott MacNeill on the Pawtuxet River Bridge in Pawtuxet Village for an evening of sidewalk astronomy. Starting at 7:30 p.m. we'll have telescopes setup on the Blue Moon for those out for a stroll to enjoy a view. There's an ice cream shop, coffee shops, and dessert shops all within walking distance of the bridge. Stop in and welcome spring and the Blue Moon with a sweet treat and a tasty view. Get directions
-Scott