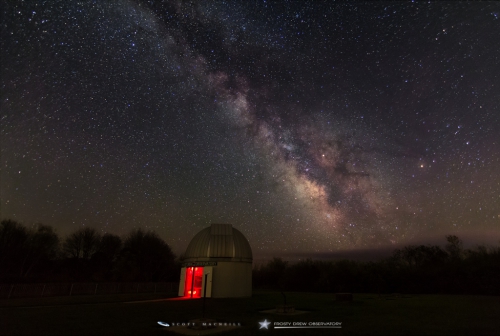 Stargazing Nights
Where:

Frosty Drew Observatory

When:

Friday April 20, 2018 at 8:00 p.m

Cost:

$1 Suggested Donation per Person
Tonight is Stargazing Night at Frosty Drew Observatory, and amazingly enough, we are expecting clear skies for nearly the entire night! We will have a quick bout of partly cloudy skies at sunset that should clear out within the hour, opening up the starscape. The 29% waxing crescent Moon will be with us until 12:36 a.m. and will offer stunning views of the lunar crescent as well as Earthshine, which is where the shadow side of the Moon is visible due to sunlight reflecting off Earth. Though somewhat bright, the crescent Moon will not slam our view of deep sky objects, leaving dozens of fabulous nebulae, galaxies, and star clusters to geek out with. We have a risk of wind gusts reaching 20mph, which could restrict our viewing to one side of the sky, though we are looking at a potentially awesome night.
We will open the Observatory and Sky Theatre at 8:00 p.m. tonight. In the Observatory, telescopes will start off with twilight views of Venus and the crescent Moon. Once twilight wanes, we will direct our telescopes towards the Orion Nebula, Herschel 3945, the Sombrero Galaxy, and more; eventually arriving at Jupiter later in the night. The Sky Theatre will show our collection of celestial objects photographed at Frosty Drew Observatory. We will stay open until 11:30 p.m. with the potential for a much later session.
Overall, tonight looks amazing. We have some catches – partly cloudy skies to start and the threat of wind. Though the clouds should move out real fast and the winds will likely be manageable. The 26% crescent Moon will be a fabulous sight and will allow for dark sky viewing. The Milky Way will also be out overnight tonight, becoming quite visible after 2:00 a.m., which is well after moonset. Add in that we can see a slight uptick in meteor activity, compliments of the Lyrid Meteor Shower, which peaks on Sunday morning, and tonight could be stunning. So put the cosmos on your list of awesome Friday-night-happenings and stop in at Frosty Drew Observatory and set your inner geek free.
--------------------
Weekly Happenings
Scott MacNeill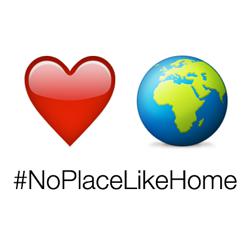 Tomorrow, Saturday, April 21st is Earth Day 2018 and Frosty Drew Observatory will be joining up with The Charlestown Parks and Recreation in celebration at Earth Fest in Ninigret Park. Starting at 10:00 a.m. and continuing until 2:00 p.m., Frosty Drew Observatory will have our Hydrogen Alpha telescope setup offering views of the solar chromosphere with sunspots and prominence in view. We're expecting beautiful spring-like weather, so make a day of it in Ninigret Park, check out all the great organizations attending, then stop over at the Frosty Drew Observatory table and have a astro geek out in daylight.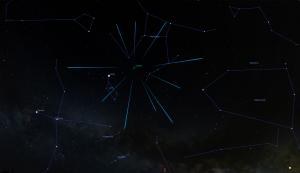 During the early morning hours of Sunday, April 22nd, the annual Lyrid Meteor Shower peak occurs. Bringing upwards of 18 meteors per hour, the Lyrid peak puts an end to the late winter - early spring lull in meteor activity. The shower is a result of comet C/1861 G1 Thatcher leaving behind a nice collection of comet dust and debris that Earth obits through every April. Taking about 451 years to orbit the Sun, Comet Thatcher's the last visit happened in 1861. The Lyrid shower is somewhat of a weird meteor event. It is not entirely reliable and often we find ourselves sitting out with practically no meteor activity. Regardless of how active the shower is, there are many perks. Since the best time to catch the shower is in the morning hours before dawn, and we have no Moon during that time frame this year, the Milky Way will be a fabulous sight for all meteor watchers outside of the city. Also, the Lyrid shower has good activity (when it's actually performing) on the days around the peak as well, which puts tonight on the map. Regardless of how you feel about the Lyrid shower, it is a great excuse to get out and rock the sky. Lyrid meteors will radiate from the bright star Vega in the constellation Lyra – the harp. We have some beautiful days and nights ahead of us this weekend, so get out on Sunday morning to a dark location with a wide open view of the sky, lay on your back looking to the zenith (top of sky) with your feet to the south, and rock the Lyrids and Milky Way.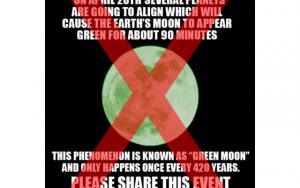 Rumor has it that tonight's crescent Moon will appear the color green due to Uranus being close enough to the Moon to cast its green (really cyan) light onto the Moon. Well there are some problems with this. For one, the Moon and Uranus are about 1.9 billion miles apart tonight, and on the other side of the Sun from each other. The distance of Uranus, even at its closest to Earth is still around 1.7 billion miles distant, is just too far for any sunlight reflecting off Uranus to visibly light up anything at Earth. Have you seen Uranus in a telescope? It's rather dim. Though we will throw the green filter in the telescope when looking at the Moon tonight and then, we can have a green moon celebration. In reality, the Moon tonight will show intense Earthshine, which is due to sunlight reflecting off the Earth and illuminating the night area of the Moon. So step outside tonight around 9:30 p.m. and catch a beautiful view of the shadow side of the Moon. If you want to see it green, stop in at Frosty Drew Observatory and check it out with a green filter.
-Scott