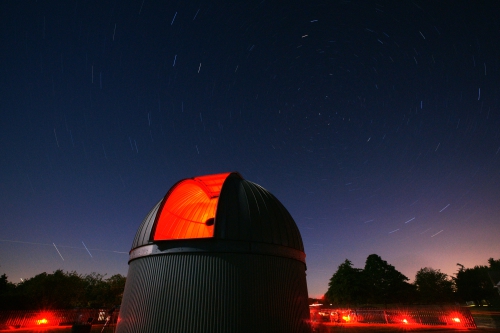 Summer Stargazing Nights
Where:

Frosty Drew Observatory

When:

Friday June 1, 2018 7:00 p.m - 9:00 p.m.

Cost:

$5 Suggested Donation per person 5 years and older
Tonight is Stargazing Night and after a fabulous start to our Summer Stargazing Nights season last Friday, the forecast for clouds is back. Unfortunately, we can expect cloudy conditions tonight with periods of fog. At this time we see little deviation from this quite solid forecast, so telescopes will remain closed tonight and we will offer our cloudy night program in the Sky Theatre. We'll keep our eyes on the sky and if clouds surprise us, we will open a telescope and check out Jupiter, Venus, and anything else that may become visible. Being that the Full Moon happened this past Tuesday morning, the Moon is now in its waning gibbous phase. Tonight's Moon is a 92% waning gibbous and will rise just before 11:00 p.m., placing it largely outside of our viewing window, unless skies clear out.
We will open the Observatory and Sky Theatre from 7:00 p.m. - 9:00 p.m. tonight. In the Observatory, the primary telescope will remain on standby as we evaluate sky conditions on site. In the Sky Theatre we will feature celestial objects visible during this time of the year using previously captured images at Frosty Drew Observatory. A commentary and open discussion on general astronomy will be available as well as tours of the Observatory and our telescopes. On the off-chance that skies clear enough, we will direct the telescope towards Jupiter and try to catch sight of the four Galilean Moons as well as the Great Red Spot. If that happens, and clearings stick, we will extend our closing time to 11:30 p.m. We will post occasionally to our Twitter (@FrostyDrewOBSY) and Facebook about what we are seeing on site.
Overall, tonight is the night to skip. Clouds and fog are in the forecast and the only variability we are seeing is when fog will roll in. Inclement weather has been favoring us hard core this spring, with some nights clearing nicely when clouds were expected. It's also important to note that the best views of Jupiter we are getting this year are on nights with thin cloud cover, light fog, or heavy haze. These conditions will dim down the copious amount of sunlight that reflects off of Jupiter (we only see reflected sunlight from Jupiter) allowing us to see atmospheric features of Jupiter much clearer and steadier. That puts tonight on the possibilities list for excellent views of Jupiter. Otherwise, if you're in need of a quick astro-bump, then stop in and chat with our astronomers about what we are doing, what will be visible this summer, and all the great things happening in astronomy.
----------------------
Weekly Happenings
Scott MacNeill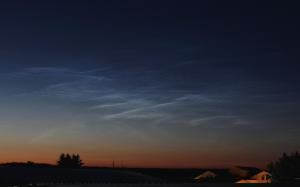 With only a few weeks remaining until summer starts in the Northern Hemisphere, noctilucent cloud viewing season is starting to kick in. Noctilucent clouds (NLC) are thin clouds that form in Earth's mesosphere. Comprised of water vapor that rises in the summer months, freezes, and collects on tiny specks of meteor dust, NLCs are the highest clouds that form in Earth's atmosphere. The elusive nature of NLCs make them a challenge to spot. For one, they only occur in and around the summer months, and are most visible between 50° and 70° latitudes. They also require the observer to be well into twilight with a clear view of the western horizon at sunset or the eastern horizon at sunrise. Because NLCs are so tenuous, they are only visible when sunlight grazes the mesosphere, illuminating the clouds, making them visible to an observer that can still see the sunlit mesosphere from their late twilight location. At least three Frosty Drew Observatory astronomers have observed NLCs, with one of them spotting them at Frosty Drew Observatory. On May 31st, NLCs were spotted in the pre-dawn sky over Denmark, so the viewing season is on! To see noctilucent clouds, you have to be out in late twilight on a clear night with a good view of the western horizon at night or eastern horizon in the morning. The clouds will appear as silvery or blueish wisps that are dimly visible. Let us know if you see NLCs this year, and if you happen to catch a photo of the clouds, post it on our Facebook and we'll share it on our time line.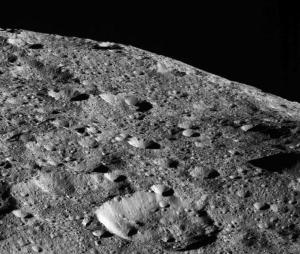 During the month of May, the NASA Dawn spacecraft, which has been residing in orbit around dwarf planet Ceres since March 2015, began maneuvering into a new orbit. The orbital change procedure completes in June and will bring Dawn to its lowest orbital altitude yet. Launching in 2007, Dawn first explored minor planet Vesta, the second largest object in the Asteroid Belt. Then in 2012, Dawn departed Vesta's orbit and began its journey to dwarf planet Ceres, the only dwarf planet in the inner Solar System. Thanks to Dawn we have fabulous surface maps of both objects as well as a better understanding of these preserved proto-worlds. At Dawn's new altitude the spacecraft will come within 30 miles of Ceres surface (the ISS orbits Earth at an altitude of 240 miles on average), and will enable the mission to capture closer images of Ceres surface as well as collect measurements of the chemical makeup of the dwarf planet's uppermost surface layer. Check out the fabulous gallery of images captured by the Dawn spacecraft, then visit the NASA Dawn mission page and catch up on all the amazing science Dawn has accomplished.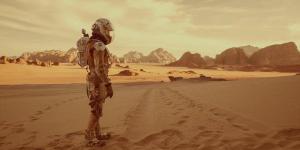 Save the date:
On Saturday, June 2, 2018 starting at 8:00 p.m., Brown University Department of Physics will host The Providence Center for Media Culture and the Cable Car Cinema in presenting a screening of The Martian on the lawn in front of Ladd Observatory in Providence, RI. There will be a panel discussion starting at 8:00 p.m. on the possibilities and obstacles involved with inhabiting other planets, followed by the film screening and stargazing at 8:45 p.m. Ladd Observatory will remain open until midnight offering views of Jupiter, Saturn, and more in the observatory telescopes. So have a night out in Providence and catch a great science flick and a view of Jupiter in a historic 12" refractor. Note this event is weather dependent.
-Scott