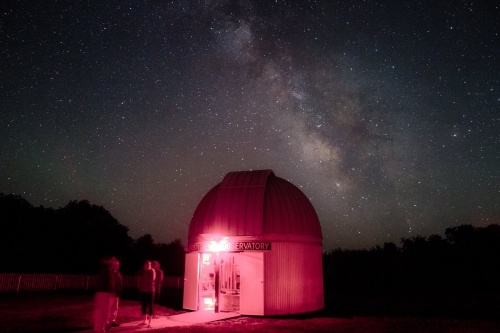 Summer Stargazing Nights
Where:

Frosty Drew Observatory

When:

Friday June 8, 2018 at 6:00 p.m

Cost:

$5 Suggested Donation per person 5 years and older
Tonight is Stargazing Night at Frosty Drew Observatory and forecasts are calling for partly cloudy skies this afternoon and evening. There is variability in how clear skies will get and what times we will see those clearings. This could work out well for us tonight. We won't have fabulous skies, but we should certainly be to catch stunning views of Venus, Jupiter, Saturn and more. Without the Moon in sight until 2:46 a.m., when the 22% waning crescent rises, we will have exceptionally dark skies. If clouds favor us, we could catch excellent views of the Milky Way silhouetted by scattered clouds.
We will open the Observatory and Sky Theatre at 6:00 p.m. tonight. In the Observatory courtyard we will start off with views of the Sun's chromosphere in hydrogen alpha. This is also a good time to stop in and chat with our astronomers and check out our telescopes and equipment in daylight. Once the Sun sets we will switch over to awesome mode. Venus will be first up, sporting a 78% gibbous phase. Breathtaking views of Jupiter will come next, showcasing the Galilean Moons, with Io (closest Moon of the four Galilean Moons), passing in between Jupiter and the Sun (eclipse), allowing us to see Io's shadow cast on Jupiter's cloud tops. That will happen from sunset until 9:30 p.m., after which, the Great Red Spot will come into view. This is certainly a great night to observe Jupiter! Saturn is on our list after 10:30 p.m. with early season views happening. In the Sky Theatre we will be showing celestial objects photographed by Frosty Drew Observatory astronomers. There are dozens of other amazing objects we can view tonight and all are on the list pending cloud conditions. We will stay open until 11:30 p.m.
Overall, tonight has the potential to be a fabulous night. Super dark skies will rock our night until the 2:46 a.m. Moon rise. That places the Milky Way into fabulous viewing from 11:00 p.m. on. The only catch at this point is the weather. We are generally expecting partly cloudy skies, though that could go either way. If haze and fog stay out, and clouds are well spaced, this could open up the skies for us. If you're making the long drive, it's a tough call, though views of Jupiter and Saturn could make it a worthy risk. We will try to post updates to our Twitter (@FrostyDrewOBSY) and Facebook about what we are seeing at the Observatory. We have noticed that only the "closing up" post is being resyndicated to Facebook, an issue we will address in the near future. So check in and hit the road for awesome views of Jupiter and potentially much more, tonight!
-------------------------
Weekly Happenings
Scott MacNeill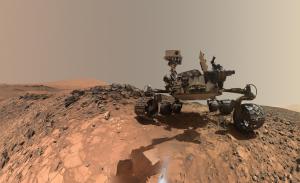 On June 7, 2018, NASA' Mars Exploration Program announced the discovery of new evidence suggesting a period in Mars' ancient past that the red planet could have supported life. The discovery was made by the Curiosity rover, which resides in Gale Crater. Curiosity drilled into the top five centimeters of sedimentary rock and collected samples from four areas of Gale Crater. The samples are from mudstone, which is three billion year old sediment that was deposited by water flowing into an ancient Mars lake. Once the samples were collected, Curiosity's Sample Analysis at Mars (SAM) instrument identified organic molecules in the powdered rock. These molecules raise questions about the previous existence of life on Mars. We have clear evidence that Mars' climate allowed surface based liquid water to exist in the distant past, and though this new evidence doesn't indicate the presence of ancient life on Mars, it signals that we are moving in the right direction. Check out the Mars Science Laboratory (MSL) Curiosity rover and catch up on all things Mars as we gear up for a fabulous summer of Mars viewing in the Frosty Drew Observatory telescope.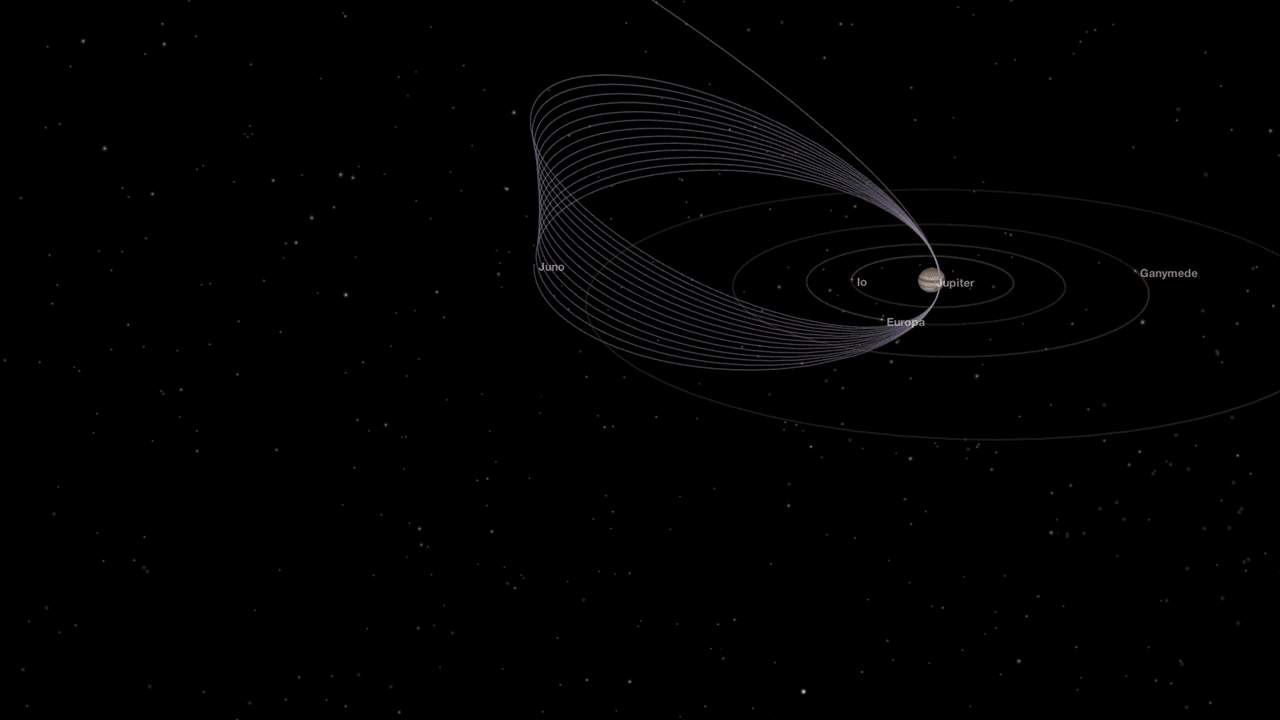 The NASA Juno mission, which has been residing in orbit around Jupiter, has just received a mission extension, which will certainly help the spacecraft and team to complete the primary science objective. Juno, which arrived at Jupiter in July 2016, has been tasked with studying Jupiter's magnetic and gravitational fields, polar regions, atmospheres, and core state. The spacecraft orbits the planet in a polar orbit configuration, which allows for super close passes over the Jovian equator. Originally slated to accomplish 33 science orbits, with the 34th orbit plunging Juno into Jupiter's cloud tops, the mission was slightly hampered by a valve issue in the spacecrafts main engine. To ensure safety of the spacecraft, the final orbital insertion maneuver, which would have brought Juno into a 14-day orbital pattern, was cancelled. As a result, Juno remains in a 53-day orbital pattern, where it will stay. This has made it difficult to meet the 33 science-orbits required for the primary mission. The new extension, which adds 3 years to the mission, will allow for completion of all science orbits and the primary mission, with the end of operations slated for July 2021. The next close pass of Juno over Jupiter will happen on July 13, 2018. Read up on all that Juno is doing, then stop in at the JunoCam gallery and check out the amazing images that Juno has captured of Jupiter.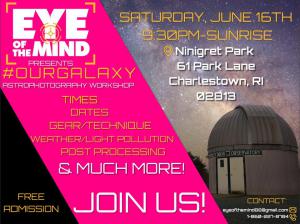 Save the Date:
2018 Milky Way Nights at Frosty Drew Observatory
On Saturday, June 16th, weather permitting, Frosty Drew Observatory will open for a special night of stargazing out under the Milky Way. This is the best night of June 2018 for viewing the Milky Way, from a celestial point of view. The Milky Way will start becoming quite visible after 10:00 p.m. Being that the New Moon is occurring on that night, we have the entire night to geek out with the Milky Way. Additionally, local night photographer James Crouch will be hosting a free workshop at the Frosty Drew Sky Theatre on how to photograph the Milky Way. James is a fabulous night photographer who has captured numerous stunning images of the Milky Way over Charlestown, RI. We can't account for weather at this point, but if skies are clear, the night will rock. We will kick off our night at 9:00 p.m. If you are interested in attending the photography workshop, you can contact James directly at: eyeofthemind88@gmail.com. We will be hosting another Milky Way Nights event on Saturday, July 14th as well. Check out our events calendar for additional Frosty Drew Observatory stargazing events.
-Scott