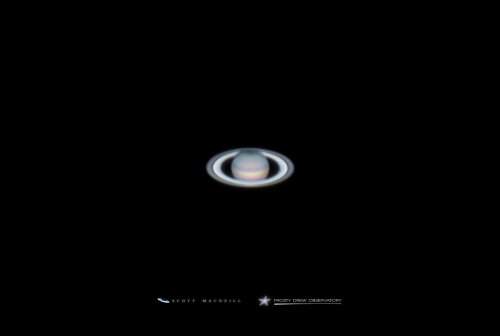 Summer Stargazing Nights
Where:

Frosty Drew Observatory

When:

Friday June 29, 2018 at 6:00 p.m

Cost:

$5 Suggested Donation per person 5 years and older
Tonight is Stargazing Night at Frosty Drew Observatory and it's two days past the Full Moon. Forecasts for tonight all look great, with mostly clear to clear skies expected. Temps will be warmer than usual, hovering in the mid 70's, which will make you want to dress in summer garb. Remember, this is what the mosquitoes want you to do! Pants and closed toe shoes will keep you off the main menu. As far as the sky goes, the Moon will certainly dominate the night, leaving fabulous views of the planets, though no hope for catching a view of the Milky Way.
We will open the Observatory and Sky Theatre at 6:00 p.m. In the Observatory courtyard we will have our hydrogen alpha telescope setup on the Sun, offering stunning views of the solar chromosphere and any prominence or filaments that may be visible there. Sunspots are non-existant at this time; caveats of solar minimum. Once the Sun sets, we will switch over to night sky mode, starting off with sunset views of Venus and Jupiter. Once twilight nearly wanes, Saturn should be visible above the trees. Being that Saturn's opposition happened on Wednesday, we will rock the ringed planet in our telescope. In the Sky Theatre we will feature our showcase of celestial objects photographed at Frosty Drew Observatory. The Observatory will stay open until 11:30 p.m.
Overall, tonight looks like it could be a fantastic night. We have the bright 98% waning gibbous Moon rising at 9:35 p.m., which will totally obscure our view of the Milky Way, though Venus, Jupiter, and Saturn will all offer amazing views. If you're making the long drive tonight and the Milky Way is your objective, you will want to skip this week. Otherwise make the cosmos a thing this summer with a Friday night stop in at Frosty Drew Observatory and let your geek shine!
-----------------------------
Weekly Happenings
Scott MacNeill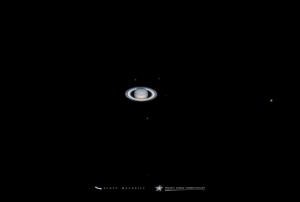 This past Wednesday, June 27, 2018, Earth arrived at the point in its yearly orbit where Saturn is on the opposite side of Earth than the Sun. This is called "opposition" and signals Saturn's closest point to Earth for our year. During opposition, Saturn will rise at sunset and set at sunrise, as well as cross the Meridian (imaginary line that separates the east and west sky) at midnight (not accounting for DST). When observing Saturn during opposition, the shadow the planet casts on the rings will be precisely behind the planet, because sunlight illuminates Saturn from the same direction we are viewing from. After opposition, Saturn will be above the horizon at sunset, rising higher with each passing night. The weeks around opposition are the best time to catch an unforgettable view. Additionally, the Full Moon occurred Thursday morning at 12:53 a.m. EDT, which essentially places the Moon at opposition as well (opposite side of Earth than the Sun). So Wednesday night brought the alignment of the Sun, Earth, the Moon, and Saturn. Though nothing magical about it, it is certainly fun to point out. Check out this photo of Saturn I captured at Ladd Observatory in Providence, RI on the Tuesday before opposition. Now put Saturn on your list of amazing things to see this summer and have a moment with those amazing rings!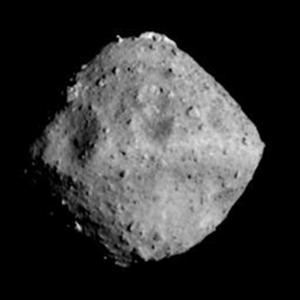 Remember when that lil spacecraft landed (rather roughly) on a comet? That was the amazing European Space Agency (ESA) Rosetta Mission, which deployed the Philae lander to Comet 67P. Well jump ahead a few years and the Japan Aerospace Exploration Agency (JAXA) is about to deploy numerous landers to Near-Earth Asteroid Ryugu. The mission is the Hayabusa 2 mission, which has traveled about 200 million miles over 42 months before arriving at Ryugu on June 27, 2018. The asteroid is classified as a Near-Earth Asteroid (NEA) and has a diameter of about 850 meters. Ryugu passes as close as 59,279 miles to Earth (23% the distance of the Moon from Earth), and orbits the Sun once every 475 days. In 2020 one of the landers will return to Earth with samples from the asteroid. This mission is hot, so stop in at JAXA and geek out with the amazing views coming in.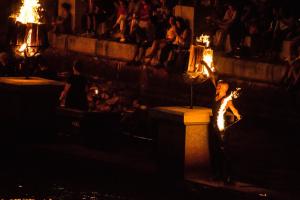 Save the Date: Saturday, June 30, 2018
The Rhode Island Sidewalk Astronomers are teaming up with Brown University in setting up telescopes at the fabulous Waterfire events in Providence, RI this summer. For those who have not visit, Waterfire happens when the braziers that float on the three rivers in Providence are lit. Along the rivers, performers of all kinds put on their gig. There's music, food, and tens of thousands of visitors all there to celebrate summer nights and the artistic side of Providence. This summer, the cosmos will be on the list of awesome things happening at Waterfire. Saturday night's weather looks amazing, and what a way to welcome summer! So have a night out in Providence and catch a view of Saturn's rings, Jupiter's Moons, and more along waterways of fire. Here is the Waterfire 2018 schedule, telescopes will be setup on all Full Lightings, weather permitting.
-Scott
---------------------------
Check out our page on Visiting Frosty Drew Observatory to learn more about what to expect at the Observatory and better help you prepare for your visit.
Please note that we do not allow any white lights on our campus from dusk - dawn. This is to ensure an equally awesome view of the night sky for all as well as to allow for the use of light sensitive astronomical equipment. Learn more about why we have this requirement in The Red Light District
Image Credit: This week's image is Saturn that was captured at Frosty Drew Observatory in early July 2017 by Scott MacNeill