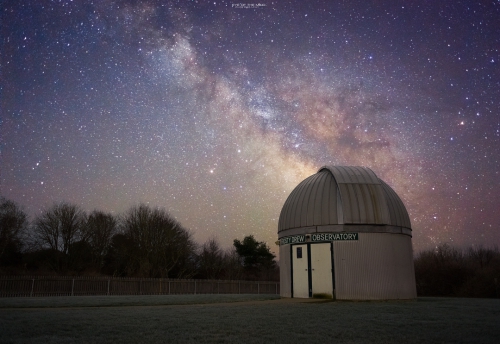 Summer Stargazing Nights
Where:

Frosty Drew Observatory

When:

Friday July 13, 2018 at 6:00 p.m

Cost:

$5 Suggested Donation per person 5 years and older
Tonight is Stargazing Night at Frosty Drew Observatory and forecasts are looking quite nice. We can expect mostly clear skies with potentially hazy conditions. There is variability in the forecast, with one source calling for cloudy conditions, though the general forecast looks good. This could play out fantastically since the New Moon happened yesterday, leaving a 1% waxing crescent Moon tonight that will set about 40 minutes after sunset. That scenario makes for fabulous Milky Way viewing at the Observatory tonight!
We will open the Observatory and Sky Theatre at 6:00 p.m. In the Observatory courtyard, our hydrogen alpha telescope will be setup on the Sun, showcasing the solar chromosphere until sunset. Once dusk kicks in, Observatory telescopes will bring it on with stunning views of Jupiter and the four Galilean Moons, Saturn's rings, Mars, and dozens of nebulae and star clusters. If weather plays out to our favor, the Milky Way will be visible stretching over Frosty Drew Observatory starting around 9:30 p.m. We will keep the Observatory open until 11:30 p.m., possibly later if the views are too amazing.
Overall, tonight has the making for a fantastic night! Practically no Moon, Milky Way visible at the end of twilight, super dark skies, and potentially cloud free conditions. Haze is a Milky Way killer and we could see notable haze tonight with a few passing clouds, though variability usually favors us at Frosty Drew Observatory. We will post periodic updates to our Facebook tonight on what we are seeing at the Observatory. So make it that special night where you become fast friends with the inner geek you didn't even know you had.
----------------------
Weekly Happenings
Scott MacNeill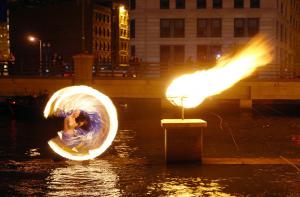 If tonight just isn't working out for you, or you would rather geek out on a Saturday, we are primed and ready! Tomorrow night, Saturday, July 14th, starting at 9:00 p.m. Frosty Drew Observatory is hosting another Celebrate the Milky Way event. This is the night we think will bring the best Milky Way viewing for the month of July to our location. At this time, weather is looking rather grim for Milky Way viewing, with forecasts calling for potential cloudy conditions with passing t-storms. Though this could change. If seeing the Milky Way is on your list of amazing things to do, then put either tonight or tomorrow night on your calendar and check off that item. Note that tonight is certainly looking like the better night for weather! Read about the event at: https://frostydrew.org/events.dc/show/event-744/.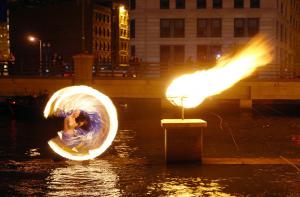 In the Providence, RI area tomorrow night, and looking for a fun summer night out on the city (who isn't?!) Then Waterfire is your ticket to joy! Add in that the RI Sidewalk Astronomers will be setup along Canal Walk in between College Street and Market Square (weather permitting), and you have a perfect night of food, music, smoke, fire, and stars lined up. Stop in and take a stroll along the river while enjoying the ambient atmosphere of wood burning braziers and fire dancers.
-Scott
Photo: A fabulous springtime view of the Milky Way over Frosty Drew Observatory by James Crouch.