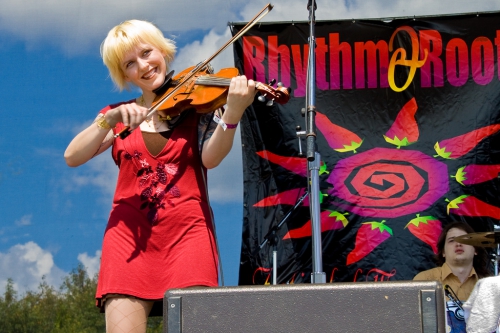 Summer Stargazing Nights - Rhythm and Roots
Where:

Frosty Drew Observatory

When:

Friday August 31, 2018 at 6:00 p.m

Cost:

$5 Suggested Donation per person 5 years and older
Tonight is Rhythm and Roots at Frosty Drew Observatory and forecasts are looking questionable. We can expect mostly cloudy conditions at the start of our night, becoming partly cloudy overnight. There is some variability in how cloudy it will be, though some clouds are a certainty. The 76% waning gibbous Moon will rise at 10:22 p.m. and will offer potential views to visitors later in the night. The 2018 planet parade that has been rocking our skies this summer continues, with Venus, Jupiter, Saturn, and Mars all blazing our starscape. Add in that the fabulous Rhythm and Roots festival is happening this weekend, and we could have a fantastic night with periodic views of Saturn's rings, Jupiter's moons, and Mars' ice caps, alongside live Americana tunes, and an energetic bustle of festival patrons.
We will open the Observatory at 6:00 p.m. this afternoon. If skies are clear enough, we will setup our hydrogen alpha telescope in the Observatory courtyard, showcasing the solar chromosphere for one last time before our summer season ends. The big telescope will track Venus in daylight, offering up fantastic views of Venus' crescent phase. Once the Sun sets, we will evaluate sky conditions on site, and if acceptable, start off with views of Jupiter, which will be showing three of the four Galilean Moons, and the Great Red Spot. Once twilight starts to wane, we will switch to Saturn and catch a view of the fabulous rings with up-to 5 of Saturn's moons visible. Mars and the Moon will be on display later in the night. We will close up at 11:30 p.m. or when the skies become too overcast, whichever comes first. The Sky Theatre will stay closed tonight due to the increase in Park visitors from the festival.
Overall, tonight is a questionable night. Dark skies are out of the question due to increased artificial light from the music festival followed by the bright 76% Moon rise. Clouds are adding to that assessment, which could break the night. Though weather could favor us with enough gaps in the clouds for periodic views, and the cooler temps will be a nice change of pace. It's important to note that the music festival will be loud and the park will be full of people and activities, so travel could be confusing. You do not have to pay for festival admission or for parking if you are only visiting Frosty Drew Observatory! You will encounter festival traffic management, kindly notify them that you are visiting Frosty Drew Observatory and they will let you pass. Do not be deterred by festival staff, they are not aware of our schedule. We will be posting updates to our Twitter (@FrostyDrewOBSY) and to the right column of our website. This is the place to get info on our status. Even if skies are too cloudy to observe, the bustle in the park will be fantastic and lively. So take a chance on the skies and stop in for a night of tunes and stars at Frosty Drew Observatory tonight.
------------------------
Weekly Happenings
Scott MacNeill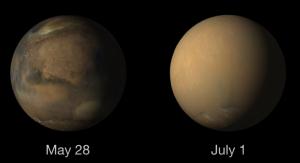 Starting in late May 2018, an intense dust storm, that engulfed the entire planet, has been raging on Mars. The dust from this storm has substantially blocked sunlight from reaching the planet's surface and has had negative effects on the Opportunity rover, which requires sunlight to charge its batteries. The last communication we received from the lil rover was on June 10, 2018, leaving the current state of the rover unknown at this time. The dust storm began to subside during mid-July, with the dust starting to fall shortly after. Skip ahead several weeks and the dust is noticeably clearing out. Though we still haven't heard from Opportunity. Once the dust settles a bit more, we will start sending regular signal intervals to Opportunity to see if we get a response. If the rover does not respond within 45 days of regular signal intervals, attempts to communicate further will stop, with the expectation that the rover has suffered unrecoverable damage from the dust storm. There is a slight chance that a lack of communications could be the result of an intense amount of dusk deposit on the rover's solar panels, making for difficult charging operations. Though Mars' fabulous dust devils (small vortexes of wind and dust), are known to pass over our rovers and give them a nice dusting off, which could bring back the rover.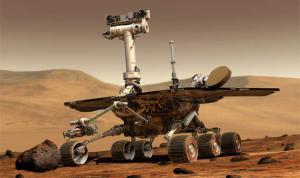 Opportunity has had a fabulous run on Mars! The rover, and it's partner – Spirit, was designed to carry out a 90 day mission, with an expected travel distance of 1,000 yards. Though Opportunity has greatly exceeded those mission parameters, logging over 14 years of activity on Mars, while traveling over 28 miles along the martian landscape. Opportunity is also not a stranger to intense situations and damage. In 2005, the front right steering mechanism took a dump, then in June 2017 the front left steering mechanism failed. Additionally, battery capacity has dropped, causing the rover to have to recharge more frequently. If Opportunity survives this dust storm, it will not go unscathed. Having the batteries drained for extended periods of time will further reduce battery capacities and performance. Though we are unaware of Opportunity's current state, the level of dust is decreasing enough for the rover to start charging up. So keep your fingers crossed that Opportunity will once again pull off the amazing and cast off the dust of its road traveled.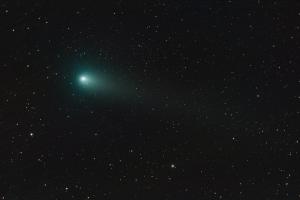 Over the past couple months, Comet 21P/Giacobini-Zinner (21P) has been approaching Earth, and will pass us at a close 36 million miles distant on September 10, 2018. This will be the closest this comet has come to Earth in 72 years. Comet 21P is also the source of the annual Draconid Meteor Shower that peaks in early October. Skip ahead to now and Comet 21P has grown quite bright, and will continue to brighten over the course of this week. The nucleus of 21P is about 1 mile in diameter, though interaction with the solar wind has caused the nucleus to heat up and undergo out-gassing, allowing the comet to develop a large coma (atmosphere due to out-gassing of a comet), reaching a diameter of 180,000 miles. That's about twice as large as Jupiter! Comet 21P is excellently placed for observation this week and next weekend. Currently in the constellation Auriga, 21P will move across the constellation and pass into Gemini on September 13th, putting the comet high in the overnight sky for Northern Hemisphere sky watchers. The comet is currently at 7th magnitude and may brighten up to 6th magnitude, making 21P a binocular visible comet. Add in that the Moon is departing the night sky this week, with the New Moon happening on September 9th, and fabulous binocular and telescopic views of this comet are a reality for us in New England. For best views of the comet, head out to a dark spot later this week during the morning hours before the Moon rises. The comet will pass straight through Auriga. Sky and Telescope has a finder chart. We will post an updated finder chart on our Facebook this week with info on how to spot the comet. Now all we need is for skies to stay clear. Happy comet hunting!
-Scott