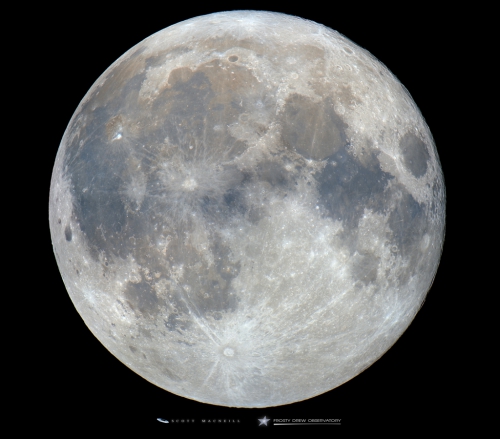 Stargazing Nights
Where:

Frosty Drew Observatory

When:

Friday September 28, 2018 at 7:00 p.m

Cost:

$5 Suggested Donation per person 5 years and older
Tonight is Stargazing Night at Frosty Drew Observatory and forecasts are calling for cloudy conditions to clear out quickly, bringing mostly clear to clear skies for our stargazing geek out. We will have a bright Moon, as the 87% waning gibbous will rise at 9:00 p.m., which will obscure our view of the Milky Way, as well as most deep sky objects. There is a little variability in the timing of cloud clearings, though we expect clouds to start clearing out between 8:30 p.m. and 9:00 p.m. with full clearings happening around 10:00 p.m. It could be a fabulous night.
We will open the Observatory and Sky Theatre at 7:00 p.m. this evening. In the Observatory, telescopes will start off on standby as we wait for clearings. Once the sky clears, Saturn will be on display in the big telescope, with rings and moons visible. Once Saturn starts setting we will switch to Mars, where the dust continues to clear. The Moon will be visible periodically during the night as well as binary stars and perhaps Uranus. In the Sky Theatre we will feature our collection of celestial objects photographed at Frosty Drew Observatory. We will stay open until 11:30 p.m. which is when that bright Moon will chase us off.
Overall, tonight has the potential to be a fantastic night, though with a few caveats. The night will start off quite cloudy and after today's intense (unexpected?) deluge, stargazing is probably the last thing on you mind. But clouds will clear out very quickly tonight, leading into a beautiful weekend of clear skies, autumn-like temps, and dry conditions. Secondly, the Moon will be strikingly bright tonight and will obscure our view of any dim objects. Those who have a thing for the Moon will have a stunning experience, though if super dark skies are you fling, then tonight is not your night. It's also important to note that the saturated landscape will certainly bring fog to our region overnight. It will probably not happen during our session, though it is always a possibility. Checking in on our Twitter (@FrostyDrewOBSY) or the right column of our website will get you occasional updates on what is happening at the Observatory. So take a chance and celebrate the start of a beautiful weekend with a night out under the stars at Frosty Drew Observatory tonight.
-----------------------
Weekly Happenings
Scott MacNeill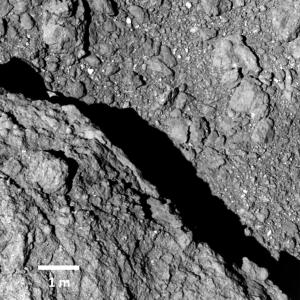 On Saturday, September 22, 2018, the Japan Aerospace Exploration Agency (JAXA) Hayabusa2 spacecraft successfully deployed two lander modules, called MINERVA-II1, to the surface of Ryugu – a Near Earth Asteroid (NEA) that the Hayabusa2 spacecraft has been orbiting for the past 3 months. Launched on December 3, 2014, the Hayabusa2 spacecraft spent 3.5 years traveling to the asteroid. On June 27, 2018, Hayabusa2 successfully acquired orbit around Ryugu. The asteroid is considered a potentially hazardous asteroid. Having a diameter of about 0.6 miles, Ryugu orbits the Sun every 16 months and has a 0.19 eccentric orbit (deviation from perfect circle) that is inclined 6° to the ecliptic (path the Sun takes across the sky, and the plane of the Solar System). Orbiting the Sun at a distance of 0.96 AU – 1.41 AU (1 AU is the distance of Earth from the Sun, AU = Astronomical Unit) places the minimum orbital intersection distance of the asteroid with Earth at 59,278 miles. That's about 0.23 times the distance of the Moon. The Hayabusa2 mission is an asteroid sample return mission, which will survey Ryugu for 1.5 years utilizing four rovers that will land on Ryugu's surface. A sample of the asteroid will be collected over this period followed by the spacecraft's departure from the asteroid in December 2019. One year later, Hayabusa2 will return to Earth and return the sample. There are still a lot of fabulous science and operations planned for the little spacecraft, including the deployment of two more rovers, and a sample collection phase. Check out the fabulous images of the surface of Ryugu returned by the two rovers. Then catch up on all the amazing things this little spacecraft is doing.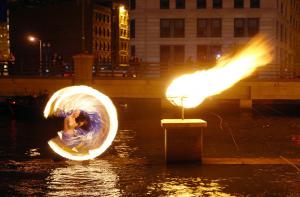 Save the Date
On Saturday, September 29, 2018, Waterfire is returning to Providence, RI. Though you may be reading this while the dismal weather of late is closing in on you, this weekend will be a completely different story, with beautiful weather lasting all weekend. What better way to shake of the deep dark gloom of relentless rain than a cool, dry autumn night in the city with fabulous music, food, and the relaxing atmosphere of dozens of blazing braziers along the rivers of Providence. Add in that the RI Sidewalk Astronomers will be setup on River Walk in between College Street and Market Square, and it will be an unforgettable night! So put the city on your list of fabulous autumn weekend festivities and stop in for a view of Saturn, Mars, and more as you relax among fire dancers, smoke, and music.
-Scott