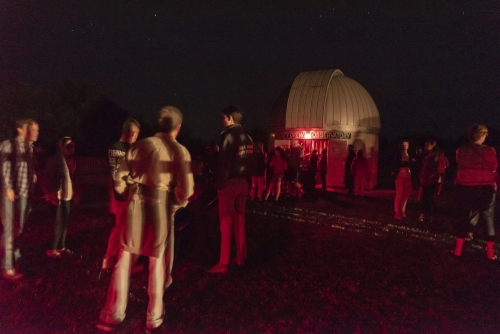 Stargazing Nights
Where:

Frosty Drew Observatory

When:

Friday October 5, 2018 - 7:00 p.m. - 11:30 p.m.

Cost:

$5 Suggested Donation per person 5 years and older
Tonight is Stargazing Night at Frosty Drew Observatory and after a month of clouded out Fridays and overall dismal weather, we are finally seeing a fabulous night ahead of us, and on a night with practically no Moon! We can expect mostly clear to clear skies all night tonight. The 8% waning crescent Moon will not rise until 3:40 a.m., offering up fabulously dark skies for all to celebrate under. We are a little short-staffed tonight, though we couldn't pass up a night with so much potential for amazement.
We will open the Observatory and Sky Theatre at 7:00 p.m. tonight. In the Observatory, the big telescope will start off with stunning views of Saturn's rings, followed by views of Mars, where the views are becoming clearer. Courtyard telescopes will be setup outside, scanning the fabulous Milky Way and showcasing dozens of nebulae, star clusters, and the Andromeda Galaxy. In the Sky Theatre we will feature our popular showcase of celestial objects photographed at Frosty Drew Observatory. We will close up at 11:30 p.m.
Overall, tonight looks like an amazing night! We will have clear skies and no Moon, which will make for stunning views of the Autumn Milky Way, which will not show the galactic nucleus, but the Scutum -Centaurus arm, Sagittarius arm, and Perseus arm will all be strikingly visible. Additionally, the best season for observing the Andromeda Galaxy is just starting to kick in, and the views tonight will be sensational. From what we can tell, tonight is the night to be out! So gear up and take the drive out to Frosty Drew Observatory tonight and set you inner geek lose under thousands of stars!
----------------------
Weekly Happenings
Scott MacNeill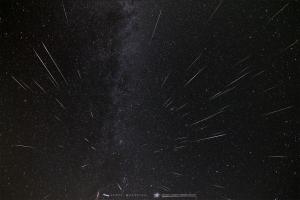 This coming Monday night, October 8, 2018, the annual Draconid Meteor Shower will peak. Overall a rather beat meteor shower, bringing an increase of about 5 meteors per hour under perfect viewing conditions, the Draconid shower is one we would normally not mention. Though allowing for a moment of speculation has raised some interesting possibilities regarding the 2018 showing of this rather weak meteor shower. The parent object of the Draconid shower is Comet 21P/Giacobini-Zinner (Comet 21p), which orbits the Sun every 6.6 years and has a aphelion (furthest from the Sun in an orbit) of around 559,036,000 miles, and a perihelion (closest to the Sun in an orbit) of 96,488,128 miles. Note that Earth's average distance from the Sun is 92,960,000 miles. Rarely, yet occasionally, Draconid Meteor Shower peaks have been fantastic, producing well over 1,000 meteors per hour. This happened in 1933 and 1946. The connection is the orbital position of Comet 21p in relation to Earth during Earths' intersection of the comet's debris field. When the comet passes Earth during perihelion, and it occurs in the periods around early October, these outbursts have occurred. Well this past September 10th was the perihelion of Comet 21p, and on that date, Comet 21p was the closest it has passed by Earth in 72 years (72 years ago was the Draconid outburst of 1946). Does this mean we will have an mind-blowing Draconid Meteor Shower outburst happening Monday night? Probably not. But these numbers are just too compelling for our inner astro-zealot to ignore. Add in that the New Moon happens overnight Monday night – Tuesday morning, and we are setup for a great night to speculate. Now all we need is for weather to cut us some slack, which is just as unlikely as the prospects for a Draconid meteor storm.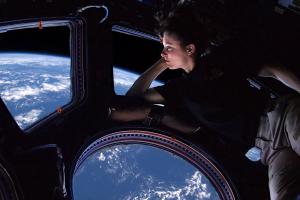 We have a weekend of fabulously clear skies in store for us, certainly a weather rarity of late. Step outside this weekend and catch a couple passes of the International Space Station (ISS) over the USA. In the Northeast get outside Saturday night at 7:48 p.m. and catch the ISS appearing in the NW as it rises to 29° heading towards the NNE before fading into orbital sunset at 7:51 p.m. Then again on Sunday night, set out for 6:56 p.m. and catch the ISS appearing in NNW as it rises to 21° heading towards the NNE. Monday night is the real treat with a near overhead pass of the ISS starting at 7:40 p.m. in the NW. Put these passes on your calendar and show off your astro-prowess to your friends and family when you point out Earth's only continuously inhabited space-based residence passing over.
Here are some Frosty Drew Observatory dates to get on your calendar: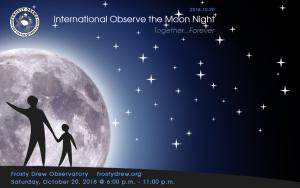 International Observe the Moon Night at Frosty Drew Observatory – Saturday, October 20, 2018 from 6:00 p.m. - 11:00 p.m.
Frosty Drew Observatory will be joining thousands of science and educational institutions across the planet in showcasing Earth's moon. We will have the big telescope focused on specific craters and lunar surface features, including some of the Apollo mission landing sites. In the Observatory courtyard we will have telescopes showcasing the Moon in a wider field using different magnifications. The Lunar Lounge will be setup with a live view of the Moon projected on the Northwest exterior wall of the Sky Theatre. Inside the Sky Theatre, NASA Solar System Ambassador, Frank Puglia will present about the Moon and the Apollo missions. Screens around the campus will feature videos and imagery of the Moon from Frosty Drew Observatory and other science outlets. We spend so much time bagging on the Moon over the year, usually because it's so bright. Well this is our night to make amends with Earth's only natural satellite. So make plans (and possibly amends) to spend a mid-autumn evening out at Frosty Drew Observatory and join in the celebration for the Moon.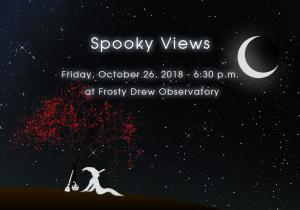 Spooky Views at Frosty Drew Observatory – Friday, October 26, 2018 starting at 6:30 p.m.
Every October, we celebrate Halloween at Frosty Drew Observatory on the Friday preceding the spooky holiday. We dress up the Observatory in creepy Halloween garb, change our tunes to freaky sounds, and showcase the ghostly remnants of dying stars in the telescope and more. Loads of candy will be available for visitors as well as freak out moments. Costumes are welcome, but not required. So make plans to get your Halloween on with us at Frosty Drew Observatory with a night of astro-freak-outs.
-Scott