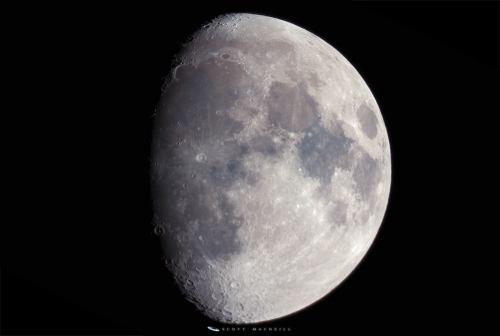 Stargazing Nights
Where:

Frosty Drew Observatory

When:

Friday October 19, 2018 at 6:30 p.m

Cost:

$5 Suggested Donation per person 5 years and older
Tonight is Stargazing Night at Frosty Drew Observatory, and after a week of fabulous weather, clouds are moving back in. Overnight tonight we can expect increasing clouds, that will eventually overcast the sky. Though timings of that increase are a bit variable, we can probably expect skies to become too overcast for viewing after 9:00 p.m. If it plays out that way, we could have a couple hours of okay viewing. Since the Moon is in a nice 77% waxing gibbous phase, views could be easily had in between passing clouds in through thinner cloud cover. Wind will also play a part in tonight's plans, with gusts potentially reaching 40 mph, which could restrict viewing to only one side of the sky. Certainly a challenging night, but we will work with what we have.
The Observatory and Sky Theatre will open at 6:30 p.m. tonight. In the Observatory, telescopes will start off with views of Saturn's rings, Mars, and the waxing gibbous Moon. As long as skies stay clear we will rock the cosmos. In the Sky Theatre we will feature our regular showcase of celestial objects photographed at Frosty Drew Observatory. We will stay open until 11:30 p.m. or until clouds chase us out, whichever comes first. You can get updates from the Observatory about what we are seeing on site, including a "Closing up" post when we decide to wrap up the night, by visiting our Twitter (@FrostyDrewOBSY) or by checking out the right side column on our website.
Overall, tonight looks to be a questionable night. We have a bright gibbous Moon and clouds eventually taking over our view. Though the Moon is in a perfect phase for fabulous viewing of the cratered lunar surface, the copious moonlight will outshine the Milky Way and other dim objects. Clouds could cut us a break earlier in the night, though they will chase us out at some point. If your in the RI /east CT area and need a quick astro fix, stop in earlier in the night for a view of Saturn's rings and the Moon. If you're making the long drive, you may want to skip this one. Keep in mind that Frosty Drew Observatory will be opening again tomorrow night (Saturday, October 20) for International Observe the Moon Night, and forecasts at this time are looking much better for tomorrow night. Second chances rock, right?! So put a little astro in your weekend plans and either stop in tonight and play it risky or stop in tomorrow night for a true lunar geek-out.
------------------------
Weekly Happenings
Scott MacNeill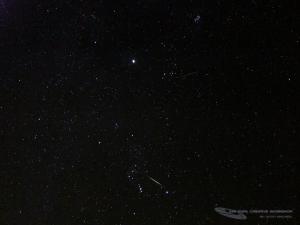 Overnight Sunday / Monday, October 21-22, the annual Orionid Meteor Shower will peak. Usually bringing an increase in meteor activity by 25 meteors per hour, the Orionids are an okay shower to sit out under. Though that rate is what to expect under excellent viewing conditions, which is not the case for us in 2018. The bright 90% waxing gibbous Moon will be with us nearly all night, setting at 4:36 a.m., and will outshine all but the brightest Orionid meteors. Aside from blazing the sky with meteors, the Orionids are also quite notable due to the parent object of the shower being Halley's Comet (1P/Halley). When Halley's Comet makes its 74-79 year orbit around the Sun, it leaves behind a stream of comet debris, tiny dust-sized and rice-grain-sized pieces of ice and rock. Every October, Earth begins encountering the debris field that intersects our orbital path. These tiny pieces of comet get caught in Earth's gravity, enter the atmosphere, and burn up. The result - a shooting star. Though the Moon is taking over the view, we have been seeing a nice increase in meteor activity over the past week due to the Orionid Meteor Shower and the Taurid Meteor Showers. The Southern Taurids peak overnight October 28-29, and the Northern Taurids peak overnight November 10-11. All of these meteor showers are known for producing fireball meteors, which are meteors that are brighter and longer lasting than your usual meteor, at times lighting up the ground. Even though it's not quite peak yet, get out after the Moon sets, while you still can, lay on your back and look to the zenith. You will certainly catch sight of a few meteors and possibly a few fireball meteors compliments of the Orionids and Taurid meteor showers.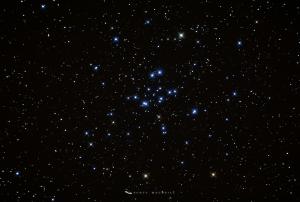 Last Saturday, October 13, 2018, we had a fabulously clear night, with no Moon for most of the night. This allowed us to setup for a long overdue imaging session at Frosty Drew Observatory. Overnight into Sunday morning, the skies opened up with thousands of stars, the Milky Way, and dozens of shooting stars. It was an amazing night that reminded me of a time when it was easier to get out and lay under the stars. Our targets for that night were the Messier 34 Open Star Cluster and the Messier 103 Open Star Cluster. Messier 34 is found in the constellation Perseus and resides at 1,500 light years distant from Earth. Messier 103 is found in the constellation Cassiopeia and resides at a much further distance of near 10,000 light years distant, making it one of the most distant known open clusters. We haven't finished processing the Messier 103 images yet, though here is our capture of Messier 34 from Sunday morning. A beautiful night!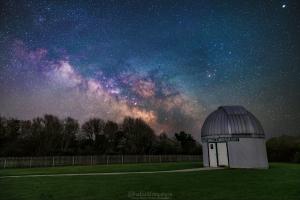 This autumn we have had a few amazing stories come out about Frosty Drew Observatory and the night sky in notable Rhode Island magazines. We love what we do at Frosty Drew Observatory and are thrilled when others write about our fabulous space place. Check out this excellent piece by Kaitlyn Murray of Rhode Island Monthly about Frosty Drew Observatory. Then stop over at Hey Rhody and check out this little scoop by Tony Pacitti. There is so much happening right now in Astronomy and the next generation of explorers will have some of the most amazing opportunities in space. That next generation are our children of today, and will be the ones who work on the Gateway, a lunar outpost to be built in the 2020's that will serve as a launching platform for missions further into the Solar System and beyond. The Gateway will enable our children of today to become the first humans to set foot on Mars in the decades to come. Now is the time to get involved!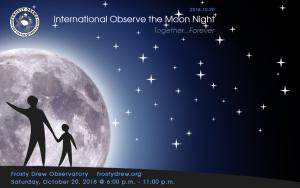 Tomorrow, Saturday, October 20, 2018 is International Observe the Moon Night across the planet. Thousands of science and education organizations will be hosting events spotlighting the Moon, and Frosty Drew Observatory will join in the festivities! From 6:00 p.m. - 11:00 p.m. Frosty Drew Observatory will open our telescopes to the public. The night will be dedicated to the Moon, with numerous telescopic views of our celestial partner, live projections, and lunar discussions. The Sky Theatre will host NASA Solar System Ambassador, Frank Puglia, who will be presenting about the Moon. Weather is looking okay at this point and we'll send out a notification to our mailing list tomorrow afternoon with an update on weather predictions. So stop in for a true lunar geek-out, or just to make amends with the Moon for all the complaining you do throughout the year about it being to bright.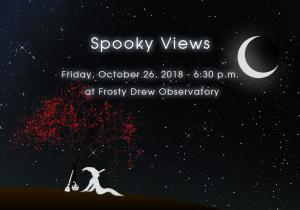 Save the Date:
Spooky Views - A Halloween Celebration at Frosty Drew Observatory
On Friday, October 26, 2018 Frosty Drew Observatory will host a special Stargazing Nights event themed for Halloween. The Observatory will be decked out in creepy Halloween garb, the tunes will be set to spooky, and loads of candy will be available. So stop in for a night of creepy sounds and sights, and of course, fabulous views of the cosmos. Costumes are not required but totally welcome.
-Scott