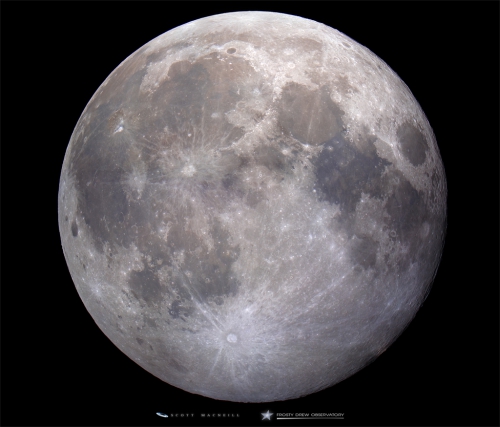 Stargazing Nights - Full Beaver Moon
Where:

Frosty Drew Observatory

When:

Friday November 23, 2018 at 6:00 p.m

Cost:

$5 Suggested Donation per person 5 years and older
Tonight is Stargazing Night at Frosty Drew Observatory and forecasts look great to start. We can expect clear skies for the first few hours of our night, eventually becoming partly cloudy with full overcast conditions happening overnight. This will set us up for beautiful views of the Full Beaver Moon. Temps will also increase as it gets later, though it will still be wintry cold, so dressing properly will make the difference between a night out in the cold or a fantastic night out with the Moon. Wind breaking shell, boots, gloves, and a hat are all highly recommended tonight.
We will open the Observatory and Sky Theatre at 6:00 p.m. tonight. In the Observatory, telescopes will rock with views of the Full Beaver Moon, Mars, Uranus, and a handful of binary stars bright enough to outshine the intense moonlight. In the Sky Theatre, temps will be warm, and on screen we'll show our feature of celestial objects photographed at Frosty Drew Observatory. We will stay open until 11:00 p.m. or until clouds chase us out, no earlier than 9:00 p.m. Checking in on our Twitter (@FrostyDrewOBSY) or on the right column of our website will get you updates on what we are seeing at the Observatory, including a "Closing up" post when we decide to start packing up.
Overall, tonight will make for a night of continued holiday merriment. We have the super bright Full Moon, which will obscure the Milky Way and all deep sky objects (nebulae, star clusters, and galaxies), though fabulous views of the Moon will be available. Check out our article on how to dress for chilly winter conditions, then suit up and add a little astro geekage to your holiday weekend festivities, with a night out under the Beaver Moon at Frosty Drew Observatory.
----------------------
Weekly Happenings
Scott MacNeill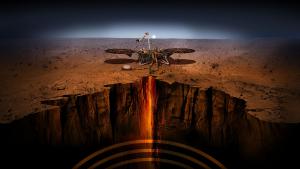 On Monday, November 26, 2018, around 3:00 p.m. EST, NASA's Mars Interior Exploration using Seismic Investigations, Geodesy and Heat Transport (InSight), will touch down on the red planet, marking the first Mars landing since the MSL Curiosity rover touched down in 2012. Launched this past May, InSight will operate a two-year mission, studying Mars' interior, including the crust, mantle, and core of the planet. Learning about Mars' interior will help us answer questions about the early formation of rocky planets in the Solar System and beyond. Tune into NASA TV on Monday afternoon at 2:00 p.m. EST for a live landing commentary. If the commentary is not what you want, but would rather watch and listen in on JPL Mission Control, tune in here at the same time. Fingers crossed for a successful InSight landing!
Starting next Friday, November 30, 2018, Frosty Drew Observatory will be shifting the opening time of our weekly Stargazing Nights events to 7:00 p.m. for the remainder of the winter season. This change does not affect special events like the Gemind Meteor Shower on Thursday, December 13th, or Holiday Stargazing on Friday, December 21, 2018.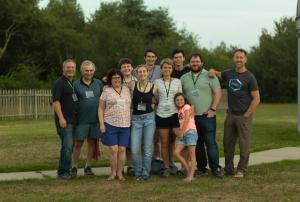 On the heals of, what we hope was, a fabulous Thanksgiving Holiday; the festive Holiday Season kicks in to full swing cuddly kitten mode. As we start to add regular holiday revelries to our calendar, I take a moment to stop and think about the fabulous year we have had at Frosty Drew Observatory. It is such a special place to so many people. If you have visited, I'm certain you agree! At Frosty Drew Observatory we believe that the cosmos should be accessible to everyone. We love showcasing amazing views of Saturn's rings, Jupiter's moons, the cratered lunar surface, the vast Orion Nebula, the huge Andromeda Galaxy, and thousands of beautiful stellar objects in our telescopes, while introducing so many people, young and old, to the wonders of the Universe. The Observatory has a fabulous team of volunteer astronomers that are passionate about looking up and inspiring others to do so. Every week our team members diligently defy the hot, humid, bug laden nights of summer, or the frigid cold of a long winter's night with a smile. The Frosty Drew Observatory weekly Stargazing Nights events, as well as numerous special events, are freely available to anyone who wants to join us in celebration, and it is a priority of ours to keep these events freely available! On the Tuesday after Thanksgiving, the annual Giving Tuesday tradition takes place. A day where you'll have a chance to support a cause that is close to your heart. Please consider supporting the place that we all love so much, a place that will continue to invoke thousands of smiles, provoke hundreds of deep thoughts and existential questions, and a place that may inspire that inquisitive child to one day walk on Mars. This is Frosty Drew Observatory and you all mean the world to us! Please Donate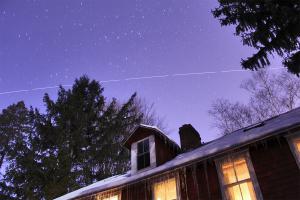 This weekend, the International Space Station (ISS) has returned to the night sky over the U.S. and we have several notable passes happening this week:
Nov 23 at 5:59 p.m. starting in the SSW, rising to 35°, heading towards the SSE.
Nov 25 at 5:51 p.m. starting in the SW, rising overhead. This is a fabulously bright and long pass
Nov 26 at 4:59 p.m. starting in the SW, rising to 47°, heading towards the SE.
Nov 27 at 5:43 p.m. starting in the W, rising to 40°, heading towards the NNE
Nov 28 at 4:51 p.m. starting in the WSW, rising overhead. This is a fabulously bright and long pass!
These times are applicable to Southern New England, and are generally acceptable for the Northeast U.S. Put these on your calendar or alarm clock. Some of these passes are happening during the business day, and present a fabulous opportunity to show off your astro-prowess to your colleagues and co-workers. These times and others will be listed daily on our website. For times specific to your location, visit NASAs Spot the Station. Not get out and see humanity's only space based residence blazing by.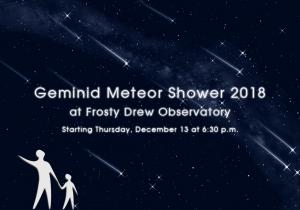 Save the Date:
The Geminid Meteor Shower peak will occur on Thursday, December 13, 2018 and Frosty Drew Observatory will open for the entire night in celebration of the best meteor shower of the year. Starting at 6:30 p.m. telescopes will showcase the 35% waxing crescent Moon and more for the first couple of hours. Once meteor activity starts to increase, we will close the Observatory telescope and lay out under a sky of shooting stars. With the Moon setting at 10:08 p.m., meteor activity should be spectacular. So put the cosmos on your calendar of holiday events, bundle up, grab a blanket, friends and family, and a thermos of toasty warm awesome for a night of holiday cheer compliments of the Gemind Meteor Shower at Frosty Drew Observatory.
-Scott