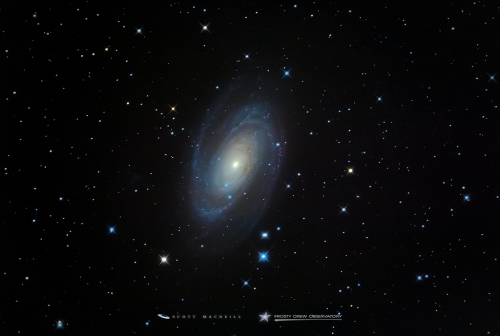 Stargazing Nights
Where:

Frosty Drew Observatory

When:

Friday November 30, 2018 at 7:00 p.m

Cost:

$5 Suggested Donation per person 5 years and older
Tonight is Stargazing Night at Frosty Drew Observatory and the standard November 2018 Friday night forecast of astronomer discrimination is back. We can expect clouds to move in just in time to crash our fun, and then move out after we close. This is quite unfortunate, because the 32% waning crescent Moon isn't rising until 12:38 a.m., leaving super dark skies that would have set us up for our first night of serious viewing of Comet 46p/Wirtanen, as well as a first glance at a new supernova in the Messier 77 galaxy. There is a chance that skies could clear a bit towards the second half of our night, and we'll closely monitor conditions on site for viewing opportunities.
We will open the Observatory and Sky Theatre at 7:00 p.m. tonight. In the Observatory, telescopes will start on standby as we evaluate sky conditions for any possible viewing opportunities. If skies are on the clearer side, we will try for a view of Uranus, Mars, the Orion Nebula, and more. If accessible, we will setup a telescope on Comet 46P/Wirtanen as well as direct the Observatory telescope towards the Messier 77 galaxy, where supernova 2018 ivc is occurring. In the Sky Theatre and on screen in the Observatory we will be featuring our collection of celestial objects photographed at Frosty Drew Observatory and will offer a commentary if skies are too cloudy to observe. We'll close up at 11:00 p.m. or when clouds chase us out, no earlier than 9:00 p.m. Check in on the right hand column of our website or on our Twitter (@FrostyDrewOBSY) for updates on what we are seeing at the Observatory, including a "Closing up" post when we decide to start closing up.
Overall, tonight's forecast is hammering our hopes for a fabulous night. As far as the cosmos goes, we are setup for awesome times. We have a comet that is growing brighter and larger by the day, and now a potential Type II Supernova happening in a galaxy that is in prime viewing right now. Forecasts are quite variable at this time, and appear to be improving as the day continues, though a fabulous night is a stretch. If you're making the long drive, you will probably want to sit this one out. Though if you're in the local area and want to take a chance, stop in and hope with the best.
--------------------------
Weekly Happenings
Scott MacNeill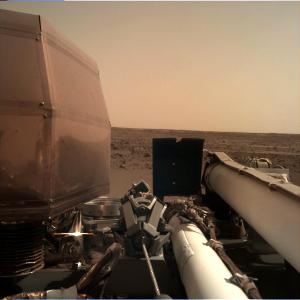 This past Monday, November 26, 2018, the NASA InSight lander successfully touched down on Mars' surface. Shortly after, the lander communicated that it had successfully deployed its solar array, allowing for recharging of the lander's batteries. Up next will be the deployment of InSight's robotic arm, some image capture of the surrounding landscape, and deployment via the robotic arm of the mission's primary science instruments. This landing marks the eighth successful landing by a NASA vehicle on Mars. Check out this image of the martian landscape, captured shortly after landing by InSight's Instrument Deployment Camera (IDC) mounted to the robotic arm. Then catch up on all the awesome science that InSight will be doing. Way to go NASA InSight!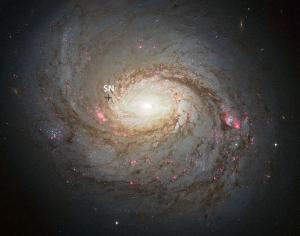 On Saturday, November 24, 2018, the DLT40 Survey discovered a supernova in the Messier 77 galaxy (M77). Initial analysis of the supernova, called 2018 ivc, indicate it to be a Type II supernova, which is the demise of a high-mass star. M77, the galaxy that is home to the supernova, is found in the constellation Cetus, and resides at 47 million light years distant from Earth. Even though the supernova became visible last Saturday, the actual event occurred 47 million years ago. The timing of this supernova is excellent for observing. The constellation Cetus is well above the horizon for most of the nighttime period right now, and M77 sits about 48° above the horizon at its highest point of the night. Additionally, with the upcoming New Moon only a few days away, we'll have super dark skies to capture a view of the supernova, both visibly and photographically. Now all we need is for weather to cut us some slack. If we catch a photo of the supernova, we'll post it on our website, our Facebook, and our Twitter. If you happen to catch an image of the supernova, please share it on our Facebook and we'll post it on our time line. Clouds begone!
-Scott