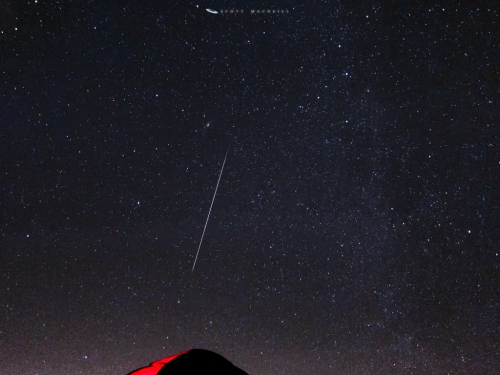 Stargazing Nights - Geminids Post Peak - Closed
Where:

Frosty Drew Observatory

When:

Friday December 14, 2018 - Closed

Cost:

$5 Suggested Donation per person 5 years and older
Tonight is Stargazing Night at Frosty Drew Observatory, and after a slow starter Gemind Meteor Shower that turned out awesome in the morning hours, we are revved up for another night under shooting stars. Sadly, tonight's forecast is much less forgiving. We can expect full cloud cover in the evening with rain eventually moving in after midnight. This forecast will keep the Observatory and Sky Theatre closed tonight. We will return to our regular Stargazing Nights schedule on Friday, December 21, 2018 at 7:00 p.m. for our Winter Solstice stargazing event.
----------------------------------
Weekly Happenings
Scott MacNeill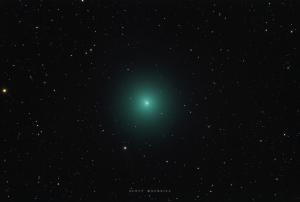 Last Friday, December 7, 2018, Comet 46P/Wirtanen became naked eye visible over Frosty Drew Observatory and continued to brighten throughout the week. In a stroke of rather unusual luck, we had stunningly clear skies for nearly 5 straight nights during the New Moon side of the lunar phase cycle (synodic month). This allowed for repeated nights of fabulous observations of the comet. Perihelion happened on Wednesday, December 12, 2018, which is when the comet makes is closest approach to the Sun. Up next, Comet 46P will make a close pass of Earth on Sunday, December 16, 2018, at a distance of around 7,200,111 miles. The comet should remain visible into the New Year, though will start dimming later next week. Check out this photo of Comet 46P/Wirtanen that we captured on Friday, December 7, 2018 during our Stargazing Nights event. Then check out this wide field photo of Comet 46P and the Pleiades that we captured on Monday night at Frosty Drew Observatory. Now that the bright Moon is returning to the evening sky, views of Comet 46P will slowly be overtaken by copious moonlight. Though you can still catch a view in binoculars. Here is a finder chart of comet placement that will get you through this weekend and coming week. Now get out there and see the holiday comet!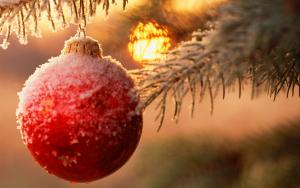 On Friday, December 21, 2017 at 5:23 p.m. EST, Earth will reach the point in our orbit where the Northern Hemisphere is tilted 23.4° away from the Sun. This is the Winter Solstice and hails the first day of the winter season. The Winter Solstice brings the shortest daytime period of the year to the Northern Hemisphere with the Sun rising at 7:14 a.m. EST and setting at 4:15 p.m. EST over our location. If you find yourself north of the Arctic Circle, you will experience 24 hours of nighttime. Though if hanging out south of the Antarctic Circle, the midnight Sun will be your take-away, with 24 hours of daylight occurring. The Sun will also cross the sky at its lowest altitude in the Northern Hemisphere for the year at 23.4° below the celestial equator. In the Southern Hemisphere, the Sun will pass directly overhead at noon along the Tropic of Capricorn. Aside from all of that, the Winter Solstice brings many fantastic winter celebrations, and is a harbinger of the long cold nights of winter to come. It also hails the shift to longer daytime hours with each passing day. So take a moment around noon on Friday to step outside, notice how low the Sun is in the sky, and welcome the Winter Solstice with festive merriment.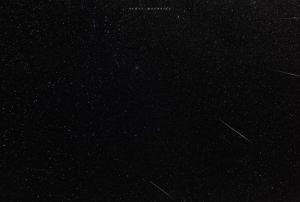 Last night at Frosty Drew Observatory, the annual Geminid Meteor Shower peak occurred. The night started off cloudy, with a nice clearing that lasted for about a 1.5 hours, allowing for numerous visitors to catch sight of Geminid meteors. Clouds eventually moved back in, overtaking the sky for most of the night. After nearly everybody left, myself and local night photography guru, James Crouch, stuck it out. After 3:30 a.m., the skies cleared out completely, and the starscape lit up with hundreds of Geminid meteors blazing the sky until the Sun started to rise. Certainly a fantastic finish to a long night out in the cold. I have over 600 images of the night to go through, mostly containing clouds, though many shots contain meteors as well. Here is a sample of a few meteors that I capture this morning. If you have clear skies tonight, there will be lingering Geminid meteors, so get out after the 11:06 p.m. EST Moon set.
Have a happy Winter Solstice from all us astro-geeks at Frosty Drew Observatory!
-Scott