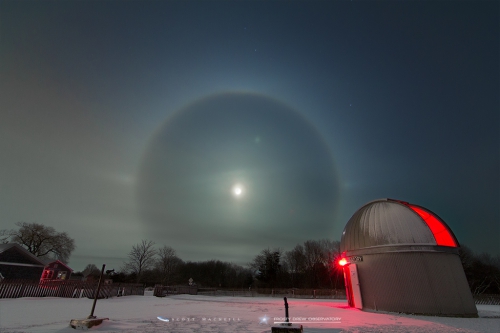 Stargazing Nights - CLOSED
Where:

Frosty Drew Observatory

When:

Friday December 28, 2018 CLOSED

Cost:

$5 Suggested Donation per person 5 years and older
Tonight is Stargazing Night at Frosty Drew Observatory, and for a third consecutive week, we are under attack from the weather. Heavy rain, dense fog, and full cloud cover will, yet again, keep the Observatory and Sky Theatre closed. At this time we are unsure when we will return to our regular Stargazing Nights event schedule. Our next scheduled event is our New Year's Eve Stargazing, which appears to be subjected to another perfectly timed weather attack. Sadly, this is happening during the best opportunities to view Comet 46P/Wirtanen; like Comet C/2013 US10 Catalina, in January 2016, which we completely missed out on due to relentless weather attacks. Though we have numerous events lined up for the holidays and immediately following, so there is still room to hope. Until then, have a safe and happy New Year from all the astro-geeks at Frosty Drew Observatory.
-------------------------
Weekly Happenings
Scott MacNeill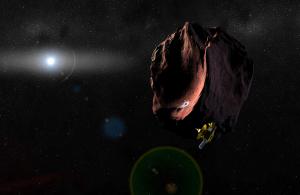 This coming Tuesday, January 1, 2019 at 12:33 am EST, the NASA New Horizons spacecraft will make its closest approach to Kuiper Belt Object (KBO) – 2014 MU69. Passing within 2,200 miles of MU69, the spacecraft will be in full out science data collection mode. This is all happening at a distance of about 4,034,300,000 miles from Earth, which makes this the furthest object visited, to date.
2014 MU69 is a dark primordial object that resides in the middle of the Kuiper Belt's main belt. Little is known about MU69 as it is so distant and tiny. The object is under 20 miles in diameter along its wider axis and appears to be quite elongated or oval in shape. Color analysis shows that MU69 is reddish in color. It is a dark object that reflects only about 10% of sunlight, making it as dark as garden dirt. The irregular shape of MU69 has raised some questions about its composition. It has been speculated that the object may actually be two separate objects in close proximity bound by gravity, or two objects that have previously connected, called a "contact binary". Cratering on the object's surface is expected to be minimal due to the location of the object in the Solar System. It is unknown at this time if MU69 has any moons or rings, though initial analysis, from a spacecraft safety perspective, did not reveal either.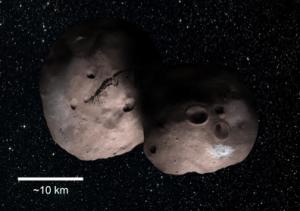 The orbit of MU69 has a relatively low eccentricity (0.0471), which means its orbit is rather round, and it is inclined about 2.2° to the plane of the Solar System, which places MU69 along the same orbital plane as the planets. This loosely categorizes the object as a Classical Cold Kuiper Belt Object which, unlike Pluto, has not been subjected to intense gravitational interaction with Neptune. As a result, MU69 is likely in a preserved state from a period of very early Solar System formation, perhaps the Solar Nebula period, which is when the Solar System was only a disk of dust and small objects left over from the formation of the Sun.
Starting today, December 28, 2018, a series of broadcasts and televised events about the MU69 flyby will kick off. The highlight of the show will be on Tuesday, January 1, 2019 from 12:15 am – 12:45 am EST with live coverage of the close approach. Followed by another fabulous broadcast later that day at 9:45 am – 10:15 am EST covering the New Horizons signal acquisition which will give initial confirmation of mission success. Televised events will continue until Thursday, January 3, 2019, with presentations of science results from the encounter. Note that at the distance that New Horizons is from Earth, it will take about 6 hours for transmissions from the spacecraft to reach Earth. So live coverage of the flyby will not have actual views available at that time, with the earliest potential images being available some time late January 1st or January 2nd. Here is a schedule of televised events planned for the flyby. If the partial federal government shutdown continues, these broadcasts will be available on the Johns Hopkins University Applied Physics Laboratory YouTube. Otherwise, you can catch them on NASA TV.
The January 1st flyby will open the door to so many mysteries about 2014 MU69, and Kuiper Belt Objects in general. If all goes well Tuesday, New Horizons will map the surface composition, determine if an atmosphere, rings, and/or moons are present; measure mass and temperature; and of course, capture mind blowing, up close photographs for the first time of a Kuiper Belt Object. So tune into the numerous broadcasts about the flyby, sit back with a cup of toasty cheer, and kick off 2019 with a bit of amazing science!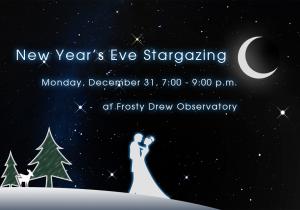 On Monday, December 31, 2019, Frosty Drew Observatory will open for a quick bout of stargazing from 7:00 pm – 9:00 pm to help ring in the New Year. Our event will follow the fabulous New Year's Eve Bonfire event that the Town of Charlestown puts on in Ninigret Park (home to Frosty Drew Observatory) starting at 4:30 pm. Our event is weather permitting, and at this time, forecasts for Monday night look the disastrous usual. Though it is quite early to get accurate weather conditions for three days out, so there is certainly room to hope. If skies are clear enough, put the cosmos on your list of fabulous things to do on the last night of 2018 and celebrate fabulous 2019 prospects with a view of Comet 46P/Wirtanen, the Orion Nebula, and more at Frosty Drew Observatory.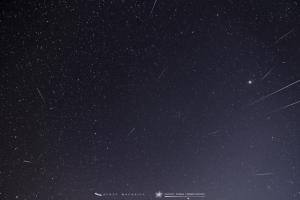 This coming Thursday, January 3, 2019, the annual Quadrantid Meteor Shower peak will occur. One of the best meteor shower peaks of the year, the Quadrantid peak can bring an increase in regular meteor activity by upwards of 120 meteors per hour under excellent viewing conditions. The Quadrantid shower is a tricky shower to catch as the peak period lasts only about 6 hours total. Since the radiant point of the shower, the constellation Bootes, does not rise until near 11:00 pm. on the 3rd, the window of fabulous viewing becomes tough to catch. This year, the peak should be at maximum around 9:30 pm EST, which does not favor us, but with no Moon present, will still offer up a pretty good show. If the weather bully of late can get into a time-out, the Frosty Drew Observatory will open for the peak, starting at 8:00 pm. This shower is usually a cold one, so dressing properly is essential for a successful geek-out. Read up on how we dress for all night stargazing at Frosty Drew Observatory: https://frostydrew.org/publications.dc/show/entry-884/, then put the 2019 Quadrantid Meteor Shower on your calendar and stop in for an early 2019 night out under the fabulous starscape with the occasional shooting star.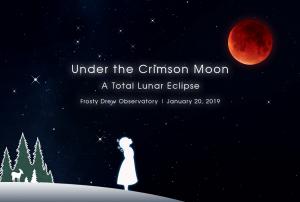 Save the Date
Under the Crimson Moon - A Total Lunar Eclipse at Frosty Drew Observatory.
On Sunday, January 20, 2019, a fabulous total lunar eclipse will occur, and Frosty Drew Observatory will open from 8:30 pm – 3:00 am to celebrate the fabulous event. It's important to note that January 20th is the Sunday before Dr. Martin Luther King Jr. Day in the U.S., so students and many places of work have that Monday off. As the date approaches we will write more about the eclipse, but for now, get it on your calendar and gear up for one of the best total lunar eclipses in the U.S. in quite some time.
-Scott