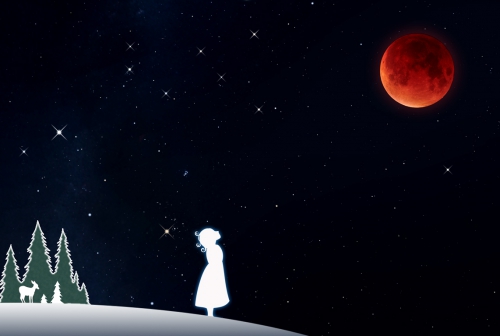 Under the Crimson Moon - Total Lunar Eclipse - CLOSED
Where:

Frosty Drew Observatory

When:

Sun, Jan 20, 2019 - CLOSED

Cost:

$5 Suggested Donation per person 5 years and older
Update: January 20, 2019 1:30 pm #########
After much debate, we have decided to cancel tonight's lunar eclipse event, due to potential travel hazards. However, the Frosty Drew Observatory will be open tonight and some of our astronomers will be on site to observe and archive the eclipse, and we will welcome any brave visitors that feel like taking a chance. The Sky Theatre will be open and warm as planned, so there will be a place to retreat from the -11° wind chills. Please note that conditions at Frosty Drew Observatory will be icy and temperatures will be bitter. If deciding to make the drive, be certain that you are making that decision with safety as your top priority. Roadways could be very slippery and local conditions in your area could vary significantly from what we are seeing at Frosty Drew Observatory.
Stay safe, stay warm, and have a moment with the last total lunar eclipse in New England until May 16, 2022.
#################################
On Sunday, January 20, 2019 a Total Lunar Eclipse is taking place and it will be visible to all in New England. This will be an awesome night and Frosty Drew Observatory is opening to celebrate the event starting at 8:30 p.m. offering excellent views of the eclipse. We will stay on site and open until 3:00 a.m., after the end of the eclipse.
A Lunar Eclipse happens when the Moon passes into Earth's shadow. This only happens during the full lunar phase. Since this eclipse will be a total eclipse, the entire Moon will pass into the Earth's dark shadow, called the Umbra. During the period of totality (total eclipse) the Moon will glow a crimson red. This happens due to sunlight filtering through Earth's atmosphere effectively scattering the violet side of the visible spectrum of light.
The eclipse will begin at 9:36 p.m. Sunday night and will start as a dimming of one side of the Moon. At 10:33 p.m. the partial eclipse will begin when a chunk of the Moon will start to appear missing. Total eclipsing of the Moon will start at 11:41 p.m. with maximum totality occurring at 12:13 a.m. and ending at 12:43 a.m. Once totality ends, the partial eclipse will continue until 1:50 a.m.
The Frosty Drew Sky Theatre will be open all night and warm, showing a live stream of the lunar eclipse on the big screen. The Observatory will be open for tours though the main telescope will remain closed. On screen in the Observatory will be a live stream of the lunar eclipse. We will have telescopes setup outside the observatory offering views of the night sky and the lunar eclipse.
Take a moment to check out our gallery of the 2015 Total Lunar Eclipse at Frosty Drew Observatory.
So dust off those binoculars. Grab a blanket, lawn chair, some tasty eats, family, and friends and hang out with us in Ninigret Park under the crimson Moon.