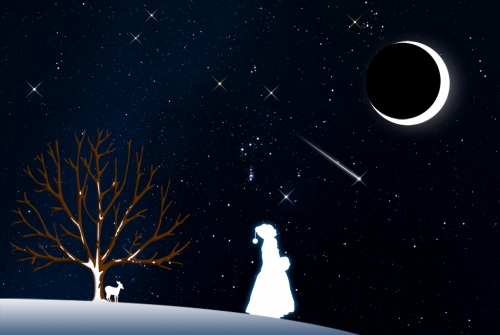 Stargazing Nights
Where:

Frosty Drew Observatory

When:

Friday February 22, 2019 at 7:00 p.m

Cost:

$5 Suggested Donation per person 5 years and older
Tonight is Stargazing Night at Frosty Drew Observatory and forecasts are super variable at this time. Expectations for tonight's conditions range anywhere from mostly cloudy to mostly clear with anything in between. Our thoughts on tonight's weather put us under heavy haze-like conditions, where heavy cloud cover will likely not happen, though the haze-like conditions may get quite severe. This will restrict our viewing to only brighter objects, which is unfortunate since the 87% waning gibbous Moon does not rise until 9:33 pm, and would have left super dark skies for us to celebrate for a couple of hours. Though the gibbous Moon could be our bail out tonight, as it will be quite bright once above the horizon, and easily visible through high clouds. Additionally, with the cooler temps, high clouds, and bright gibbous Moon, we are setup for a potentially fabulous 22° lunar halo. This past week, we have had a couple showings of a stunning halo around the Moon, and tonight will likely be another night to spot the halo.
We will open the Observatory and Sky Theatre at 7:00 tonight. In the Observatory telescopes will battle clouds, showing off any object that we can see through the haze. If clear enough, we will start off with views of the Orion Nebula, R-Lepus (the Vampire Star), Rigel, and Beta Monoceros. Once the Moon rises, we will direct our telescopes towards the lunar surface. When high clouds are forecast for our location, we often score with clearer than expected conditions. If that happens, we will add many more nebulae and galaxies to our list for tonight. In the Sky Theatre, temps will be warm, and on screen we'll be showing fabulous images captured during the total lunar eclipse at Frosty Drew Observatory on January 20-21, 2019. We will stay open until 11:00 pm or until clouds chase us out.
Overall, tonight could play out many different ways. Forecasts are quite variable, and it looks like hazy conditions will be the most solid expectation tonight. Though we often score with forecasts like this, with skies actually remaining quite clear. Also, the prospect of a fabulous 22° lunar halo could certainly make the haze worth while. We will try to post updates frequently to our Twitter (@FrostyDrewOBSY), which is syndicated to the right column of our website, about what we are seeing at the Observatory. If you're in the local area, we think it's worth a try, though if you're making the long drive, you will probably want to sit this one out.
-----------------------------------
Weekly Happenings
Scott MacNeill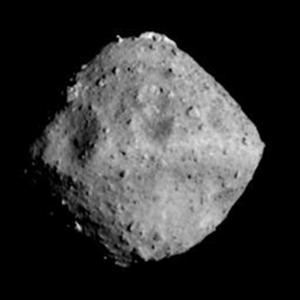 Early this morning, February 22, 2019, the Japan Aerospace Exploration Agency (JAXA) Hayabusa2 spacecraft successfully landed on Asteroid 162173 Ryugu, collected a sample of the asteroid, and re-lunched back into a stable orbit around the asteroid. This is the first of three sample collection maneuvers that the spacecraft has scheduled. Hayabusa2 launched on December 3, 2014 and arrived at Ryugu on June 27, 2018. The mission goals are to retrieve three samples from the asteroid and return them to Earth. Ryugu is a carbonaceous near-Earth asteroid, which means it has preserved minerals, ice, and organic compounds from the early solar system. Studying these samples will help us better understand the origin and evolution of the inner planets, including the origins of life on Earth. The sample return stage of the mission will occur in 2020. Take a break and read about the Hayabusa2 mission. Go JAXA!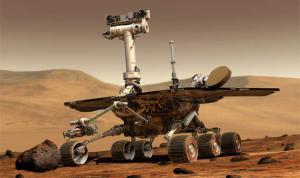 A few weeks ago, we wrote about NASA's Opportunity rover, which has been rocking out on Mars for the past 15 years. We mentioned new recovery measures that were being taken to try to restore communications with the rover after it was disabled by a planet-wide dust storm in mid-2018. Well the final word came in on February 13th. After 8 months of repeated attempts to contact the rover, NASA has exhausted all available measures to re-establish communications, and the decision has been made to mark an end to the fabulous 15 year mission. Departing Earth on July 7, 2003 and arriving at Mars on January 25, 2004, the Opportunity rover was a true science rock star. Designed to run for 92.5 Earth days, the rover persevered for nearly 15 years on Mars. During its adventure, the rover logged over 28 miles traveled; got stuck in the sand and dug its way out to survival; encountered 2 intense martian dust storms – the second was so amazing that the rover didn't survive; became the holder of numerous records, including the greatest distance traveled in one day at 721 feet, the most miles traveled on another world, and the steepest climb by an off world rover at 32° incline; discovered compelling evidence for a warmer and wetter history on Mars; survived wheel failures, backward driving to compensate for wheel wear, and failed hill climbs; returned 224,642 images to Earth, and among so many other accomplishments, became a symbol for perseverance and determination among all. So take a moment to give Opportunity and the Mars Exploration Rovers team a shout out for being a true inspiration to achieve awesome things!
-Scott