Stargazing Nights
Where:

Frosty Drew Observatory

When:

Friday March 29, 2019 at 7:30 p.m

Cost:

$5 Suggested Donation per person 5 years and older
Tonight is Stargazing Night at Frosty Drew Observatory and the Friday weather plan of attack continues with clouds moving in, today, after a beautiful week of clear skies. Though there is a bit of hope in tonight's forecast. Clouds are expected to thin out for a bit, leaving mostly high level clouds, which are like a heavy haze. Variability exists in the timings of this somewhat clearing, which could happen before 8:00 pm. Not having the Moon present until the 28% waning gibbous rises at 4:00 am, leaves super dark skies, but poses difficulties when dealing with heavy haze and clouds. We always take a best-effort approach to our geek-outs, so we will work with what we have.
We will open the Observatory and Sky Theatre at 7:30 pm tonight. In the Observatory, telescopes will start off on standby as we evaluate sky conditions on site. If clear enough, we will direct our telescopes towards anything that is visible, with a focus on the Orion Nebula, Sigma Orion, Rigel, Beta Monoceros, Jupiter's Ghost, and the Eskimo Nebula. In the Sky Theatre we will feature our popular showcase of celestial objects photographed at Frosty Drew Observatory. If skies are too cloudy to observe, we will offer tours of the observatory and show celestial images on the observatory screen. We will stay open until 11:00 pm or until clouds chase us out. Check in on our Twitter (@FrostyDrewOBSY) or the bottom right column of our website for updates from the observatory on what is happening.
Overall, tonight's forecast is questionable. Clouds will clear out a bit, but super dark – clear skies are unlikely. If making the long drive, tonight will be a night to skip, though if you're in the area and want to try for a view, then tonight could work out. Though we like to freak out about the weather, March is notorious for cloudy skies, and it seems like springtime weather always drops out just in time for the weekend. Regardless, we get weird weather at Frosty Drew Observatory, and it's not uncommon for us to have an amazing night when disaster is forecast. Will tonight be that night? Who knows.
-------------------------------------------------------------------------
Weekly Happenings
Scott MacNeill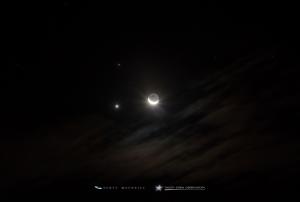 Over the next several mornings, the stunning waning crescent Moon will be showing off its beautiful self in the morning sky before pre-dawn sneaks in. Tomorrow morning (Sat, Mar 30), the Moon will shine a 28% crescent, though with each passing night the crescent will get thinner (waning). Not only does this provide for fabulous views of the Moon alongside Venus, Saturn, and Jupiter in the morning sky; it also brings back stunning views of the Milky Way galactic nucleus, which has been slowly returning to the overnight sky with each passing night. Now that April is here, we are about to kick off our favorite time of the year to view the Milky Way at Frosty Drew Observatory, which is during the months of April and May. On April 5, the Moon will depart the morning sky, leaving numerous opportunities to catch sight of the Milky Way over the next 10 mornings. Seeing the Milky Way requires a super dark location, largely free of artificial light (light pollution), specifically in the SE → S sky. Over the next couple weeks, we will attempt our first Milky Way photograph for the 2019 viewing season. Even though April – May are our favorite months to view the Milky Way, timings require that the Moon sit below the horizon for an acceptable view. Since the Milky Way is currently in the morning sky, the Moon will need to set before 4:00 am or rise after 5:00 am. A few days before the Full Moon, and over the following couple of weeks as the Moon wanes into the morning sky, the Milky Way will be generally obscured. So plan your times out under the stars. You don't have to wait until only the New Moon, but the Moon has to out of the morning sky (at least rising after 5:00 am). Clear sky, dark location, no Moon - so many requirements, yet so worth it!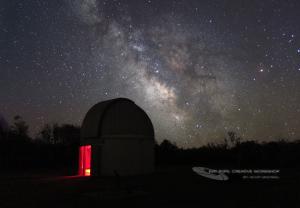 Over the next week, we will score with satellite viewing over the US with visible evening passes of the International Space Station (ISS) and Tiangong-2 - China's current space station, over our location. The ISS, which has been passing over nightly for the past week, will have a slow start this weekend, with only low passes visible. Though midweek, amazing passes will kick back in and will continue until April 9th, when the ISS departs our evening sky. The best passes of the ISS this week:
Tue, Apr 2 at 9:12pm ET, starting in the NW, rising to 34° heading N and into Earth's shadow.
Wed, Apr 3 at 8:21pm ET, starting in the NW, rising to 27° heading ENE and into Earth's shadow.
Thu, Apr 4 at 9:07pm ET, starting in the NW, rising to 67° heading NW and into Earth's shadow.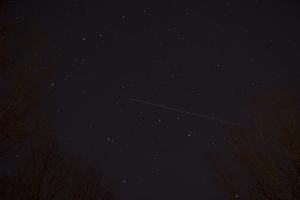 Tiangong-2 is not as big as the ISS, and as a result, is not as bright. Though dimmer in appearance, Tiangong-2 is still quite visible. To catch sight of Tiangong-2 passing overhead, look for a star that appears to be moving rather quickly across the sky. If it blinks, it's a plane. Notable Tiangong-2 passes for the next several nights:
Sat, Mar 30 at 8:21pm ET, starting in the SW, rising to 29° heading SE and into Earth's shadow.
Sun, Mar 31 at 8:58pm ET, starting in the WSW, rising to 46° heading SW and into Earth's shadow.
Mon, Apr 1 at 7:58pm ET, starting in the SW, rising to 47° heading E.
Tue, Apr 2 at 8:35pm ET, starting in the W, rising to 82° heading ENE and into Earth's shadow. ← Fabulous pass!
Wed, Apr 3 at 9:12pm ET, starting in the W, rising to 44° heading WNW and into Earth's shadow.
Thu, Apr 4 at 8:13pm ET, starting in the W, rising to 68° heading ENE.
Nightly passes of Tiangong-2 will continue until April 12, 2019 before departing our evening sky. These times are applicable for Southern New England, and generally acceptable for the Northeast. Daily satellite passes for the same region are listed on the Frosty Drew Observatory website. For pass times of the ISS applicable to your location, visit NASAs Spot the Station. Put these times on your calendar and step out on the clear nights and spot the stations.
-Scott