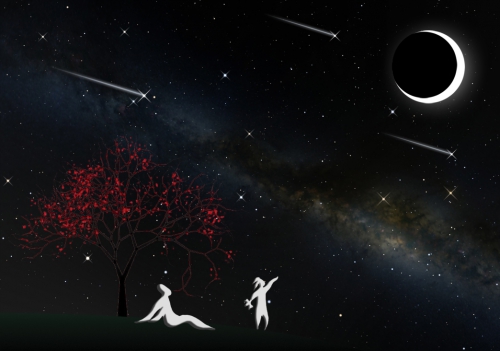 Stargazing Nights - CLOSED
Where:

Frosty Drew Observatory

When:

Friday April 26, 2019 - CLOSED

Cost:

$5 Suggested Donation per person 5 years and older
Tonight is Stargazing Night at Frosty Drew Observatory and forecasts are calling for rain, wind, and thunderstorms. Sadly, weather conditions will keep our telescopes closed. Additionally, with the forecast being so dismal, we will keep the Sky Theatre closed tonight as well, and attempt a return to our regular Stargazing Nights event schedule on Friday, May 3, 2019.
------------------------
Weekly Happenings
Scott MacNeill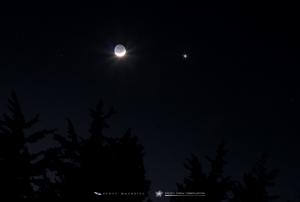 This coming Thursday morning, May 2, 2019, you have a chance to catch a beautiful view of the super thin 6% waning crescent Moon in conjunction with Venus. The trick is that you will need a super low view of the eastern horizon to catch sight, though in coastal New England, that will make for a spectacular view. Venus will rise at 4:45 am, followed by the Moon at 5:00 am, which will appear about 4° to the bottom-right of Venus. For coastal observers, the best time to catch the conjunction will be from 5:00 am – 5:30 am, after which the Sun starts to overpower your view. The conjunction will occur due east silhouetted by the pre-dawn glow. So take a moment on Thursday morning and welcome the day with a fabulous conjunction over the Atlantic!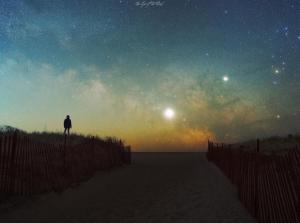 Over the next week, the waning crescent Moon will depart the morning sky, with the New Moon occurring on May 4. This brings back nightly opportunities to catch view of the Milky Way galactic nucleus during, what we consider, the best time of the year to view the Milky Way in New England. Starting tomorrow morning (April 27, 2019), the Milky Way rises to an acceptable viewing altitude, around 1:30 – 2:00 am, with that time becoming slightly earlier with each passing night. Though the Milky Way galactic nucleus will continue to be visible through the spring and summer months, May offers so many excellent opportunities to get out and see the Milky Way during the morning hours, when localized light pollution is at a minimum, a lot of the humidity in the air has cleared out (and is on the ground as dew), and newly sprouted leaves offer cover from reflected artificial light. At Frosty Drew Observatory, May places the galactic nucleus in the southern sky, which is our sweet spot for super dark viewing. Though views can only happen on mornings with no Moon, clouds, or fog; which will certainly limit opportunities. Milky Way viewing season is on!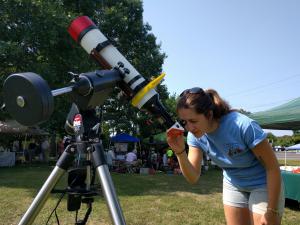 Tomorrow morning, Saturday, April 27, 2019 from 10:00 am – 2:00 pm, Charlestown, RI will host its annual Earth Fest event in Ninigret Park, home to Frosty Drew Observatory. Skies will clear during the early morning hours, leaving partly sunny conditions for the event. Of course, Frosty Drew Observatory will be there, and we'll have our Hydrogen Alpha solar telescope setup on the Sun, and potentially a second telescope set up for daytime Venus viewing. If you're in the area, and looking to enjoy a little outside time on a springtime Saturday morning, then stop in and catch a view of the solar chromosphere. On a side note, did last weekend's weather crash your Easter madness? Well Charlestown will be holding its, previously postponed, Easter Egg Hunt tomorrow morning for those who weren't interested in hunting in last weekend's rain. Second chances rock, right?!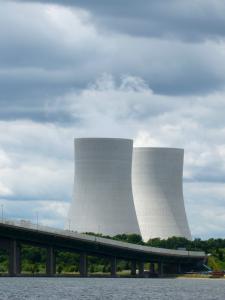 Though not astronomy related, tomorrow morning, Saturday, April 27th, at 8:00 am the Brayton Point Power Station's 500 foot cooling towers are coming down, via a controlled demolition. Located in Somerset, MA, the Brayton Point Power Station went offline in June 2017. The huge cooling towers are quite visible from numerous locations in Rhode Island and Massachusetts. Here is a quick read about the demolition, compliments of the Providence Journal. If you know of a good elevated spot with a clear easterly view, grab binoculars or a backyard telescope and watch the towers come down. The implosion will occur at 8:00 am and last for about 10 seconds. Bang!