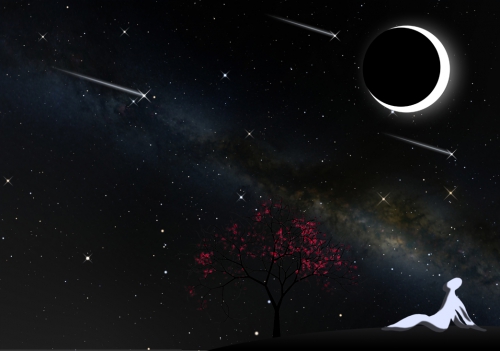 Summer Stargazing Nights
Where:

Frosty Drew Observatory

When:

Friday May 31, 2019 at 6:00 p.m

Cost:

$5 Suggested Donation per person 5 years and older
Tonight is Stargazing Night at Frosty Drew Observatory and forecasts are calling for partly cloudy skies this afternoon, with skies clearing before 8:00 pm. There is a threat of fog later in the night that could move in early, and a noticeable haze layer is likely. Though skies could turn out quite awesome for us. Considering the thin 4% waning crescent Moon doesn't rise until 4:26 am, just before the Sun, we will have super dark skies for the entire night, with the Milky Way becoming visible between 11:00 pm and midnight.
We will open the Observatory and Sky Theatre at 6:00 pm this afternoon. In the Observatory court yard we will setup our hydrogen alpha telescopes and offer views of the solar chromosphere and any prominence that may be visible. Once the Sun sets, we will direct our telescopes towards the night sky. Tonight's list includes, the Ring Nebula, the Hercules Cluster, the M87 galaxy, Jupiter, and dozens of galaxies, star clusters, and nebulae. When the Milky Way begins to come into view we'll direct our telescopes toward the galactic plane. In the Sky Theatre, we will show our regular feature of celestial objects photographed at Frosty Drew Observatory. We plan to close up at 11:30 pm, possibly much later if the skies stay clear. Check in on our Twitter or the bottom right column of our website for updates from the observatory on what we are seeing, including a "Closing up" post when we decide to start packing up.
Overall, tonight looks to be a good night. We have threats of haze and fog, though most forecasts are calling for relatively clear skies for most of the night. Haze will be a reality, though fog should not happen until much later in the night. Last Friday's weather totally bombed us, with unexpected full cloud cover, which marks a switch from a period when variability used to favor us. But tonight looks reasonably clear and the prospects for a fabulous night make it worth the drive. So stop in and catch sight of a star cluster, galaxy, the International Space Station, the Great Red Spot on Jupiter, the Milky Way, and more, and have a night out with the cosmos at Frosty Drew, tonight!
-------------------
Check out our page on Visiting Frosty Drew Observatory to learn more about what to expect at the Observatory and better help you prepare for your visit.