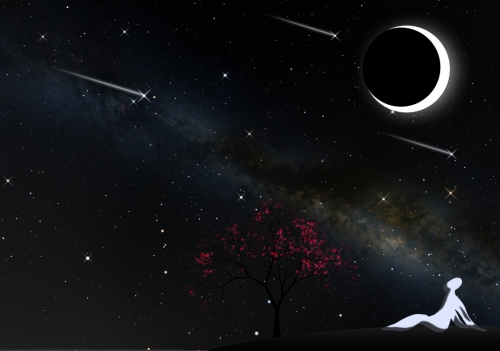 Summer Stargazing Nights
Where:

Frosty Drew Observatory

When:

Friday June 7, 2019 at 6:00 p.m

Cost:

$5 Suggested Donation per person 5 years and older
Tonight is Stargazing Night at Frosty Drew Observatory, and the same nonsense forecast continues. This forecast calls for partly cloudy to mostly clear skies with haze like conditions, though what actually happens is full cloud cover with no chance of observing. What started off as a fabulous year, has evolved into a record setter year at Frosty Drew for poor observing conditions, lasting for the longest period of time. Since the start of March, we have had only one Friday with skies clear enough to observe. This is frustrating to say the least, with the added insult of forecasting sources being woefully incorrect over the last couple Fridays. Further frustration exists in that tonight is the third consecutive week that the Moon is in a fabulous phase for dark sky viewing, with the 23% waxing crescent sitting beautifully in the SW → Western sky until it sets around midnight, just in time for the Milky Way to come into view. We need a break from clouds and useless forecasts on Friday nights!
We will open the Observatory and Sky Theatre at 6:00 pm tonight. In the Observatory courtyard we will setup our hydrogen alpha telescope and offer views of the solar chromosphere, if weather permits. Once the Sun sets we will direct our telescopes towards the twilight sky, if weather permits. First up is the crescent Moon, which will sport a stunning view of Earthshine, which is when sunlight reflects off Earth and illuminates the shadow side of the Moon. Numerous star clusters are on our list tonight, with Jupiter and its four Galilean Moons becoming visible to the big telescope around 10:00 pm, followed by the Great Red Spot creeping into view just before 11:00 pm. The Milky Way will start becoming strikingly visible around 11:30 pm, with a potential first view of Saturn at the end of the night. Now all of this is based on clearer skies, which has not been the Friday night norm. Depending on cloud cover, some or all of this may be unattainable tonight. We will stay open until 11:30 pm, possibly later if the skies clear out nicely, and maybe earlier if the clouds bomb us out. We'll post occasional updates to our Twitter (@FrostyDrewObservatory) and the bottom-right column on our website, describing what we are seeing and when we decide to close up.
Overall, tonight is another night that has the makings of an amazing night, with what appears to be yet another, unreliable forecast from just about everyone publishing forecast data. So we really have no idea what to expect. Dew points are low and wind is calm, which could bring some fog, but wildfire smoke is largely not in the area. Regarding forecasts, we are seeing completely opposing forecasts from different sources with some calling for a beautiful day tomorrow and others calling for full clouds. Regarding making the long drive, it's a risk, and we really can't adequately advise at this time. Celestially speaking, we are set for a fabulous night, now we just need the Southern New England weather to follow through.
Check out our page on Visiting Frosty Drew Observatory to learn more about what to expect at the Observatory and better help you prepare for your visit.
---------------------------
Weekly Happenings
Scott MacNeill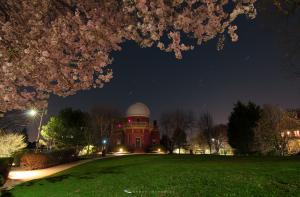 With so many cloudy nights happening lately, planning one night to observe per week is a tough sell. But did you know that there are three other publicly accessible astronomical observatories in Rhode Island, aside from Frosty Drew Observatory? Brown University, in Providence, RI, hosts a free public stargazing night every Tuesday night at its historic Ladd Observatory on Hope and Doyle St. Ladd has an old 12" Brashear refractor dating back to 1891, alongside more modern telescopes. The Community College of Rhode Island (CCRI) hosts a public stargazing night every Wednesday night at the Margaret M. Jacoby Observatory, located on the Knight campus in Warwick, RI. CCRI has the same primary telescope as Frosty Drew Observatory. Saturday nights bring free public stargazing opportunities compliments of the Seagrave Memorial Observatory in North Scituate, RI. Seagrave has an antique 8" Alvin Clark refractor, as well as modern telescopes. So fight the good fight against clouds and expand your astro geekage with a night out at one (or more) of the four publicly accessible astronomical observatories in Rhode Island this summer.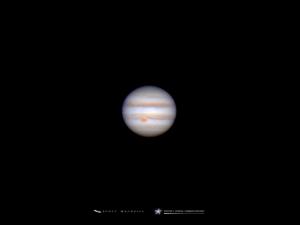 On Monday, June 10, 2019, Earth will reach the point in our orbit where we arrive in between the Sun and Jupiter, placing Jupiter on the opposite side of Earth than the Sun. This is called the Opposition of Jupiter, and happens once per year. During opposition, Jupiter will be at its closest point to Earth for our entire year, at just over 398 million miles distant. Additionally, Jupiter will appear at its largest and brightest during the weeks around opposition, and will rise with the setting Sun and set with the rising Sun on June 10th, keeping Jupiter above the horizon for nearly the entire period of night. After opposition passes, Jupiter will start rising before sunset, with rise times progressively getting earlier with each passing day. The best time of the year to observe Jupiter is during the weeks surrounding opposition. The 2019 opposition is happening 11 days prior to the Summer Solstice (June 21, 2019), which places Jupiter quite low in our Northern Hemisphere sky, even at midnight. Sadly, the lower that Jupiter appears in the sky, the more of Earth's atmosphere we need to look through to observe, which will allow for greater atmospheric dispersion (blurring) in our view. Regardless, viewing Jupiter in binoculars or a telescope will reveal a stunning sight. Binoculars will show the four Galilean Moons, with a telescope showing the equatorial bands and the Great Red Spot (GRS). Larger telescopes, like the ones in use at Rhode Island observatories, will show you significant detail in the equatorial bands and GRS, as well as smaller storms like Oval B and more. So put Jupiter on your calendar and stop in at one of the four publicly accessible observatories in Rhode Island for a night out with the largest planet in the Solar System.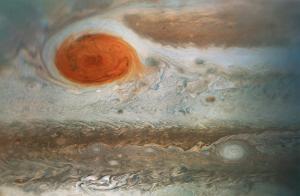 One of the most discernible features of all the Solar System planets is certainly the Great Red Spot (GRS) on Jupiter. It's so prominent in photos and videos that when most people think of Jupiter, they picture the large gas giant with the GRS in view. What looks like a red spot to us, is actually a huge persistent anticyclonic storm that has lasted for, at least, the last 340 years. This storm is intense, historically spanning up to 24,855 miles in diameter, that's over three times the diameter of Earth, it rises about 5 miles above the surrounding cloud tops, and produces winds in excess of 400 mph. But over the past century, something has been happening to the GRS, it appears to be shrinking, with the past several years showing much larger variations in size. Measurements of the GRS's diameter on April 3, 2017, placed the storm at a mere 10,160 miles in diameter. The apparent shrinking has raised a lot of questions, with some speculation that the storm may potentially be coming to an end. Well skip ahead to now, and we are seeing some crazy things happening in the GRS, events that we have not previously observed. Over the past month, the spot appears to be releasing large amounts of red gas from the central region of the storm, which streams away into the wake the storm creates in Jupiter's atmosphere. This has resulted in a 20% reduction in the diameter of the spot since mid-May 2019. Historical observations have shown reduction and growth in the size of the GRS over time, though it has been a while since we have seen any growth, and the recent disturbances in the spot further compound the mystery. Is Jupiter's Great Red Spot really coming to an end? We are unsure at this time, but there is certainly big changes happening to the largest storm in the Solar System.