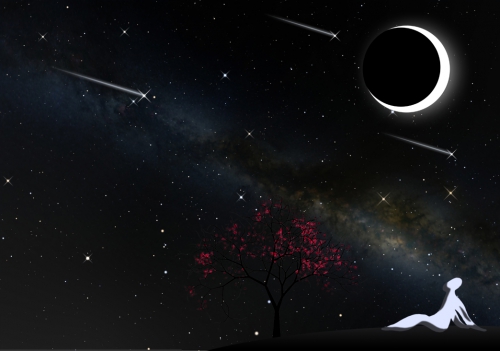 Summer Stargazing Nights
Where:

Frosty Drew Observatory

When:

Friday June 14, 2019 at 6:00 p.m

Cost:

$5 Suggested Donation per person 5 years and older
Tonight is Stargazing Night at Frosty Drew Observatory and forecasts are calling for mostly clear to clear skies for the entire night! There is an extremely slight chance for hazy conditions, but the overall forecast looks excellent. The 92% waxing gibbous Moon will be with us at sunset and will outshine nearly all deep sky objects tonight, though the cratered lunar surface as well as Jupiter will look fabulous in our telescopes. With so many clouded out Fridays this year, we will celebrate clear skies whenever they happen, even under the bright Moon!
We will open the Observatory and Sky Theatre at 6:00 pm. In the observatory courtyard we will setup our hydrogen alpha solar telescope and offer up awesome views of the solar chromosphere showing any magnetic field lines, and prominence that are visible there. Once the sun sets, we will switch over to the night sky, starting off with views of the bright gibbous Moon. As the night progresses, binary stars, including Albireo, Ras Algethi, and Algieba will be on display as we wait for Jupiter to come into view. On Jupiter, a solar eclipse will be happening compliments of Galilean Moon – Europa, and will be visible to our telescopes as small dot-like shadow that slowly moves across Jupiter's cloud tops. Due to Europa being in front of Jupiter, only three of the four Galilean Moons will be directly visible around Jupiter. In the Sky Theatre we will show our regular feature of celestial objects photographed at Frosty Drew Observatory, and stay open until 11:30 pm.
Overall, tonight looks like a fabulous night as far as weather goes! Clear skies, cool temps, and dry conditions will make for excellent viewing. Sadly, the 92% gibbous Moon will hammer our dark skies, rendering the Milky Way, galaxies, nebulae, and most star clusters invisible. For those looking for super dark skies or a view of the Milky Way, tonight will be the night to skip. But if the Moon is your thing, or you just need to catch up on all those clouded out Friday nights, then tonight is your night to be out. So stop in at Frosty Drew Observatory tonight and have your moment with the cosmos.
----------------------------
Weekly Happenings
Scott MacNeill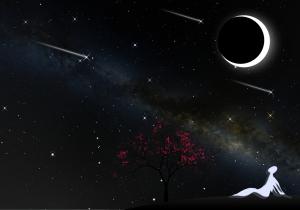 Starting on Wednesday, June 19, 2019, Frosty Drew Observatory will bring our Summer Stargazing Nights event to Wednesdays, as well as Fridays, until Labor Day. This will allow us to offer more stargazing opportunities to you, your family, and friends. This also enables us to fight back against the weather of late. Wednesday nights will start after sunset (8:30 pm this Wednesday) and run until 11:30 pm. On Wednesday afternoon's we will send out a brief notification to our mailing list as well as a post on our Facebook and Twitter (@FrostyDrewOBSY), that will include information about that night's event. Having the extra night every week will also allow for visitors to the region during the week, to have a chance to meet their inner geek. With Jupiter now above the horizon at sunset, and Saturn not far behind, we have a summer of fabulous views ahead of us. So add Wednesdays to your list of awesome summer time things to do and stop in for an extra night under the stars at Frosty Drew Observatory.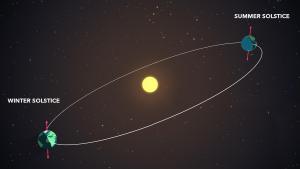 Next Friday, June 21, 2019 at 11:54 a.m. ET, Earth will arrive at the point in its orbit where the Northern Hemisphere is at maximum tilt (23.4°) towards the Sun. This is the Summer Solstice and marks the first day of the summer season in the Northern Hemisphere. On the Summer Solstice, the Sun will pass directly overhead at noon along the Tropic of Cancer, and will bring the shortest nighttime period of the year in the north. The Arctic Circle will see the Midnight Sun, and the Antarctic Circle will see Polar Night. The Summer Solstice also brings beach days, late summer sunsets, no school, picnics, Milky Way nights, the Summer Triangle, Jupiter, Saturn, and a season full of heat loving zealotry. It also signals a shift to the period of the year when the days start getting shorter, as we being our descent into winter. So step outside next Friday and welcome summer!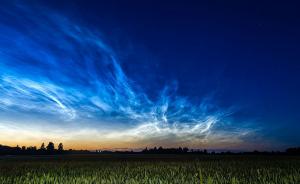 As we ramp up to the summertime-kick-off in the Northern Hemisphere, noctilucent cloud viewing season is well under way. Noctilucent clouds (NLC) are thin clouds that form in Earth's mesosphere. Comprised of water vapor that rises in the summer months, freezes, and collects on tiny specks of meteor dust, NLCs are the highest clouds that form in Earth's atmosphere. The elusive nature of NLCs make them a challenge to spot. For one, they only occur in and around the summer months, and are most visible between 50° and 70° latitudes. They also require the observer to be well into twilight with a clear view of the western horizon at sunset or the eastern horizon at sunrise. Because NLCs are so tenuous, they are only visible when sunlight grazes the mesosphere, illuminating the clouds, making them visible to an observer that can still see the sunlit mesosphere from their late twilight location. At least three Frosty Drew Observatory astronomers have observed NLCs, with one of them spotting them at Frosty Drew Observatory. Since the start of the 2019 NLC viewing season, we have seen a substantial increase in the visibility of the elusive clouds, with sightings as far south as Oklahoma, and New Mexico being reported. Recent studies have shown that the solar sunspot cycle has an impact on NLC's, specifically Solar Minimum, which is the period of the sunspot cycle with little-to-no sunspot activity, and we are officially at Solar Minimum of the current cycle (cycle 24). There are so many night photographers out shooting the Milky Way in New England, but we never see any captures of noctilucent clouds. Well it looks like 2019 is the year to attempt such a capture. So if you're a night photographer in New England, obsessed with the night sky, we challenge you to capture the elusive noctilucent clouds. They will be visible 30–60 minutes after sunset, low in the western sky, or 30–60 minutes before sunrise, low in the east sky. NLC's will appear as luminous silver-blue wisps or tendrils that are dimly visible in the sky. If you catch a photo, send it to astronomer@frostydrew.org, and include any attribution information. If the photo has actual NLC's in it, we'll add it to a noctilucent cloud gallery that we are curating on our website (once we or others actually capture a photo), as well as share on our social media. Good luck!
Check out our page on Visiting Frosty Drew Observatory to learn more about what to expect at the Observatory and better help you prepare for your visit.