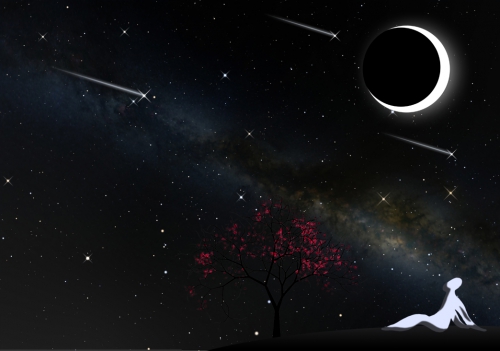 Summer Stargazing Nights
Where:

Frosty Drew Observatory

When:

Fri, Jul 26, 2019 6:00 pm - 11:30 pm

Cost:

$5 Suggested Donation per person 5 years and older
Tonight is Stargazing Night at Frosty Drew Observatory, and forecasts are calling for partly cloudy conditions with clouds steadily increasing overnight. This is rather unfortunate considering the 25% waning crescent Moon does not rise until 1:25 am and would have given us a fabulous night out under the Milky Way. It's also rather upsetting that the less-than-awesome forecast came in last minute, with a relatively fabulous forecast for tonight being published all week. Regardless, being that the bulk of our cloud cover will be high level clouds, we could see this materialize as just heavy haze. It's a Milky Way killer, but may still allow for excellent views of the planets.
We will open the Observatory, Sky Theatre, and Science Center at 6:00 pm. In the Observatory courtyard we will monitor sky conditions, and if acceptable, setup our hydrogen alpha telescope directed at the Sun. Once the Sun sets, we will direct our telescopes towards Jupiter and Saturn. Jupiter will be showing all four Galilean Moons and will be passing over the globular star cluster – NGC 6235, which may be visible alongside Jupiter in the telescope, if skies are clear enough. Saturn will show a fabulous view of the rings and up-to six moons. On the off-chance that skies are super clear, we will rock views of the Milky Way, showing off nebulae, star clusters, and binary stars. In the Sky Theatre we will show our regular feature of celestial objects previously photographed at Frosty Drew. In the Science Center, our Apollo 11 Lunar Landing 50th Anniversary gallery is on display, including a 12 foot wide panorama of the Apollo 11 landing site, photographed by the NASA Lunar Reconnaissance Orbiter (LRO). We will close up at 11:30 pm.
Overall, tonight has the makings of an amazing night, but last minute changes in the forecast are crashing our party. Cloud cover may appear as a heavy haze, which will not shut us down, but will obscure views of the Milky Way. This past Wednesday, we had a similar forecast, which ended up completely bombing on us. So we will take the night as it goes. If the Milky Way is your dig, then tonight may be the night to skip, it could happen, but we don't think so. Though if you're looking for a fun summer night out under the stars, then a view of Saturn's rings and Jupiter's moons will work out great for you. So stop in and catch up on a little astro with the geeks at Frosty Drew Observatory.
-----------------------------
Weekly Happenings
Scott MacNeill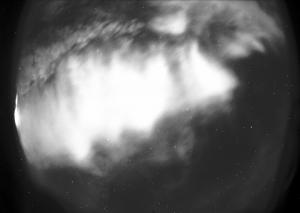 This past Wednesday night (July 24, 2019) at 11:03 pm a fabulous fireball meteor was visible in the southern sky, heading from the southeast → northwest. The fireball was spotted by hundreds of people in the Northeast US and Canada, including Frosty Drew Observatory, by Frosty Drew team member – Jessica. Check out this video of the fireball from Boston, MA. A fireball meteor is a brighter than average shooting star that lasts longer as it crosses the sky. A bolide is a fireball meteor that fragments and/or explodes. These meteors are often small Near Earth Asteroids (NEA) that enter Earth's atmosphere, burn up and explode. Sometime they are just larger meteors, pebble to basketball sized fragments of a comet that regularly passes through this part of the Solar System and leaves a debris field behind. At this time, we are unsure of the source of Wednesday's fireball meteor, though it was not part of the annual Perseid Meteor Shower, which started on July 17th and is currently underway. It may have been part of the Delta Aquariid, Alpha Capricornid, or June Scutid showers; all of which are also underway. Regardless of the source, fireball meteors happen all the time, with Earth encountering upwards of 100 tons of meteor material per day. So keep looking up, you never know when you will see a fabulous, exploding bolide fireball meteor. If you happen to catch a photo of a meteor; fireball or otherwise, be sure to post it on our Facebook and we'll share it to our time line.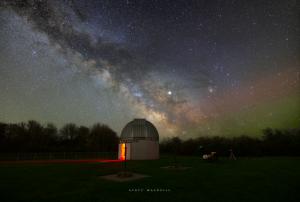 Though tonight's weather is not looking as promising as we originally hoped for. Tomorrow night, Saturday, July 27, 2019, looks fabulous. As it would happen, tomorrow night is, what the Frosty Drew astronomers think, the best Saturday in July to see the Milky Way over Frosty Drew Observatory. So we are hosting our Celebrate the Milky Way event, a special event with the goal of introducing fabulous views of the Milky Way to you. We open at 9:00 pm and will go until near midnight, possibly later. The Milky Way will become strikingly visible once astronomical twilight ends, at 10:07 pm. In our telescopes, we will showcase dozens of fabulous objects visible along the Milky Way galactic plane, objects that are only visible on the darkest nights, including the nebulae and star clusters of the constellation Sagittarius, the fabulous Wild Duck Open Star Cluster in Scutum, and numerous stars that have died and are transitioning into white dwarf stars. This is a night of deep space viewing, with the planets on hold until next week. If viewing the Milky Way is on your bucket list, then tomorrow night is the night to check it off. So stop in and set your inner geek lose under the darkest skies in RI at Frosty Drew Observatory.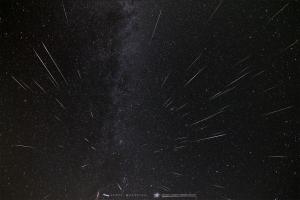 This past week, questions about the 2019 Perseid Meteor Shower have started to pour in. As usual, the annual Perseid shower is a hot topic in the media, and rightfully so, it's one of the three best meteor showers of the year. Sadly in 2019, the peak night of the Perseid shower (Monday, August 12-13) will be accompanied by the 93% waxing gibbous Moon, which will be up for nearly the entire period of meteor activity. The excessively bright moonlight will obscure all but the brightest Perseid meteors. This will not render the shower a complete loss, but will not offer the stunning view that the Perseid shower is known for. At Frosty Drew Observatory, we are still undecided if we should open for the event. If you think we should go for it in spite of the Moon, respond to this email, send an email to astronomer@frostydrew.org, or post on our Facebook to let us know what you think.
-----------------------------
Check out our page on Visiting Frosty Drew Observatory to learn more about what to expect at the Observatory and better help you prepare for your visit.
Please note that we do not allow any white lights on our campus from dusk - dawn. This is to ensure an equally awesome view of the night sky for all as well as to allow for the use of light sensitive astronomical equipment. Learn more about why we have this requirement in The Red Light District
To allow for visitors to freely explore all of the amazing experiences at Frosty Drew Observatory without having to wait in long lines, we have integrated a pass-based group access process that applies to only the large telescope inside the observatory dome. Take a moment to familiarize yourself with this process as part of your planning steps.