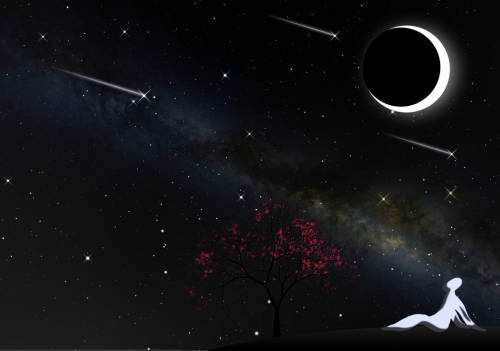 Summer Stargazing Nights
Where:

Frosty Drew Observatory

When:

Wednesday July 24, 2019 at 8:30 - 11:30 pm

Cost:

$5 Suggested Donation per person 5 years and older
Tonight is Wednesday Stargazing Night, a chance to catch up on a little astro without the big Friday night crowd. Forecasts are calling for partly cloudy skies, that could end up mostly clear for a couple of hours. Most of the clouds we will see, will appear as heavy haze, which will overtake views of the Milky Way. Since we have no Moon until the 45% waning crescent rises at 12:25 am, dark skies will prevail, but will be obscured by the hazy conditions. Regardless, Jupiter and Saturn should blaze through the haze-like conditions, and offer up good views. Haze often helps when viewing the bright planets as it dims the view down a little, making it easier for the viewer to see detail in the atmosphere of the planets, instead of just viewing the brightness.
We will open the Observatory, Sky Theatre, and Science Center at 8:30 pm tonight. In the Observatory, telescopes will start off with views of Jupiter and three Galilean Moons, with Ganymede (the fourth moon) becoming visible after 10:00 pm. Next up is Saturn, sporting a fabulous view of the rings and up-to six moons. Depending on sky conditions, we will attempt views of numerous objects along the Milky Way galactic plane, including nebulae and star clusters. In the Sky Theatre we will show our regular feature of celestial objects previously photographed at Frosty Drew Observatory. In the Science Center, our Apollo 11 Lunar Landing 50th Anniversary gallery will be on display. We will close at 11:30 pm.
Overall, tonight has the right celestial conditions for a fabulous night, though potentially partly cloudy conditions will make for restricted viewing. The planets should remain visible through the haze, so it's worth stopping in. Though if looking to catch a view of the Milky Way, tonight will likely be a night to skip. So take a stroll out to the darkest spot in Rhode Island and catch up on a little astro at Frosty Drew Observatory tonight.
Check out our page on Visiting Frosty Drew Observatory to learn more about what to expect at the Observatory and better help you prepare for your visit.
Please note that we do not allow any white lights on our campus from dusk - dawn. This is to ensure an equally awesome view of the night sky for all and to allow for the use of light sensitive astronomical equipment. Learn more about why we have this requirement in The Red Light District
To allow for visitors to freely explore all of the amazing experiences at Frosty Drew Observatory without having to wait in long lines, we have integrated a pass-based group access process that applies to only the large telescope inside the observatory dome. Take a moment to familiarize yourself with this process as part of your planning steps.