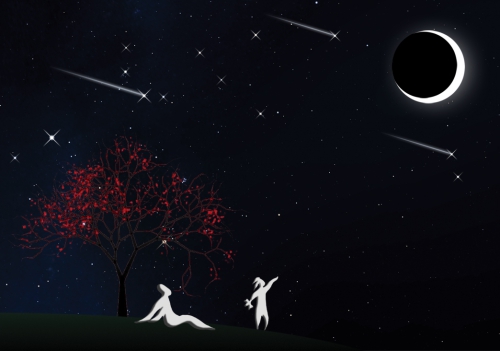 Stargazing Nights
Where:

Frosty Drew Observatory

When:

Fri, Oct 11, 2019 7:00 pm - 9:00 pm

Cost:

$5 Suggested Donation per person 5 years and older
Tonight is Stargazing Night at Frosty Drew Observatory and forecasts are calling for cloudy skies with breezy conditions. Though the prolonged nor'easter that we've been under for the past few days is moving out overnight tonight, clouds and wind will hammer our visibility. Sadly, this will keep the observatory telescopes closed tonight. Though we will fallback to our cloudy night program.
We'll open the Observatory, Sky Theatre, and Science Center from 7:00 pm – 9:00 pm tonight. In the Observatory, tours of our telescopes and operations are available. These are the nights where we keep the lights on, and showcase all of our tech for the gear-heads and techies out there. In the Sky Theatre we will show our regular feature of celestial objects photographed at Frosty Drew Observatory and offer a commentary and open discussion on general astronomy.
Overall, tonight is certainly the night to skip. Full cloud cover and wind gusts in the 30+ mph range will make for a poor night to observe. Though if you're in the local area and are in need of a quick astro-fix, then stop in and catch up on all that is happening in astro.
--------------------------
Weekly Happenings
Scott MacNeill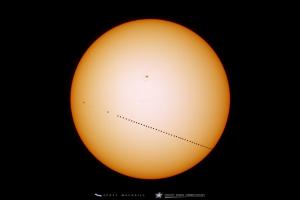 In one month from today, on Monday, November 11, 2019, Mercury will reach inferior conjunction, which is when Mercury orbits in between Earth and the Sun. Even though this happens about 4 times per year, this particular inferior conjunction is quite special. On that date, Mercury will visibly cross (transit) the surface of the Sun when viewing from almost all locations on Earth.
This happens due to Mercury's near 7° inclination (how far Mercury will orbit above or below the plane of the Solar System), Mercury's 87.9 day orbit around the Sun, and Earth's 365 day orbit around the Sun. As Mercury progresses along it's orbit, it will cross the ecliptic (the plane of the Solar System), as well as intersect the plane that Earth orbits the Sun. This intersection will happen twice for each of Mercury's orbits, the Descending Node (when Mercury crosses the ecliptic and continues below), and the Ascending Node (when Mercury crosses the ecliptic and continues above). Considering that Mercury will cross the ecliptic about 8 times per Earth year, and that this crossing will need to happen during inferior conjunction, we end up with dates in either the first half of May or the first half of November that a transit can actually occur.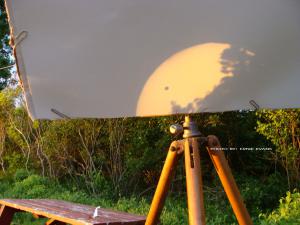 Observing the Transit of Mercury is not as easy as viewing most celestial events. This is mainly because of how much ultraviolet light the Sun emits, making it unsafe for direct observation. Additionally, Mercury is quite small, about 3,031 miles in diameter, and quite close to the Sun, about 36 million miles distant (around 58 million miles distant from Earth) on average, so Mercury will appear quite small as it passes in front of the Sun. This will make for difficult identification of Mercury using a camera obscura device (eclipse viewer). Even using Eclipse Glasses will make for a difficult view. The best way to observe the Transit is using a telescope or binoculars fitted with a safe solar filter attached to the aperture end of the device. Or using a telescope to project a view onto a wall or a piece of paper, like Frosty Drew Observatory Astronomer - Ernie Evans is doing here.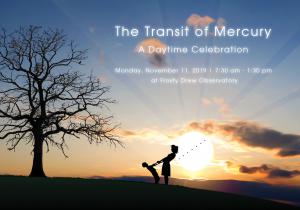 Frosty Drew Observatory will open on November 11, 2019 to celebrate the Transit of Mercury. Our event starts at 7:00 am and will go until 1:30 pm. We will have our hydrogen alpha telescope setup, and a telescope fitted with a Type II white light filter, both offering safe views of the transit. Additionally, we will have a third telescope setup with a camera, which will project live views of the Transit onto the 40" panel in the Observatory, the big screen in the Sky Theatre, and on screens inside the Science Center. We will have a few eclipse glasses available to assist in viewing as well as solar projectors setup on our campus.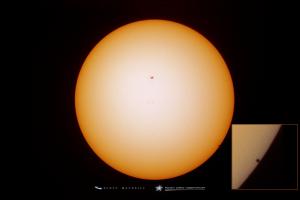 This is the last Transit of Mercury to occur over our region until 2039, and it just so happens to fall on Veterans Day, which means schools and some workplaces have the day off. So make plans now to visit Frosty Drew Observatory on that day to catch a fabulous view of Mercury transiting the Sun, and experience one of the fabulous life-enriching events that inhabitants of Earth are granted, compliments of the cosmos.
Check out our gallery of the last Transit of Mercury over Frosty Drew Observatory.
-Scott
Check out our page on Visiting Frosty Drew Observatory to learn more about what to expect at the Observatory and better help you prepare for your visit.
Please note that we do not allow any white lights on our campus from dusk - dawn. This is to ensure an equally awesome view of the night sky for all and to allow for the use of light sensitive astronomical equipment. Learn more about why we have this requirement in The Red Light District
To allow for visitors to freely explore all of the amazing experiences at Frosty Drew Observatory without having to wait in long lines, we have integrated a pass-based group access process that applies to only the large telescope inside the observatory dome. Take a moment to familiarize yourself with this process as part of your planning steps.