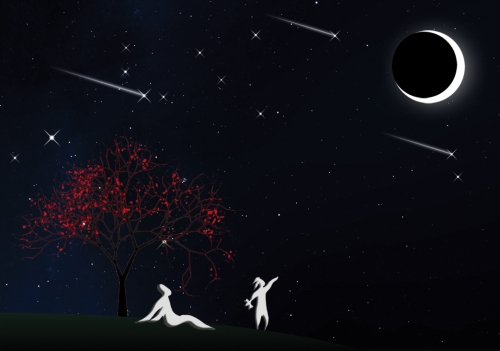 Stargazing Nights
Where:

Frosty Drew Observatory

When:

Fri, Oct 18, 2019 7:00 pm - 10:00 pm

Cost:

$5 Suggested Donation per person 5 years and older
Tonight is Stargazing Night at Frosty Drew Observatory and forecasts are looking awesome! We can expect clear skies and cooler temps for the entire night. Considering that the 79% waning gibbous Moon rises at 9:18 pm, we will have a nice bout of super dark skies to celebrate. After which, the waning gibbous Moon will offer up beautiful views of the cratered lunar surface. Temps will start off in the low 50's and drop into the mid-lower 40's during our session, so dressing properly will make the difference between a night with cold toes / fingers and a fabulous night out under thousands of stars. Regardless, it should be a fantastic night!
We will open the Observatory, Sky Theatre, and Science Center at 7:00 pm. In the Observatory, the primary telescope will start off with a quick view of Jupiter, showing three of the four Galilean Moons as well as the Great Red Spot. Saturn is up next, with stunning views of the rings. During the dark hours of the night we will star hop along the fabulous starscape and catch views of the Ring Nebula, the Dumbbell Nebula, Albireo, the Messier 2 globular cluster, and any other deep sky object we can fit in. In the Sky Theatre we will show our regular feature of celestial objects previously photographed at Frosty Drew Observatory. In the Science Center, the works of Frosty Drew Observatory Director, Scott MacNeill will be on gallery. We will stay open until 10:00 pm tonight, possibly later if the views are great.
Overall, tonight looks like an amazing night to be out. The skies will be clear, mosquitoes will be non-existent, and darkness will rock the starscape. Even though we are well out of our prime Milky Way viewing season, some of the Milky Way will be visible overhead until shortly after 9:00 pm. With the cooler temps tonight, we recommend dressing for light winter conditions. This means light gloves, winter jacket, a hat, and adequate closed toe shoes. Temps will not drop below freezing, though it will feel colder than it has been. So get your geek on with a fabulous autumn night out under the stars at Frosty Drew Observatory tonight!
-----------------------
Weekly Happenings
Scott MacNeill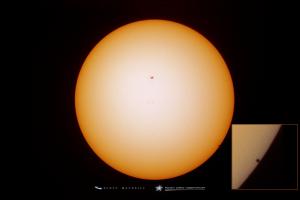 This coming Sunday, October 20, 2019, Mercury will reach the point in its orbit around the Sun where it is at maximum eastern elongation as it applies to Earth. This means that Mercury will be at tangent in the Eastern Quadrature when using Earth as the point of reference. An easier way to think of this is to imagine a straight line that starts at Earth and extends out toward the eastern side of the Sun, passed the edge of the orbital path of Mercury, without intersecting or overlapping that path. This is the point of tangent. When Mercury arrives at that point, it arrives at maximum eastern elongation. Mercury orbits the Sun in a prograde fashion (counterclockwise), and being on the eastern side of the Sun, means that Mercury is moving towards inferior conjunction, which is when Mercury orbits in between the Earth and the Sun. What this means from an Earth-bound observer? Mercury will appear at its furthest from the Sun in the evening sky for its current orbit, making evening views possible for the next week or so. With Mercury's 87.9 day orbit around the Sun, we see maximum eastern elongation happen about 4 times per year. What makes this elongation so special, is that this is the last maximum elongation to occur before Mercury reaches inferior conjunction, which will be the November 11, 2019 Transit of Mercury, when we will see Mercury cross the visible area of the Sun. Frosty Drew Observatory will be open on that day to celebrate the event.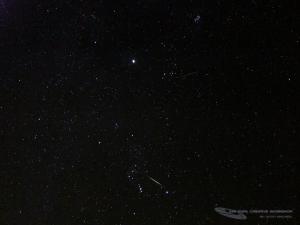 Overnight this coming Monday, October 21-22, 2019, the annual Orionid Meteor Shower peak will occur. Bringing with it an increase in regular meteor activity by about 10-20 meteors per hour, the Orionids are a notable, albeit not spectacular meteor shower. The most notable thing about the Orionid shower is the source of the meteors, which is comet 1P/Halley, better known as Halley's Comet. A short period comet (less than 200 year orbit around the Sun), Halley's Comet swings by Earth every 75-76 years. When it does, it leaves behind a path of tiny comet particles, which intersect Earth's orbit. Every October, Earth orbits through this debris field and captures some of these particles, which enter Earth's atmosphere and burn up. On the peak night, the Moon will be a 38% waxing crescent, and will rise at 12:12 am. Considering the best times to be our viewing Orionid meteors are during the morning hours, the Moon will be somewhat problematic, and will obscure the dimmest meteors. If you're looking to view the shower, set out to a dark location, free of artificial light, with a wide open view of the sky. Lay on your back and look to the zenith (top of the sky). The radiant point of the shower, which is about 10° to the top left of Betelgeuse (the brightest star in Orion), rises about 10:00 pm, placing best viewing, in regards to the Moon, between 10:30 pm – midnight. Good luck!
On a side note, the annual Taurid Meteor Shower starts on October 20th and goes until December 10th. The Taurid shower is famous for producing numerous fireball meteors during the entire span of the shower. A couple years ago at Frosty Drew Observatory, our astronomers observed, at least, one intense fireball Taurid meteor per night for nearly the entire shower.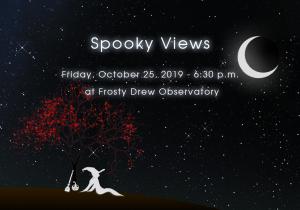 Save the Date:
Next Friday, October 25, 2019 starting at 6:30 pm, Frosty Drew Observatory will host our annual Spooky Views event, which is our Halloween celebration. The Observatory will be dressed up in creepy décor with spooky tunes and sounds. Loads of candy will be available for those visiting and telescopes will be showing views of dying stars that cast off their outer layers as a gas cloud, which has a ghastly glow to it. So make plans to get your spook on, either in costume or just as yourself, and stop in for a creepy night under the stars.
-Scott
Check out our page on Visiting Frosty Drew Observatory to learn more about what to expect at the Observatory and better help you prepare for your visit.
Please note that we do not allow any white lights on our campus from dusk - dawn. This is to ensure an equally awesome view of the night sky for all and to allow for the use of light sensitive astronomical equipment. Learn more about why we have this requirement in The Red Light District
To allow for visitors to freely explore all of the amazing experiences at Frosty Drew Observatory without having to wait in long lines, we have integrated a pass-based group access process that applies to only the large telescope inside the observatory dome. Take a moment to familiarize yourself with this process as part of your planning steps.