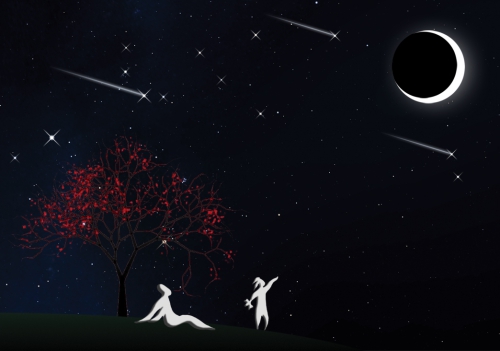 Stargazing Nights
Where:

Frosty Drew Observatory

When:

Fri, Nov 1, 2019 7:00 pm - 10:00 pm

Cost:

$5 Suggested Donation per person 5 years and older
Tonight is Stargazing Night at Frosty Drew Observatory and forecasts are looking awesome! We can expect clear skies for the entire night. Temps will be a bit cool again, with our session starting in the low 50's, eventually dropping to the low 40's. The 29% waxing crescent Moon will be with us at sunset, hanging beautifully in the SSW sky in conjunction with Saturn. Once the Moon sets, at 9:22 pm, dark skies will rock the night. Though at 29% waxing crescent, the Moon will not over power our view, and stunning views of Earthshine will be visible. This happens when sunlight reflecting off of Earth will illuminate the night side of the Moon. The only negative tonight will be the rapid temperature drop, which will cause our views of Saturn and the Moon to be a bit blurry in the telescope. Otherwise, we are in for a fabulous night out under the stars!
We'll open the Observatory, Sky Theatre, and Science Center at 7:00 pm tonight. In the Observatory, telescopes will start off with a view of the crescent Moon, followed by a stunning view of Saturn's rings and moons. Once the Moon sets, we will direct our telescopes towards dozens of fabulous deep sky objects, including the Ring Nebula, Messier 27 nebula, the Sculptor Galaxy, Messier 15 cluster, and more. In the Sky Theatre, temps will be a bit warmer and onscreen we will show fabulous images of the cosmos previously captured at Frosty Drew Observatory. In the Science Center, the works of Frosty Drew Observatory Director, Scott MacNeill will be on gallery. We will start packing up around 10:00 pm.
Overall, tonight is certainly a night to be out! Coming off the heels of a week of clouds and rain, tonight will be a stunning release of stellar views. Also, considering that we are in post-Halloween mode, it should be a sufficiently creepy night to be out in the dark. We also have a conjunction of the crescent Moon and Saturn happening tonight, which will be beautiful to see, considering that Earthshine will accompany the conjunction. Additionally, the annual Taurid meteor shower is ramping up nicely, which will bring a slight increase in meteor activity to the skies tonight, with a much higher probability of fireball meteors. We still have left over candy from last Friday's Halloween event, so stop in tonight either in costume, or just as yourself, grab some candy, and celebrate clear skies with a fabulous night of celestial revelry at Frosty Drew Observatory!
-----------------------------
Weekly Happenings
Scott MacNeill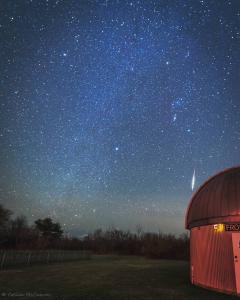 Over the past several weeks, the annual Taurid meteor showers have been ongoing. Comprised of two separate showers, the South Taurid Meteor Shower and the North Taurid Meteor Shower, both showers are produced by comet 2P/Encke, and have different peak nights. Though the big draw of the annual Taurid shower is not the peak nights, but the significant increase in fireball meteors over the entire span of the shower. The reason why this shower has such a long period of activity (Sep 10 – Dec 10) is because of comet Encke's wide orbital debris field. When comets orbit closer to the Sun they start to heat up and out-gas. This will leave behind a trail of comet debris along the comet's orbit. It is possible that comet Encke is the result of a much larger comet that broke up over 20,000 years ago. Comet break-ups usual happen from interaction with a large gravitational source along their orbits, like Jupiter and even Earth. If this break up did occur, it would explain why Encke's debris field is so wide, and also could explain why there are larger than average pieces of comet debris in the field. It is these pieces that enter Earth's atmosphere and burn up as fireball meteors. The North Taurid shower peak happens overnight November 11-12, 2019, which is the same day as the Transit of Mercury. Most Taurid fireballs will happen overnight, after the constellation Taurus rises off the horizon. The Moon is waxing right now, so we still have several nights of dark skies in the overnight / morning hours to catch sight of a Taurid fireball. Check out this Photo of a Taurid fireball over Frosty Drew Observatory captured last December by Collin McCarron.
This coming Sunday morning, November 3, 2019 at 2:00 am, prepare to catch an additional hour of stargazing (or sleep if you're not a night sky geek like us) when we turn our clocks back to Eastern Standard Time (one hour backwards). The topic of switching from EST → DST → EST is somewhat charged with big support on all sides of the argument. Some advocate for staying on EST year round, others support staying on DST year round, with some in New England calling for a total switch to AST (Atlantic Standard Time), which would put us one hour back, to UTC-4. Regardless of where you stand, Sunday morning will signal a switch to earlier sunsets and sunnier mornings as we make the final approach towards the Winter Solstice. So don't forget to switch your clock before heading out (or heading to bed) this Saturday night, or you may arrive one hour early to your Sunday morning date.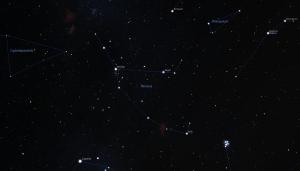 In tradition with the spooky time of the year, a rather dreaded star becomes quite visible this season. In the constellation Perseus, is found the head of Medusa, of which a rather tricky star resides – Algol. Derived from Arabic: رأس الغول , meaning "Ra's Al-gul", which translates to "Head of the Demon", Algol is the demon star. The star likely received this name due to its strange nature. Algol is an eclipsing binary star. A binary star is a star system comprised of two (or more) stars. Each star forms a gravitational balance with the other star(s), and orbit a center-point of gravity, called a barycenter. An eclipsing binary, is a binary star system where both stars orbit their barycenter on the same plane that we observe the star. So one star will orbit in front of the other star, and vice versa from our point of view. This will cause the star to dim significantly in the sky, then brighten back up. Depending on the orbital period of the binary system (the time it takes for both stars to complete one full orbit around their barycenter), this could appear to happen rather quickly. Algol completes its orbital period in just under 3 days, which can cause Algol to change from its brightest, to dimmest, and back to its brightest over the period of one night, depending on timings. The change in brightness is just over one full magnitude, which is quite noticeable. The next night that you can observe the full swing from brightest, to dimmest, and back to brightest will be overnight November 14-15, 2019. Here is a chart of Algol in the constellation Perseus.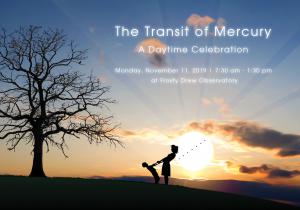 Save the Date:
The Transit of Mercury will happen in just over one week from now, on November 11, 2019 (Veterans Day). This is a fabulous event where Mercury will orbit in front of the Sun from our point of view, allowing us to see Mercury as a dark spot passing slowly across the visible area of the Sun. This is a somewhat rare event with the next transit happening in 2039. Considering that you will need specialized equipment to observe the transit, a place like Frosty Drew Observatory is an excellent venue to celebrate the event. So stop in and celebrate Veterans Day with an amazing daytime celestial event, compliments of the Solar System.
-Scott
Check out our page on Visiting Frosty Drew Observatory to learn more about what to expect at the Observatory and better help you prepare for your visit.
Please note that we do not allow any white lights on our campus from dusk - dawn. This is to ensure an equally awesome view of the night sky for all and to allow for the use of light sensitive astronomical equipment. Learn more about why we have this requirement in The Red Light District
To allow for visitors to freely explore all of the amazing experiences at Frosty Drew Observatory without having to wait in long lines, we have integrated a pass-based group access process that applies to only the large telescope inside the observatory dome. Take a moment to familiarize yourself with this process as part of your planning steps.