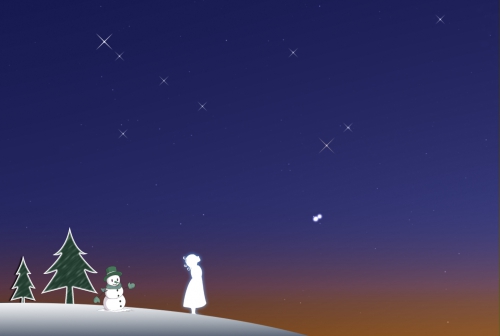 The Great Conjunction
Where:

Frosty Drew Observatory

When:

Mon, Dec 21, 2020 4:00 pm - 7:00 pm

Cost:

This Event has Sold Out
UPDATE: December 21, 2020 13:03 ==================
Tonight's event is on! Visitors WILL BE walking on a snow covered landscape! So dressing for winter conditions is required. We cannot guarantee weather will clear but it looks promising as of now. We'll see you tonight.
====================
Tonight, a rare conjunction of Jupiter and Saturn will occur, called "The Great Conjunction". On this night, Jupiter and Saturn will be only 0° 7' apart. In a telescope, you will be able to observe both Jupiter and Saturn together. The last time this happened was over 20 years ago, in the year 2000.
Frosty Drew Observatory will open from 4:00 pm - 7:00 pm, weather permitting to celebrate this fabulous event. We will have the primary telescope setup on the conjunction, with secondary telescopes available for alternative views of the cosmos, including views of the First Quarter Moon. Astronomers will be available to answer your questions and to celebrate the view with you.
We are also hosting a live stream of the conjunction from a telescope at Frosty Drew Observatory and Science Center for those who are unable to attend on site. Tune into the live stream at: https://youtu.be/AZgVr4eeUg8
So add a little astro to your week of holiday festivities and celebrate a special evening out under The Great Conjunction of 2020 at Frosty Drew Observatory!
Due to restrictions on the number of people that can be in groups, we have integrated a temporary ticketing system. Tickets can be acquired online only! A link to acquire tickets will be posted on this event page no earlier than the day before the event, if weather is acceptable for viewing. Please DO NOT attempt to circumvent the ticketing process by using the standard donation form on our website. THAT WILL NOT GET YOU A TICKET OR ACCESS TO THIS EVENT! A ticket is required for admission at tonight's event!
Important information about tickets:
- A maximum of 60 tickets will be available for the night
- A ticket is required for each person in your party / group that is over 4 years of age.
- Tickets will not be available on site. This means you need to arrive with your ticket.
- Tickets will be checked on the access road into Ninigret Park, either electronically or physically.
- The name on the ticket must match the name of the ticket holder.
- If you do not have a ticket, you will not be granted admission. Don't just show up!
- Tickets are non-refundable.
- This event is weather dependent and cancellations will be posted on the day of the event.
- Though tickets have different times listed, all ticket holders can stay on the campus for the entire duration of the event. The times are to mitigate the formation of a long admission line.
- We cannot guarantee the weather, nor can we guarantee that you will see what you may expect.
This event has SOLD OUT.
When visiting, please be aware of signage and social distancing markers as well as flow indicators. If you are experiencing any symptoms of any contagion, stay home and postpone your visit, even if that means forfeiture of your ticket. Visitors who are visibly displaying symptoms of a contagion will not be granted admission. This is just how it is for now, so take your allergy pill before departing for Frosty Drew Observatory!
Check out our page on Visiting Frosty Drew Observatory to learn more about what to expect at the Observatory and better help you prepare for your visit.
Please note that we do not allow any white lights on our campus from dusk - dawn. This is to ensure an equally awesome view of the night sky for all and to allow for the use of light sensitive astronomical equipment. Learn more about why we have this requirement in The Red Light District
To allow for visitors to freely explore all of the amazing experiences at Frosty Drew Observatory without having to wait in long lines, we have integrated a pass-based group access process that applies to only the large telescope inside the observatory dome. Take a moment to familiarize yourself with this process as part of your planning steps.