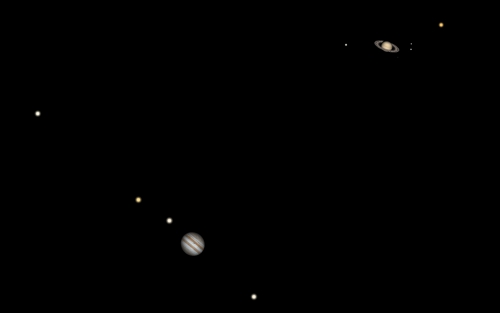 The Great Conjunction
Where:

Frosty Drew Observatory

When:

Mon, Dec 21, 2020 4:00 pm - 7:00 pm

Cost:

$5 Suggested Donation per person 5 years and older
Tonight, a rare conjunction of Jupiter and Saturn will occur, called "The Great Conjunction". On this night, Jupiter and Saturn will be only 0° 7' apart. In a telescope, you will be able to observe both Jupiter and Saturn together. The last time this happened was over 20 years ago, in the year 2000.
Frosty Drew Observatory will open from 4:00 pm - 7:00 pm, weather permitting to celebrate this fabulous event. We will have the primary telescope setup on the conjunction, with secondary telescopes available for alternative views of the cosmos, including views of the First Quarter Moon. Astronomers will be available to answer your questions and to celebrate the view with you.
So add a little astro to your week of holiday festivities and celebrate a special evening out under The Great Conjunction of 2020 at Frosty Drew Observatory!
Check out our page on Visiting Frosty Drew Observatory to learn more about what to expect at the Observatory and better help you prepare for your visit.
Please note that we do not allow any white lights on our campus from dusk - dawn. This is to ensure an equally awesome view of the night sky for all and to allow for the use of light sensitive astronomical equipment. Learn more about why we have this requirement in The Red Light District
To allow for visitors to freely explore all of the amazing experiences at Frosty Drew Observatory without having to wait in long lines, we have integrated a pass-based group access process that applies to only the large telescope inside the observatory dome. Take a moment to familiarize yourself with this process as part of your planning steps.