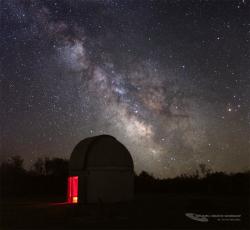 Public Stargazing
Where:

Frosty Drew Observatory

When:

Friday July 5, 2013 at 6:00 p.m.

Cost:

Free! Donations Appreciated.
Unfortunately Frosty Drew Observatory will be closed this week due to power issues we are experiencing at the Observatory. We are currently investigating the cause of our power failure and are working rigorously to resolve the issue and get back to the awesome star gazing that we enjoy so much every Friday at Frosty Drew Observatory. We apologize for this huge inconvenience as we realize this is the Fourth of July weekend and many out of town visitors frequent the observatory during this time.
Additionally, Frosty Drew will surely have to incur a cost to repair our facility. Since we are a small non-profit 501(c)(3) organization, this cost will likely be significant for our pockets. We will be putting together a situation report of the problem with a cost analysis for the public to review and, if possible, offer support to the organization by means of donations. Any help will be HUGELY appreciated as we are anxious to get back into full swing operation.
Thank you for your patience and support. All of us at Frosty Drew Observatory love you guys!
------ Weekly Message Follows ------
This evening brings a unique situation, as both of us find ourselves out of town for the first Friday night in several years; however, there has been a slight problem with the electrical system, and it is still being worked out completely, so, despite the weather, the Observatory will be closed. If you do happen to have a good sky, you might want to look about a third of the way above the western horizon for a very bright flare of Iridium Satellite #84 at 10:33 P.M. Sorry to say, there are no passes of the International Space Station.
Next Friday, July 12th, mark your calendars for the University of Rhode Island/Frosty Drew monthly planetarium show. In honor of the month of July, we will be offering "Dawn of the Space Age," the amazing introduction to the race to space by Russian and American scientists, beginning with Sputnik, and on to Mars and beyond. Show times are at 6:00 and 7:00 P.M., and admission, to benefit both URI Planetarium and Frosty Drew memorial funds, is only $5.00. Each show will be followed by "The Skies of Frosty Drew," and if the real skies cooperate, you will all be invited down to the Observatory for views of the waxing crescent Moon, the planet Saturn, and several deep-sky objects.
Frosty Drew is pleased to be located in Charlestown, home to the darkest skies in Rhode Island. Please help us all to continue to keep our skies as dark as possible.
-Francine Jackson
-------------------------------------------------------------------------
Tonight's forecast is calling for mostly clear skies with patchy fog moving in overnight. The 3% waning crescent moon will rise tomorrow morning at 4:09 giving stargazers a clear dark sky tonight until the fog rolls in. Due to technical difficulties, Frosty Drew Observatory will be closed tonight and will resume our standard weekly stargazing program next Friday. In the mean time, be sure to step out and take a look at that beautiful sky!
This morning, around 11:00 a.m. EDT, Earth will reach its farthest point in its orbit from the sun. This is known as Aphelion. Since Earth's orbit is not a perfect circle, we have a yearly perihelion (closest point) and aphelion (furthest point). Today the Earth is roughly 94,508,960 miles from the sun compared to the 91,402,560 miles distance during the perihelion that occurred on January 2 at midnight. This slight 3.29% difference will cause the sun to appear 1.7% smaller in the sky than it did on January 2. This difference will be completely unnoticed to an observer. Please do not attempt a glance at the sun without adequate eye protection, that is one bright ball of nuclear fire!
Solar activity this week has again picked up nicely. A big southern sunspot has emerged and is making its way to an Earth facing position. This will make this sunspot a prime candidate to release fantastic solar flares hurling Aurora causing coronal mass ejections (CME) towards Earth. NOAA forecaster estimate a 40% likelihood that this sunspot region could produce M-class flares over the next 24 hours. Rhode Island is a stretch for the Northern Lights, but hey, step outside overnight this weekend as you just may catch a glimpse of the fabled Northern Lights.
-Scott MacNeill